ELECTION 2024
/
2024 election a choice between 'democracy and autocracy': DPP nominee Lai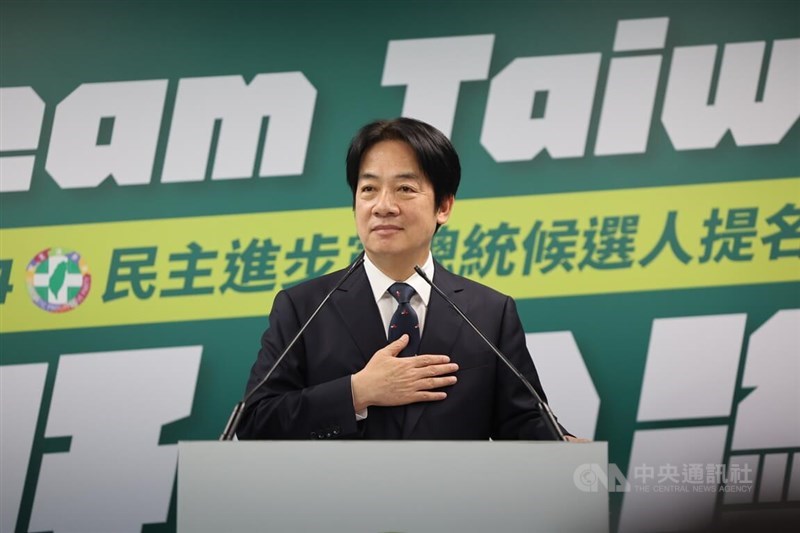 Taipei, April 12 (CNA) Taiwan's 2024 presidential election is not a matter of "war and peace" but a choice between "democracy and autocracy," Vice President Lai Ching-te (賴清德) said Wednesday, after being named as the presidential candidate of the ruling Democratic Progressive Party (DPP).
Lai made the remarks at a nominating event at DPP headquarters in Taipei, in a speech that focused heavily on the challenges Taiwan faces from China.
The mention of "war and peace" was likely meant to rebut critics in the opposition Kuomintang (KMT), who have argued that tensions with China could spike to dangerous levels if the DPP remain in power.
In remarks on Jan. 1, for example, KMT former President Ma Ying-jeou (馬英九) warned: "Vote for the DPP, youth will go to the battlefield. Vote for the Kuomintang, and there will be no war on both sides of the Taiwan Strait."
In his speech on Wednesday, however, Lai argued that there is no question of unification or independence in Taiwanese society, but rather a broad consensus in support of democracy.
"The 2024 election is absolutely not a matter of war and peace, but it is a choice between democracy and autocracy," Lai said, calling on voters to cast a ballot for democracy and national unity, and to "reject walking the old road back to totalitarianism."
"Peace is priceless, and war has no winners," Lai said. "China must...recognize that an attack on Taiwan would not only directly harm Taiwan, but would also cause a global catastrophe that would be difficult for China to bear."
Paraphrasing a line from the Chinese classic "The Art of War," Lai said one must not focus on "the likelihood of the enemy's not coming, but on our own readiness to receive him."
For that reason, he said, until China renounces the possibility of taking Taiwan by force, it is necessary to continue building up the nation's defense capabilities, in order to prepare to resist a Chinese invasion and protect Taiwan.
Lai insisted that Taiwan would not be alone in this effort, as the world's "democratic camp" now recognized the threat posed by China and the importance of preserving peace and stability in the Indo-Pacific.
Taiwan should work with these like-minded democratic partners to create effective deterrence against China, by "preparing for war to avoid war" and establishing "peace through strength," he said.
Lai ended his remarks on China on slightly more positive note, saying that just as the DPP has striven for democracy in the past, it will fight for peace in the future.
"Faced with China's civil and military threats, we will not change our stance on peace, nor pass up any opportunities to achieve it," he said.
As long as it is done on the basis of equality and dignity, the DPP stands ready to engage in cross-strait dialogue and exchange, to advance mutual understanding and reconciliation, and to work together for the welfare of people on both sides of the Taiwan Strait, Lai said.
View All