Tsai met with members of Congress in New York: Presidential office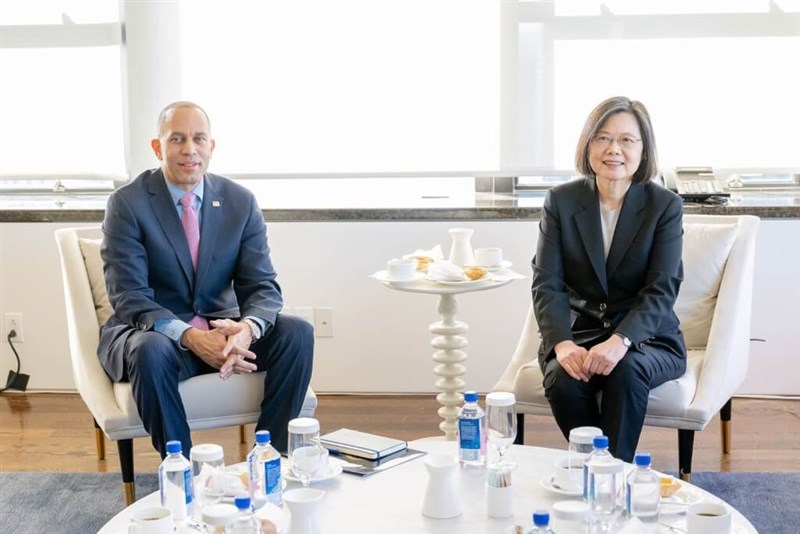 Los Angeles, April 4 (CNA) President Tsai Ing-wen (蔡英文) met with Hakeem Jeffries, the top Democrat in the House of Representatives, and had a breakfast meeting with U.S. senators while in New York last week before heading to Central America.
Tsai met with Jeffries on March 30 and had breakfast with Republican Senators Dan Sullivan and Joni Ernst and Democratic Senator Mark Kelly before leaving New York the next day, according to Xavier Chang (張惇涵), Presidential Office deputy secretary-general.
At the meetings, the president expressed her thanks to U.S. President Joe Biden and members of Congress for their support of Taiwan, which she said has allowed Taiwan and the U.S. to jointly overcome multiple challenges.
The U.S.' support has also prompted many like-minded countries to pay attention to peace and stability in the Taiwan Strait and the Indo-Pacific region, Tsai said, adding that she hoped the two sides would continue to cooperate on security issues, according to Chang.
Tsai stressed that Taiwan will continue to be a crucial and reliable economic and trade partner and work with like-minded countries to build resilient global supply chains and contribute to global economic recovery in the post-COVID era, according to Chang.
Chang revealed the meetings while traveling with Tsai on a chartered flight to Los Angeles for a two-day stopover after concluding a visit to Belize on Tuesday.
Tsai is scheduled to meet with U.S. House Speaker Kevin McCarthy at the Ronald Reagan Presidential Library in Simi Valley in California on Wednesday.
Before leaving Belize, Tsai visited an exhibition on a bilateral cooperation project focused on women's empowerment, which she said has helped more than 700 women in Belize improve their skills or start businesses and indirectly benefited more than 2,000 people.
"I'm more than encouraged by the result of our collaboration," Tsai said, expressing her hope that Belize and Taiwan will keep working together to help women realize their goals and fulfill their potential.
Related News
April 5: China sails new aircraft carrier into West Pacific: Taiwan
April 5: China's latest drills attempt to eliminate 'median line:' Expert
April 5: Taiwan monitoring Chinese drill ahead of Tsai-McCarthy meeting
Arpil 5: President Tsai arrives in Los Angeles for second U.S. stopover
April 5: Tsai to set milestone in meeting with U.S. house speaker
April 4: Tsai reaffirms Taiwan's commitment to relations with Belize
April 3: Ex-President Ma says cross-strait youth exchanges must continue
April 3: U.S. House committee chair to visit Taipei Thursday: Lawmaker
April 3: Tsai begins 3-day visit to Belize after wrapping up Guatemala tour
April 2: Tsai hopes Taiwan-Guatemala ties could last 3,000 years like Mayan culture
April 1: Guatemalan president meets with Tsai, backs Taiwan as sovereign nation
March 31: President Tsai receives award for promoting Taiwan-U.S. ties