Taiwan's plan to send battalion to U.S. shows progress in exchanges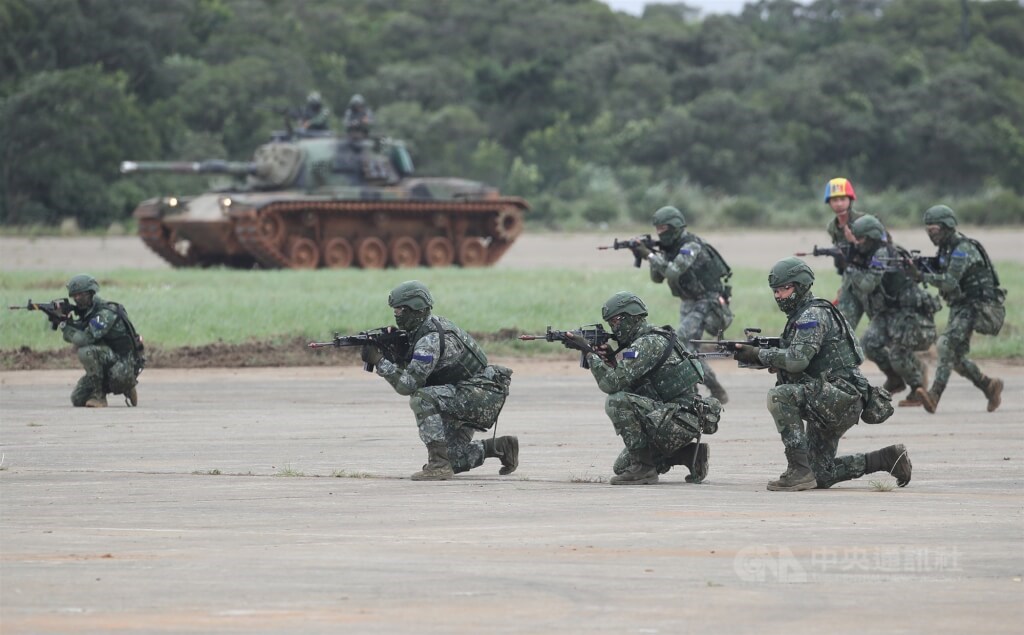 Taipei, Feb. 22 (CNA) Taiwan's reported plan to send a combined arms battalion to the United States for training in the second half of this year shows the two countries are significantly bolstering military exchanges, military experts said Wednesday.
A joint battalion composed mainly of soldiers from the Army's 333rd Mechanized Infantry Brigade and 542nd Armor Brigade is expected to head to the U.S. in the second half of this year for military exchanges, a source with knowledge of the matter told CNA.
This marks the first time troops at battalion level, typically consisting of around 500 soldiers, will travel to the U.S. for training rather than platoon (25-60 troops) or company (80-150) level as in the past, according to the source.
First established in Taiwan in September 2019, joint battalions bring together liaison officers from various units, such as infantry, armored forces, the Navy, the Air Force and Army Aviation, as well as different specialist officers and soldiers capable of operating independently in the battlefield.
In response, the Army declined to confirm or deny relevant details, saying only that all military exchange programs with foreign countries are handled according to pre-determined plans.
Chieh Chung (揭仲), a research fellow at the Association of Strategic Foresight, said that since densely populated Taiwan has limited space for joint battalions to conduct combat drills, either for staging field defensive and offensive exercises or urban combat operations, it is difficult for the military to expand the types and focus of training or to improve training effectiveness.
Therefore, if Taiwan's troops travel to the U.S. for training, they will not only receive more professional battalion tactical training, but also learn from the real combat experience of the U.S. military in various locations, Chieh said.
That will help Taiwan's military to modify existing tactics, combat skills and training methods, further improving joint battalion combat capabilities and tactics, Chieh added.
If joint battalion training in the U.S. can be carried out on a regular and long-term basis, and potentially involve exercises with units of the same level in the U.S. military, it will considerably enhance the interoperability of ground force tactical units from the two countries and increase the opportunity for joint operations in the future, according to Chieh.
Although training the joint battalion in the U.S. is expected to be very effective, the required spending will be considerable. Chieh suggested that the Ministry of National Defense negotiate with Washington to have the training expenditure covered by the U.S. military as a grant or loan to Taiwan under the U.S. Foreign Military Financing program.
This would not only allow such training to be carried out on a regular basis, but also avoid straining the annual national military training budget, Chieh explained.
He emphasized that if the training of the joint battalion in the U.S. goes smoothly, it will represent a significant increase in military exchanges between the two countries.
Meanwhile, Su Tzu-yun (蘇紫雲), a research fellow at the Taiwan government-funded Institute for National Defense and Security Research, told CNA that joint battalions are the basic military unit of the armed forces and the training grounds in the U.S. are more comprehensive and diverse, allowing battalion-level units to practice a full set of tactics, including coordination between infantry and artillery forces that is typically constrained by Taiwan's terrain.
In addition, when asked whether enhanced Taiwan-U.S. military cooperation means U.S. policy toward Taiwan is moving from strategic ambiguity to clarity Lu Yeh-chung (盧業中), an assistant professor in National Chengchi University's Department of Diplomacy, said that the Biden administration has repeatedly emphasized that the policy of ambiguity has not changed.
However, "there are fewer and fewer areas of ambiguity," Lu noted, adding that there are two conditions for the U.S. to embrace strategic clarity on Taiwan: A clear statement that the U.S. will react to a Chinese attack on Taiwan and a clear explanation as to what that response would involve.
Due to Taiwan's special international situation and the potential impact leaks about Taiwan-U.S. military training and exchange programs could have on such plans, Taiwan's government never confirms such programs.