Swiss lawmakers call for cross-Strait peace, economic pact with Taiwan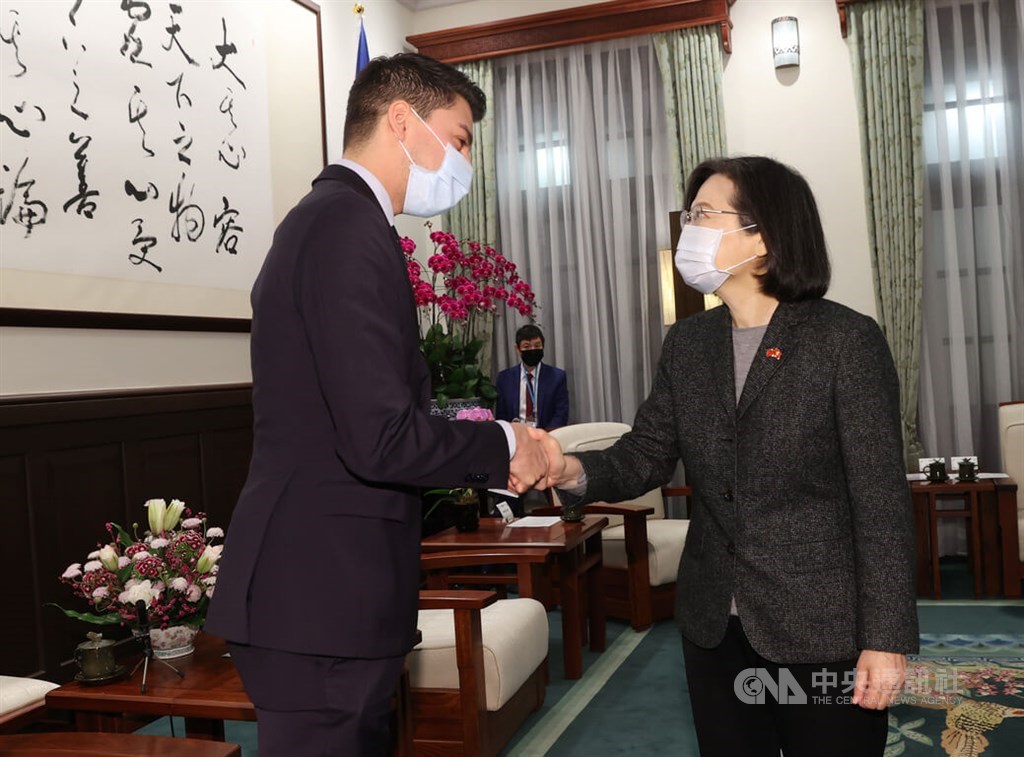 Taipei, Feb. 6 (CNA) A group of visiting Swiss parliamentarians called for a peaceful resolution of cross-Taiwan Strait differences and the signing of a Swiss-Taiwan economic partnership agreement (EPA) during their meeting with President Tsai Ing-wen (蔡英文) in Taipei Monday.
In his address to Tsai, national councilor Fabian Molina, a co-chair of the Swiss-Taiwan parliamentary group, pointed out that the five-member delegation was visiting Taiwan against the background of the Russian invasion of Ukraine.
"The terrible war against Ukraine is a turning point not only but especially for Europe for the war has shown us how fragile our rule-based multilateral world order is," he said.
The war is a reminder to people and their leaders to strengthen dialogue and to seek cooperation to promote world peace, democracy, and multilateralism because "authoritarianism and war must not prevail," he added.
He also said Switzerland and Taiwan share a lot in common as both are vibrant democracies with high mountains and are dependent on research and technological innovation.
"Yet the two democracies have made much of these conditions with a great deal of inventiveness and pragmatism," and it is with that inventiveness and pragmatism that the two partnerships should continue to improve and deepen relations for their mutual interests, he added.
He also noted that Switzerland just became a non-permanent member of the United Nations Security Council for 2023 and 2024, which gave the country an opportunity to contribute to peace and security in the world, especially given the current tense global political environment.
With that in mind, Molina said it was "absolutely essential" that the existing differences and tensions between both sides of the Taiwan Strait "be resolved peacefully and through dialogue."
"Anything less would be unacceptable," he stressed.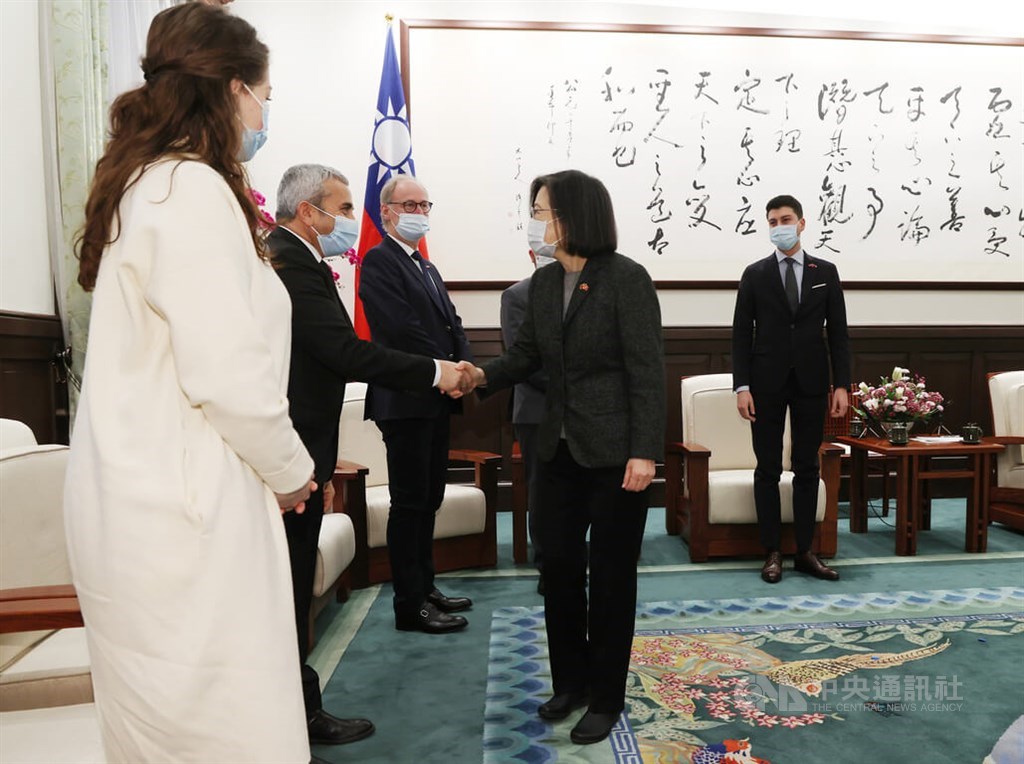 Meanwhile, another co-chair of the Swiss-Taiwan parliamentary group, national councilor Nicolas Walder, said in his address to Tsai that Russia and the People's Republic of China were two major threats that were currently destabilizing the world.
It is the duty and in the interests of Switzerland to draw closer with like-minded countries, including Taiwan, that are "open to the world" and to engage in closer economic cooperation, he said.
Given the fact that Taiwan is Switzerland's seventh-largest economic partner in Asia, he has called on his government to move toward signing an EPA with Taiwan, Walder said.
The two chairs of the Swiss-Taiwan parliamentary group are leading the delegation that arrived in Taiwan on Sunday for a six-day visit.
The other three members of the delegation are national councilors Mustafa Atici, Leonore Porchet, and Yves Nidegger.
According to Taiwan's Ministry of Foreign Affairs (MOFA), the delegation will meet with Legislative Speaker You Si-kun (游錫堃), Foreign Minister Joseph Wu (吳釗燮), and Control Yuan President Chen Chu (陳菊) during its stay.
The group will pay visits to the Ministry of Health and Welfare, the National Development Council, the Mainland Affairs Council, and the National Science and Technology Council, as well as the Hsinchu Science Park.
The Swiss politicians will also travel to the outlying county of Kinmen and visit the sites of historical battles between mainland China and Taiwan, before departing this Friday, according to MOFA.
On Friday, the Taoyuan Metro Corp., which operates the Taoyuan Airport MRT, said it had received an email from someone threatening to detonate an explosive on the line's A1 terminal at Taipei Main Station if the Swiss lawmakers' visit went ahead.
After an initial investigation, police identified the suspected sender of the email as a Chinese man surnamed Zhang (張), who studied in Taiwan from 2016-2021, and has allegedly made several such threats since leaving the country, none of which have been carried out.