Tsai congratulates Czech Republic president-elect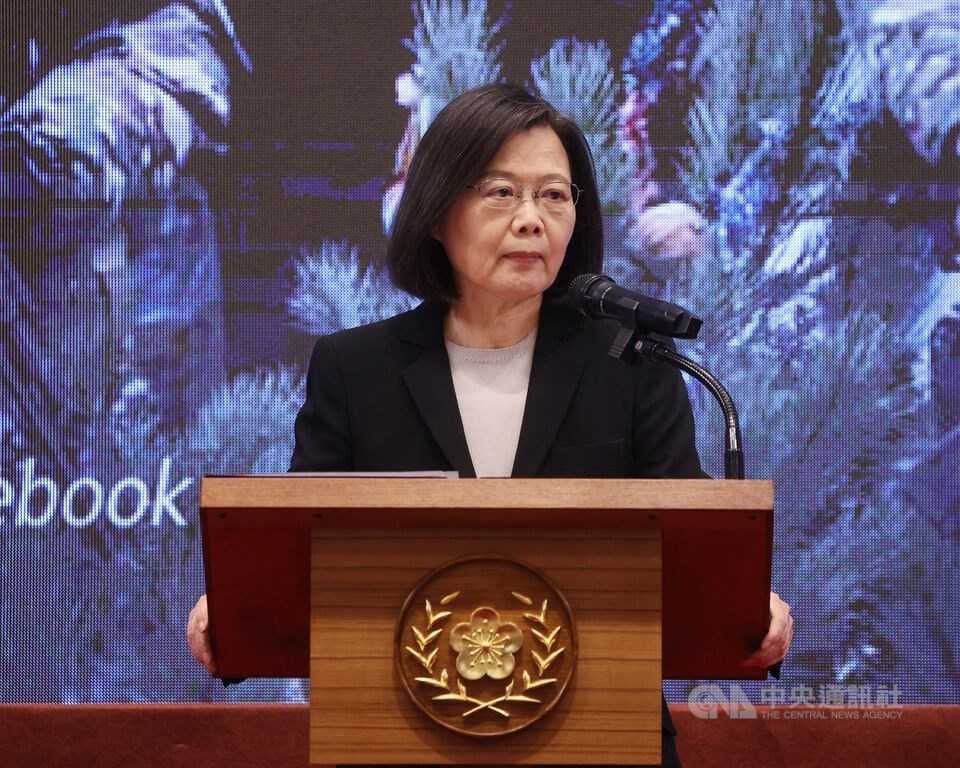 Taipei, Jan. 29 (CNA) President Tsai Ing-wen (蔡英文) extended the congratulations of Taiwan's government and its people to the newly elected president of the Czech Republic Petr Pavel, the Ministry of Foreign Affairs (MOFA) said Sunday.
The Republic of China (Taiwan) representative office in the Czech Republic sent a congratulatory message from Tsai to the Pavel camp after his victory Saturday, according to a MOFA press release.
In her message, Tsai said the people of Taiwan and the Czech Republic enjoy long-standing and deep ties and share the values of freedom, democracy, human rights and the rule of law, it said.
Based on this existing friendship, the government of Taiwan looks forward to deepening exchanges and cooperation with the Czech Republic in key areas, by mutually beneficial means, it added.
In a separate tweet, Foreign Minister Joseph Wu (吳釗燮) also congratulated Pavel for being elected the new president of Czechia.
"Common history of fighting authoritarianism & shared passion for freedom & democracy will bring Taiwan & the Czech Republic closer, for we're stronger together," he tweeted.
Pavel, a retired general and former chairman of NATO's military committee, the alliance's highest military body, swept to the Czech presidency after a landslide victory on Saturday over former prime minister Andrej Babiš.
The 61-year-old took 58.32 percent of the vote, results released by the state statistics office showed.
The ex-general will replace Milos Zeman, whose second term ends in March.
Unlike Zeman who long pushed for closer relations with China and Russia, Pavel is considered a mainstream pro-Western candidate backing aid for Ukraine. The President of the Czech Republic is the head of state but mostly has only ceremonial powers as the day-to-day business of the executive government is carried out by the prime minister.
According to a report from Czech media Seznam Zprávy, the newly elected president has scheduled phone calls with Ukrainian President Volodymyr Zelensky and President Tsai on Sunday.
Asked to comment, Taiwan's Presidential Office spokesman Xavier Chang (張淳涵) said MOFA is making "appropriate arrangements on possible interactions that would be beneficial to enhancing bilateral relations" adding that the government will make public more details at a later time, without elaborating.
Despite the lack of official diplomatic ties, Taiwan and the Czech Republic have maintained cordial relations since the two sides opened representative offices in 1991 and 1993 in Prague and Taipei respectively.
Bilateral relations have warmed since Czech Senate President Miloš Vystrčil visited the country in Sept. 2020, to become the first head of a lawmaking body from a non-diplomatic ally to address Taiwan's Legislative Yuan, despite repeated warnings from China, which considers Taiwan part of its territory.
Since the Russian invasion of Ukraine in Feb. 2022, both sides have worked closely to help Ukrainian refugees settled in nearby countries.
The Czech government's Indo-Pacific strategic policy framework published last year emphasizes that the Czech Republic will develop bilateral relations with like-minded nations in line with the rules-based international order, adding that the Czech Republic regards Taiwan as a major partner in its future Indo-Pacific strategy.