Political figures visit temples, talk politics to start new year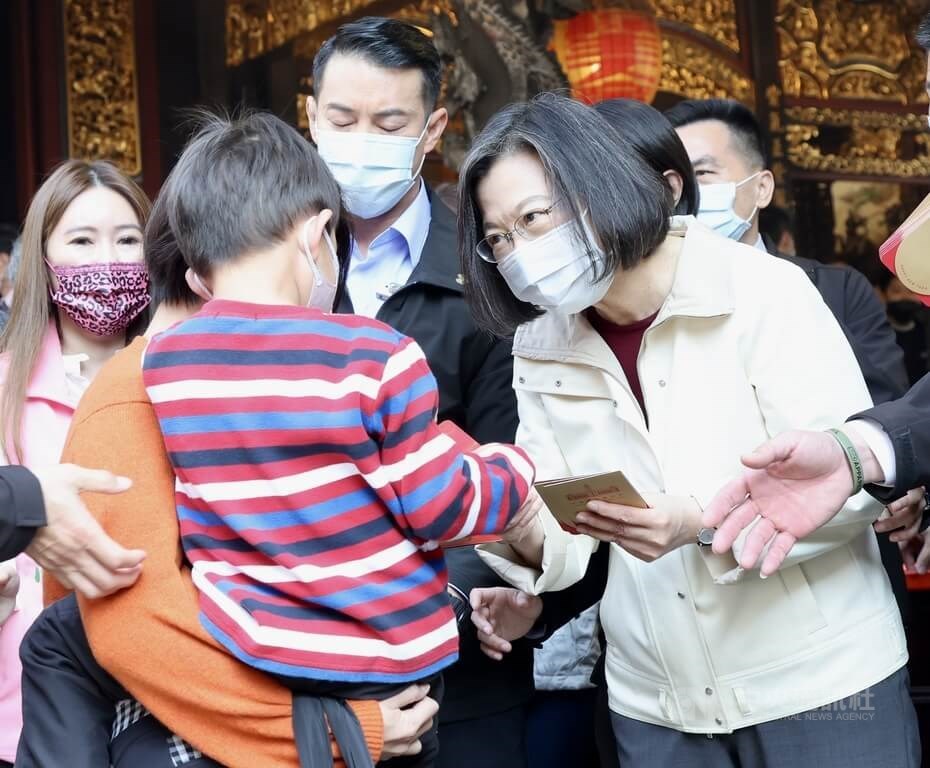 Taipei, Jan. 22 (CNA) Several Taiwanese politicians visited temples around Taiwan on Sunday, the first day of the Year of the Rabbit, extending their greetings to the public and voicing their political hopes for the new year.
Among them, President Tsai Ing-wen (蔡英文) made a visit to Dalongdong Baoan Temple in Taipei's Datong District, and distributed 2,000 lucky bags to the temple's many visitors.
In Taiwan, many people tend to visit temples during the Lunar New Year holiday to ask the temple's gods for good luck and good fortune in a new year.
Accompanied by National Security Council Secretary-General Wellington Koo (顧立雄), Defense Minister Chiu Kuo-cheng (邱國正), and others, Tsai also went to a military police base in Zhongshan District tasked with protecting the capital and thanked them for their efforts over the holiday.
She encouraged members of the battalion stationed there to continue to prepare themselves to protect the country and boost the public's confidence in the military's combat readiness.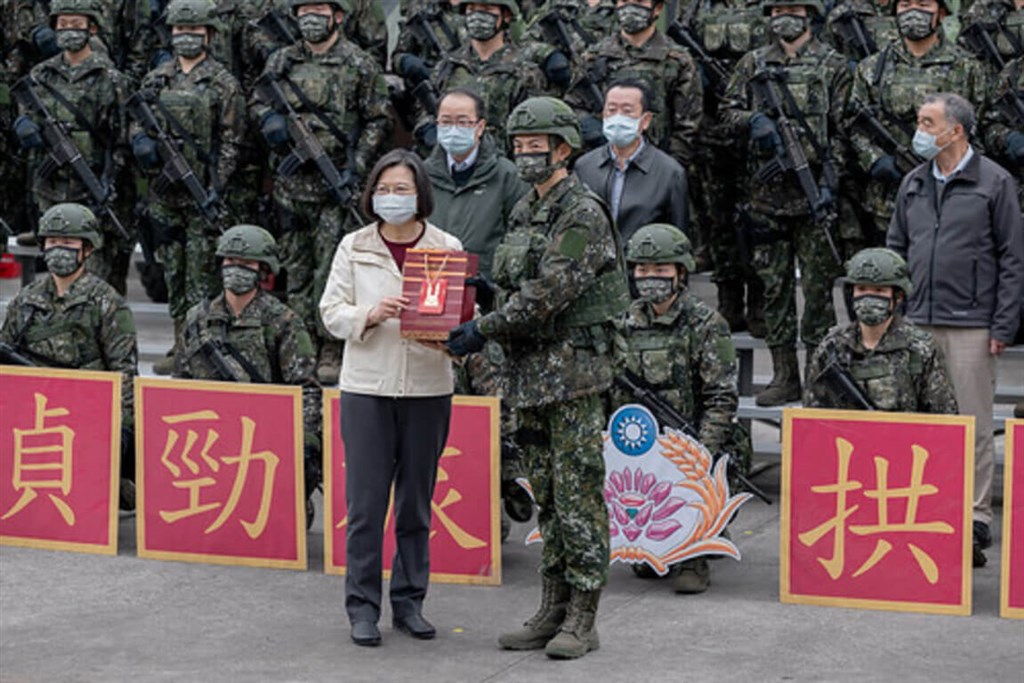 Tsai's deputy, Vice President Lai Ching-te (賴清德), went to Qingan Temple in Keelung and said the top priority of the government is to strengthen the economy and have the public share in its economic benefits.
That could be a challenge as Taiwan's economic growth fell by 0.86 percent in the fourth quarter of 2022 from a year earlier, its worst performance in 13 years.
Taiwan's export-oriented economy was particularly hurt by weakening global demand for electronic goods, including semiconductors, which many companies and analysts see continuing into the first half of 2023.
Lai has assumed a higher profile recently after taking over as chairperson of the ruling Democratic Progressive Party (DPP) from Tsai on Jan. 18 and is seen as the clear favorite to represent it in the 2024 presidential election.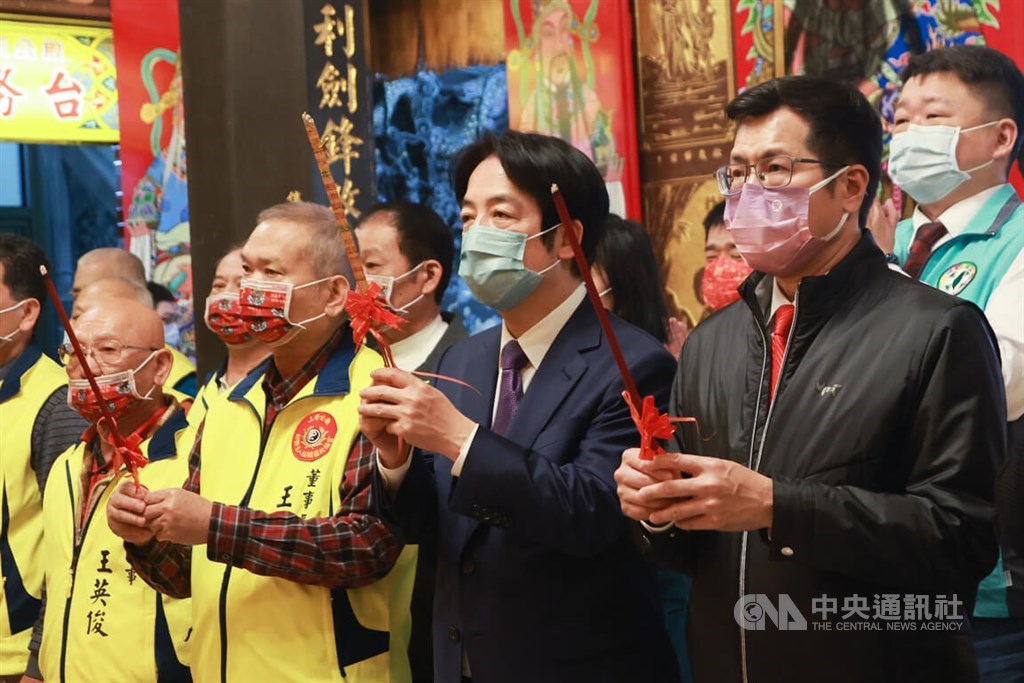 Tsai stepped down as DPP chairperson following a stinging defeat in the Nov. 26 local government elections, and has yet to appoint a new premier to replace Premier Su Tseng-chang (蘇貞昌), who tendered his resignation on Jan. 19 because of the election results.
Lai said Sunday he would unite party members and draw on the strength of Taiwan's society to push for democracy, peace and prosperity for the country and also vowed to reinforce Taiwan's military strength to maintain peace across the Taiwan Strait.
Also on Sunday, Eric Chu (朱立倫), chairman of the opposition Kuomintang (KMT), and recently sworn-in Taipei Mayor Chiang Wan-an (蔣萬安) visited Taipei's Longshan Temple, and wished the public good health and prosperity in the coming year.
Chu said the KMT was determined to nominate the right candidates in future elections and unite to win victories and earn the trust of the voters.
Chu also hoped that Taipei, led by Chiang, will make significant progress in the year ahead.
Terry Gou (郭台銘), founder of Taiwan-based manufacturing giant Hon Hai Precision Industry Co. and someone thought to be interested in running for president in 2024, also talked politics during a visit to Ci-Hui Temple in the Banqiao area in New Taipei.
He said the public hoped the leader of the country will keep Taiwan at peace and lead the country in strengthening the economy while getting rid of corruption.
Gou said he asked temple gods who will be best able to lead Taiwan toward economic prosperity and peace, but did not say if they provided an answer.
While visiting the God of War Temple in Hsinchu, former Taipei Mayor Ko Wen-je (柯文哲), who is the founder and chairman of the Taiwan People's Party (TPP), urged the president to decide on a new premier as soon as possible to avoid a political vacuum.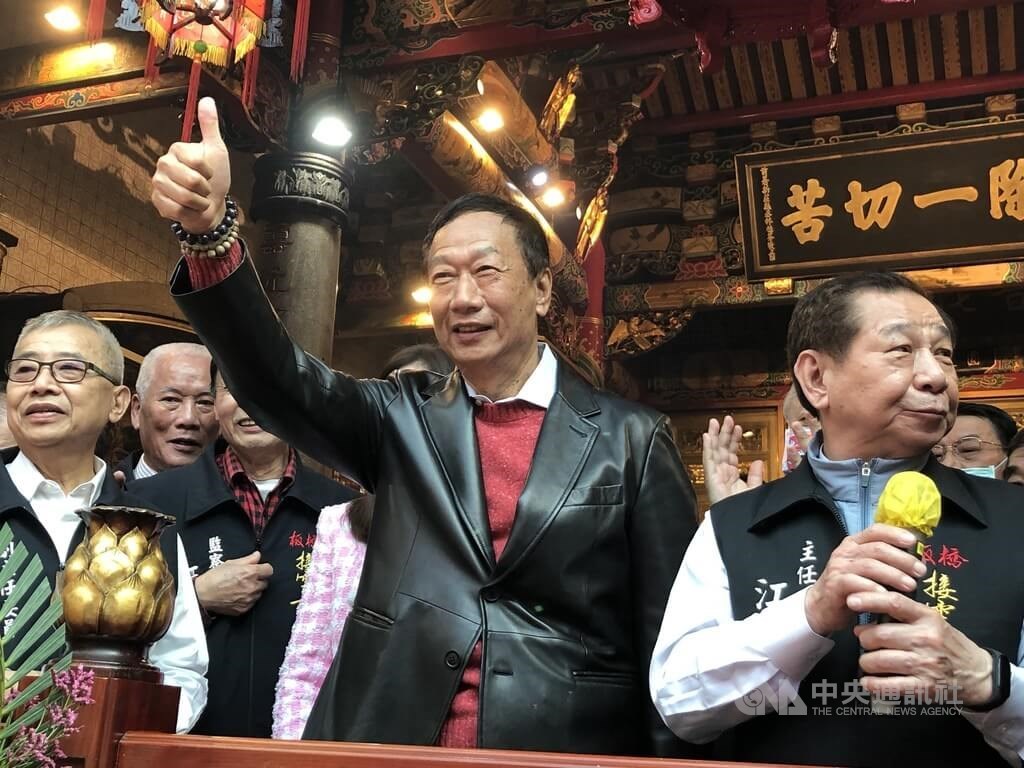 Premier Su, who is currently leading a caretaker Cabinet, said in a Facebook post Sunday that until the president chooses a new premier, he and his Cabinet members will stand firm in their posts and help with a seamless transition to a new Cabinet.
Former Vice President Chen Chien-jen (陳建仁), seen as a potential choice for premier, declined to answer questions from the media about the post when he attended mass at Holy Family Church Taipei on Sunday, but simply wished reporters a happy new year.