Opposition calls for Taiwan conscription reforms alongside extension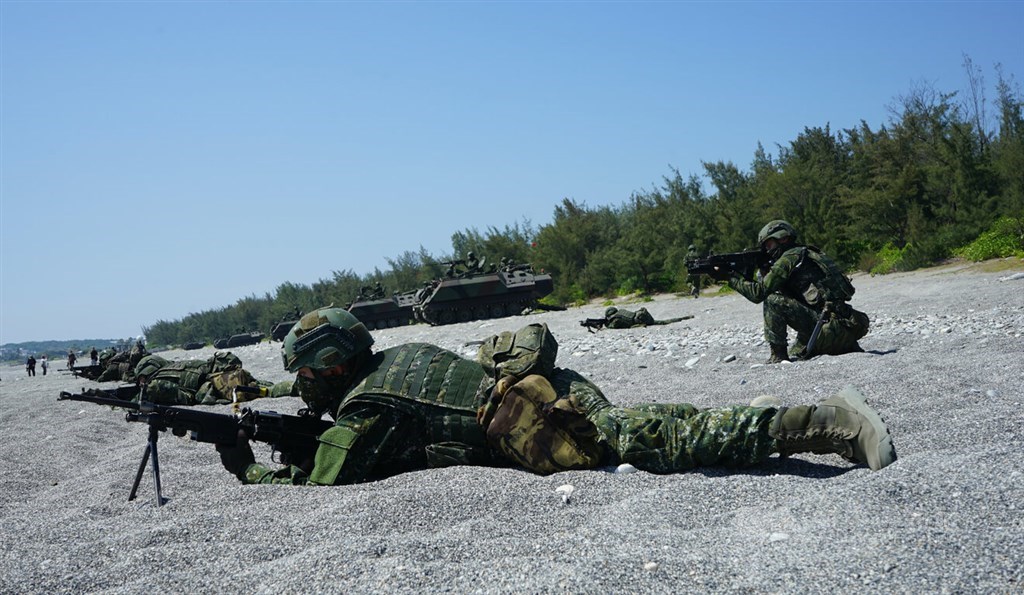 Taipei, Dec. 27 (CNA) Taiwan's opposition parties on Tuesday called for effective measures to strengthen training for those undergoing compulsory military service after the ruling Democratic Progressive Party's (DPP) announced plans to lengthen conscription from four months to one year.
President Tsai Ing-wen (蔡英文) announced at a press conference Tuesday that compulsory military service for all Taiwanese men over the age of 18 would be extended from four months to one year in the hope of bolstering the country's self-defense in the face of an increasingly assertive China.
The plan, which is expected to be approved by the Executive Yuan later this week and notified to the Legislature afterward, will take effect starting 2024, according to Tsai, affecting conscripts born on Jan. 1, 2005 and after.
The conscripts, who support the country's 160,000 voluntary troops, are currently required to do five weeks of boot camp followed by 11 weeks of specialized training with field units in their four-month service.
At a separate press conference Tuesday afternoon, Legislator and spokesman for the main opposition Kuomintang (KMT) Hung Mong-kai (洪孟楷) said it was his party's position that reforms to conscription were necessary in response to "changes to external situations."
While the KMT supports extending conscription, measures should also be taken to improve the "content and quality" of compulsory military service as well as provide "fair treatment" to conscripts of the Republic of China [Taiwan's de jure name], Hung said.
He said the Ministry of National Defense (MND) should allow conscripts with expertise in information, communications, or unmanned aerial vehicles to apply their professional skills while serving in the military.
Tasks relating to information, communications, and similar fields are currently handled by full-time professional military personnel attached to the Information, Communications, and Electronic Force Command.
Hung went on to say that the MND should address the problems of insufficient training bases and inadequate training for conscripts as soon as possible.
In addition, Hung said that the starting monthly salary for conscripts should be at least NT$26,400 (US$860) - the minimum monthly wage for Taiwan's workers starting in 2023, in accordance with the Ministry of Labor's announcement in September.
Under the government's plan, the monthly salaries for conscripts would be increased from NT$6,510 to NT$20,320, in addition to other benefits valued at NT$5,987.
At the same time, the MND should increase bonuses for both voluntary troops and conscripts, whenever appropriate, to "boost [their] morale," Hung said.
He also urged the government to reinstate the country's Armed Forces Day, which is observed annually on Sept. 3, as a public holiday for all civilians, arguing it would be a "concrete" act of respect for Taiwan's military personnel.
In separate statements, both the New Power Party (NPP) and Taiwan People's Party (TPP) have given their backing to the government's plan.
Extending the compulsory military service is only one of the measures needed in Taiwan to strengthen its self-defense, the NPP said in its statement, adding that the MND must effectively implement the training of both voluntary forces and conscripts in order to achieve that goal.
The TPP, while voicing support for extending conscription in the face of "ever-changing cross-strait relations," expressed, without explaining, concern the DPP government would use the policy change to further its act of "provocation to other countries."
The TPP also urged the MND to put more effort into replacing aging facilities, improving treatment for military personnel, and boosting morale among the troops, saying efforts as such would be essential for elevating Taiwan's combat capabilities and achieving the goal of preventing the war.
Related News
Dec. 27: Extended military service to include higher pay, longer boot camp: President
Dec. 27: Tsai announces military reforms, introduces U.S. training models
Dec. 27: Scholars call for training overhaul after military service extension