Biden, Macron reaffirm need for peace, stability across Taiwan Strait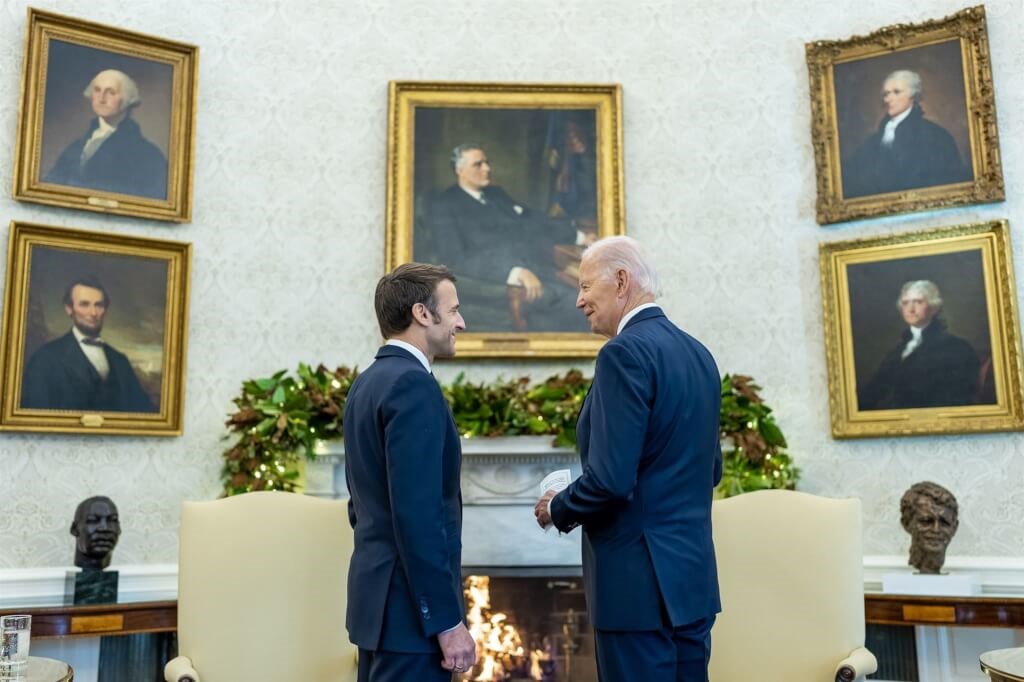 Washington, Dec. 1 (CNA) U.S. President Joe Biden and his French counterpart Emmanuel Macron have reiterated the importance of peace and stability across the Taiwan Strait and expressed concerns over the challenges posted by China.
"The Presidents reaffirm the importance of maintaining peace and stability across the Taiwan Strait," said the joint statement issued after Biden and Macron held talks Thursday at the White House.
"The United States and France will continue to coordinate on our concerns regarding China's challenge to the rules-based international order, including respect for human rights, and to work together with China on important global issues like climate change," the statement said.
Macron's trip to Washington was the first state visit by a foreign president to the United States since Biden took office in January 2021.
In a recent interview with CNA, Antoine Bondaz, director of the Taiwan Program at the Foundation for Strategic Research in Paris, said the French government had ignored Taiwan over the past few decades.
In October 2021, when Biden and Macron met on the sidelines of the G-20 summit in Rome, the two leaders did not mention China or the Taiwan Strait in their joint statement.
But that has changed in 2022, with French authorities mentioning the importance of Taiwan and cross-Taiwan Strait ties several times, reflecting the unprecedented attention given to Taiwan by the French government and its sense of the importance of the Taiwan issue, according to Bondaz.
A recent example of that, Bondez said, was a report issued in November titled "The 2022 National Strategic Review," in which France warned of China's increasingly "assertive" efforts to change the status quo in the Taiwan Strait.
According to the report, Beijing is likely observing Western cohesion on Ukraine and the impact of sanctions against Russia to what it could face in the event of a "major crisis," apparently referencing possible military action against Taiwan.
The joint statement also said the U.S. and France aimed to strengthen their partnership in the Indo-Pacific region to enhance "prosperity, security, and shared values based on a rules-based international order, transparent governance, fair economic practices, and respect for international law, including freedom of navigation."
Also in the statement, the two presidents strongly condemned Russia's invasion of Ukraine and stressed that Moscow's deliberate move to target civilians and civilian infrastructure constituted war crimes whose perpetrators must be held accountable.