ELECTIONS 2022
/
DPP's Huang Wei-che declares reelection win in Tainan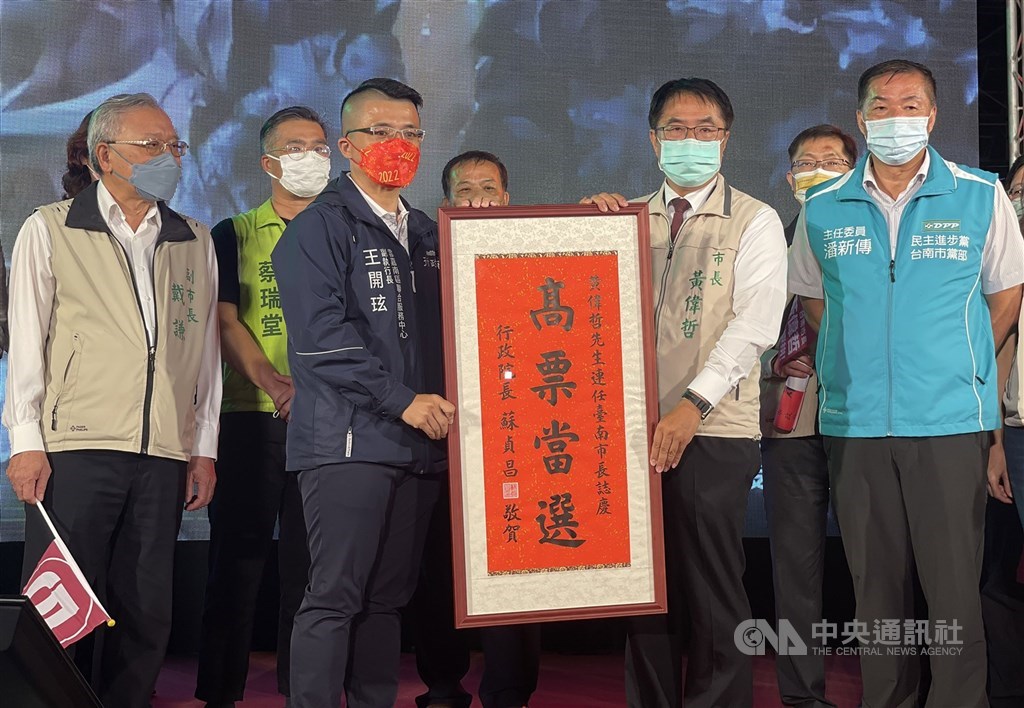 *The story was updated at 11:32 p.m. with final vote count. 

 Taipei, Nov. 26 (CNA) Huang Wei-che (黃偉哲) of the ruling Democratic Progressive Party (DPP) declared victory in his reelection bid for Tainan mayor Saturday against his main rival Hsieh Lung-chieh (謝龍介) of the Kuomintang (KMT).
Huang declared victory at around 7 p.m.
Huang finished with 433,684 votes, or 48 percent of the total, with his primary opponent, Hsieh receiving 387,731 votes, or 43.63 percent, according to figures from the Central Election Commission (CEC).
In his victory speech, Huang thanked the voters, vowed to become a better mayor, and promised to incorporate visions from his opponents when drawing up future policies.
However, Huang also acknowledged he had only narrowly beaten out Hsieh, adding that he would "deeply review and reflect" on the result.
Hsieh congratulated Huang for winning the election, expressing hope that Huang could do a better job in his second term than in his first.
Commenting on the tighter-than-expected race, Hsieh said he respected the result and thanked his supporters, adding that he would work with local representatives to continue serving the people of Tainan.
Huang's win means that the DPP's 25-year hold on the mayoral seat in the southern municipality will be extended for another four years.
Born in Tainan, the 59-year-old Huang is a former lawmaker who served in the Legislature for 13 years, from 2005. He was elected Tainan mayor in 2018, when he beat his main challenger from the KMT by a margin of 38 percent to 32 percent of the vote in a crowded field that included four independent candidates, who collectively got the remaining 30 percent of the vote.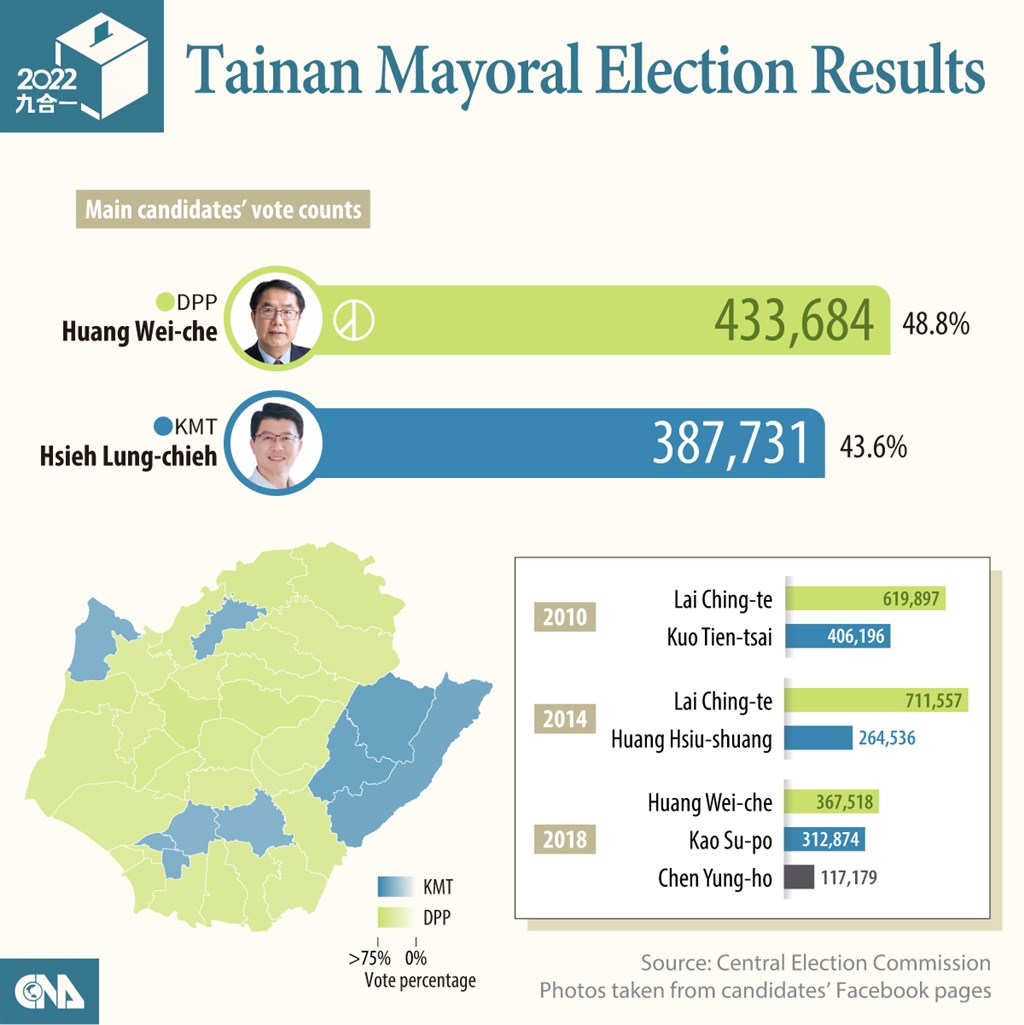 His main opponent Hsieh is also from Tainan and is known as one of the best Hokkien speakers on Taiwan's political scene. He has served for over 20 years as a Tainan city councilor and made four unsuccessful runs for the Legislature.
Elected in 2018 with a low winning percentage, Huang's victory at the time was a far cry from the two electoral wins by his mayoral predecessor, Vice President Lai Ching-te (賴清德), who won a large majority of votes both times -- 60.41 percent in 2010 and 72.9 percent in 2014.
With his narrow election win widely being perceived as a hollow victory, Huang kept a relatively low profile over the ensuing four years while packing his schedule with events.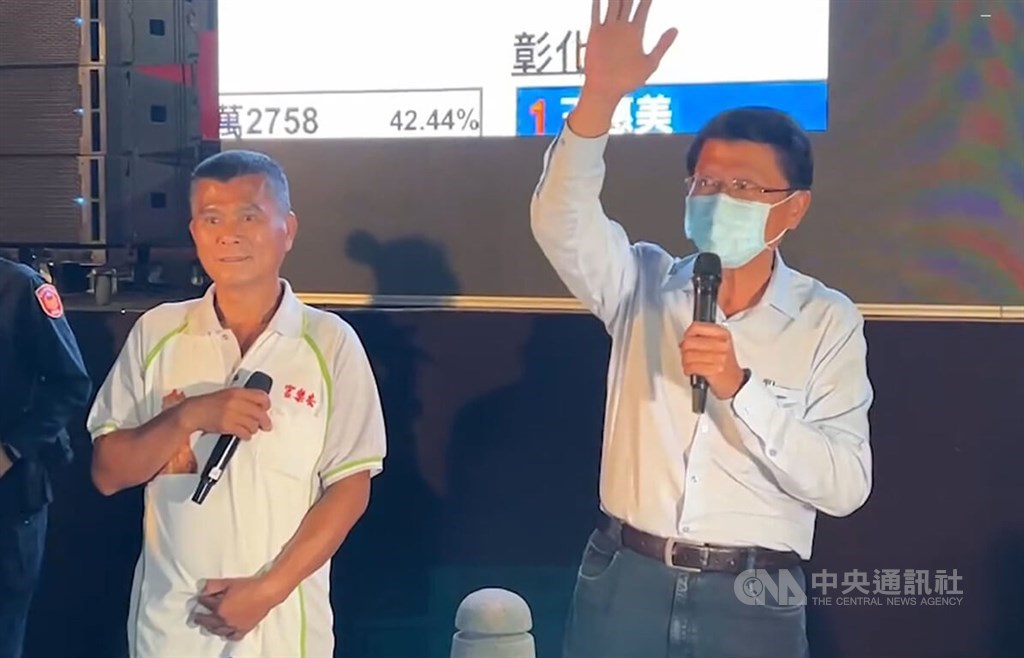 Meanwhile, Hsieh, despite being a household name, was unable to upset Huang in the traditional DPP stronghold as he campaigned to win the support of floating voters to gain publicity for the KMT and close the gap between the KMT and the DPP in the municipality.
However, the KMT is setting its sights on the bigger picture and using the Tainan mayoral race as a bellwether for the 2024 presidential and legislative elections and a chance to consolidate its support base, according to an unnamed KMT source.
Taipei Mayor Ko Wen-je (柯文哲), who is also chairman of the Taiwan People's Party (TPP), previously noted that the opposition in the DPP stronghold did not stand a chance against Huang if they did not throw their weight behind one candidate.
View All