Taiwan-Italy parliamentary exchange group established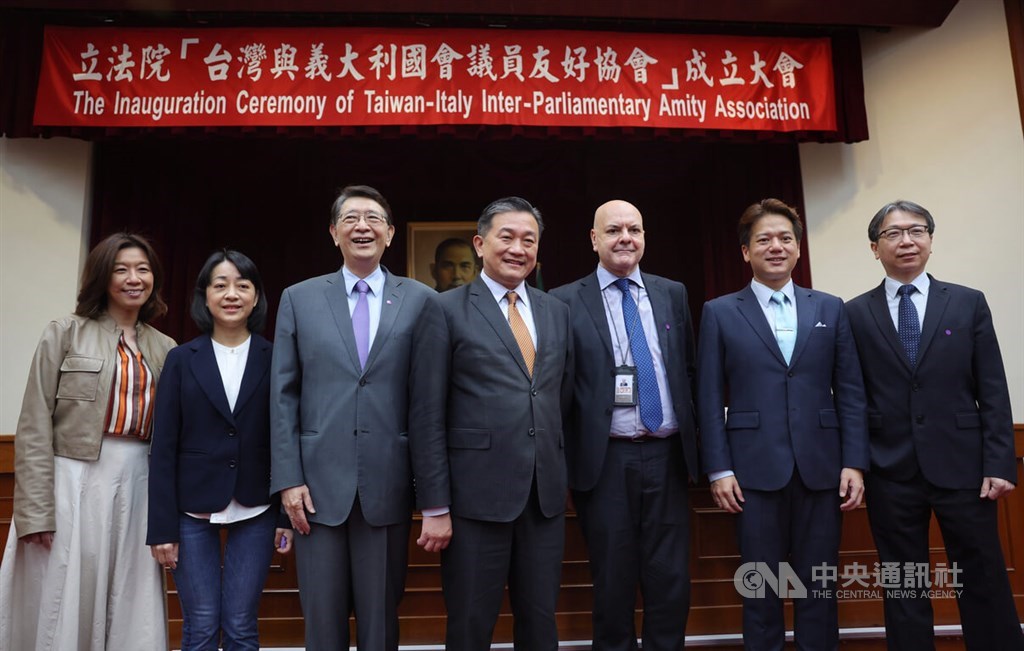 Taipei, Nov. 1 (CNA) Lawmakers across party lines on Tuesday launched the Taiwan-Italy Inter-Parliamentary Amity Association in Taipei aimed at boosting cooperation and deepening bilateral ties.
An inauguration ceremony was held at the Legislature Yuan, attended by Deputy Foreign Minister Tsai Ming-yen (蔡明彥); Robert Della Sala, deputy representative of the Italian Economic, Commercial and Cultural Promotion Office in Taipei; and Legislative Yuan Secretary-General Lin Chih-chia (林志嘉).
Democratic Progressive Party (DPP) Legislator Wang Ting-yu (王定宇) was elected the new group's chairperson, while DPP Legislator Lin Ching-yi (林靜怡), New Power Party Legislator Wang Wan-yu (王婉諭), independent Legislator Freddy Lim (林昶佐), and Kuomintang (KMT) Legislator Chen I-hsin (陳以信) were elected its deputy chairpersons.
"There is much to look forward to in the development of Taiwan-Italy relations," whether it be recently sworn-in Italian Prime Minister Giorgia Meloni putting emphasis on maintaining peace in the Taiwan Strait or the Italian Chamber of Deputies in June voting unanimously to support Taiwan's inclusion in the World Health Organization and its technical meetings, Wang said.
Taiwan's trade with Italy totaled US$5.57 billion in 2021, and Italy now has Taiwan-friendly new prime minister, Lin Chih-chia said, adding that the association's creation amid these developments would hopefully result in new opportunities and strengthen bilateral ties.
In a pre-recorded video, Italian Senator Lucio Malan, the president of the Italy-Taiwan Parliamentary Friendship Group, said Taiwan and Italy had much in common, their people could carry out exchanges in various fields, and the two countries would hopefully work together more closely based on their mutual interests.
Italian senators Mario Borghese and Adriano Paroli also delivered congratulatory speeches in Italian in pre-recorded videos expressing hope for expanding cooperation with Taiwan.
Wang said that parliamentary exchanges have always been an important channel for Taiwan to interact with international partners in the absence of formal diplomatic ties.
Taiwan People's Party Legislator Chiu Chen-yuan (邱臣遠) said that Italy has huge influence in the European Union, and that its friendship with Taiwan could help resolve Taiwan's diplomatic plight.
Lin said that Taiwan and Italy had offered each other assistance amid COVID-19 outbreaks from 2020-2022, while expressing hope that the two sides would expand cooperation in trade, tourism, and agriculture in the post-pandemic era.
Chen said that he would push for cooperation and bilateral ties on behalf of the KMT, Taiwan's main opposition party.