CORONAVIRUS
/
Premier expresses condolences to families of COVID-19 victims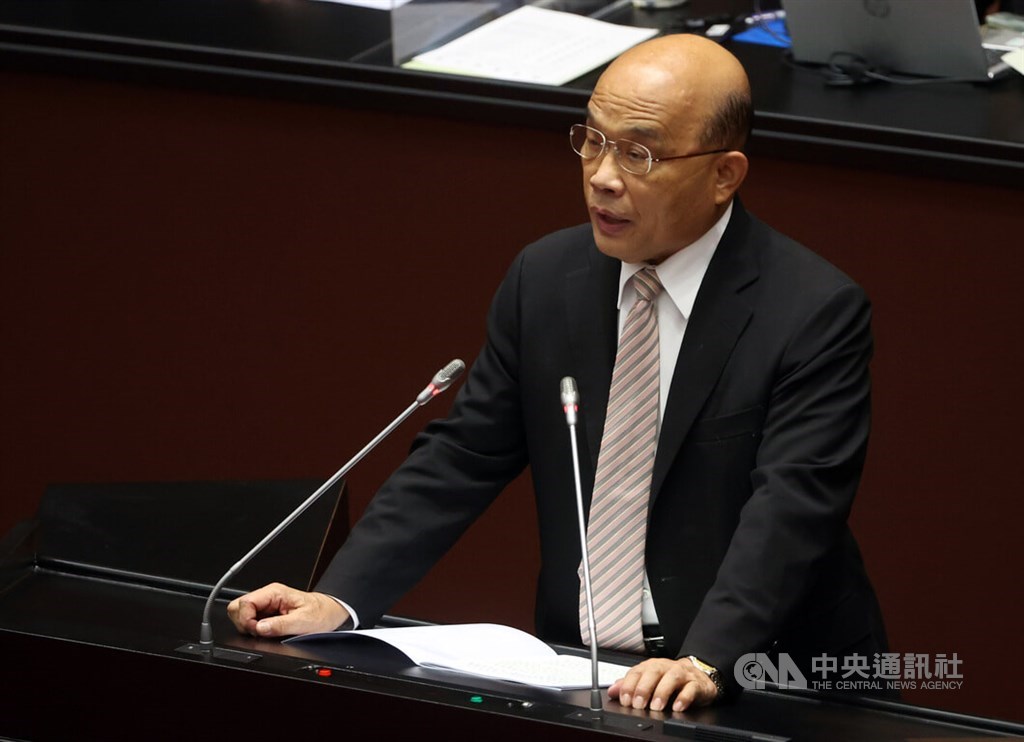 Taipei, Sept. 27 (CNA) Premier Su Tseng-chang (蘇貞昌) on Tuesday expressed his condolences to families of people in Taiwan who died of COVID-19 while giving a report on the government's major policies at the Legislative Yuan.
The move came after lawmakers on Sept. 23 reached an agreement to ask Su to apologize for the fatalities caused by local COVID-19 outbreaks, after lawmakers of the opposition Kuomintang (KMT) blocked Su from giving his report.
Over the past two years and nine months, Su said, countries all around the world have paid dearly for the pandemic, which has seen more than 600 million people contract the virus and some 6 million people lose their lives.
In Taiwan, people have died despite the government's best efforts to ensure COVID-19 patients access to treatment, which was regrettable and saddening, Su said, while expressing his "deepest condolences" to the families of the deceased.
According to data from Taiwan's Centers for Disease Control, 10,912people in Taiwan have died of COVID-19 since the pandemic began.
On a per capita basis, Taiwan's death toll has been on a par with that of Thailand and Vietnam in the Asia-Pacific region, while running higher than in Singapore, Japan and New Zealand.
Taiwan continues to report dozens of deaths from COVID-19 a day, despite keeping its borders relatively closed longer than most other economies in the world.
That will soon change, however, Su said, starting on Sept. 29 when visitors from many countries will again be allowed into Taiwan visa-free after a long hiatus, and arrivals will no longer have to get PCR tests for COVID-19 at the airport.
This first stage would last for two weeks, and if the COVID-19 situation does not worsen, the three-day mandatory quarantine upon arrival into Taiwan will be scrapped, and visitors will only be required to monitor their health closely for seven days, he said.
In related news, Health Minister Hsueh Jui-yuan (薛瑞元) said Tuesday that his ministry was planning to significantly speed up the Vaccine Injury Compensation Program's (VICP) review of cases involving people who apparently have developed illnesses or have died as a result of being vaccinated against COVID-19.
Hsueh was answering a question from KMT lawmaker Tseng Ming-chung (曾銘宗), who said the VICP only reviewed about 50 cases a month, and that it would take 10 years to finish the review of the 6,000 cases that are still open.
The government should address this issue to prevent the review process from becoming protracted, so that people could receive compensation soon, Tseng said.
Hsueh said the Health Ministry was reviewing a plan to divide the review body into five groups and have each group meet twice a month.
According to the planned schedule, the VICP should be able to finish reviewing the 6,000 cases in two years, he said.
Tseng then asked Hsueh whether it was true that the government's procurement contracts for COVID-19 vaccines would remain classified for 30 years, amid media reports that the government had spent NT$7 billion (US$220.6 million) more than it should have to buy COVID-19 vaccines.
Opposition parties have accused Democratic Progressive Party (DPP) Taipei mayoral candidate Chen Shih-chung (陳時中), the former health minister and head of the Central Epidemic Command Center (CECC), for overspending on the vaccines and not being transparent on vaccine purchases.
Hsueh denied that the contracts with vaccine suppliers were classified for 30 years, saying that they were only to be "preserved" for 30 years, while the periods of time they were to be kept classified were set on a case-by-case basis and generally started from five years,
The contracts can be declassified any time after their classified status has expired, he said.
View All