ELECTIONS 2022
/
TPP Hsinchu mayoral hopeful rebuts plagiarism accusations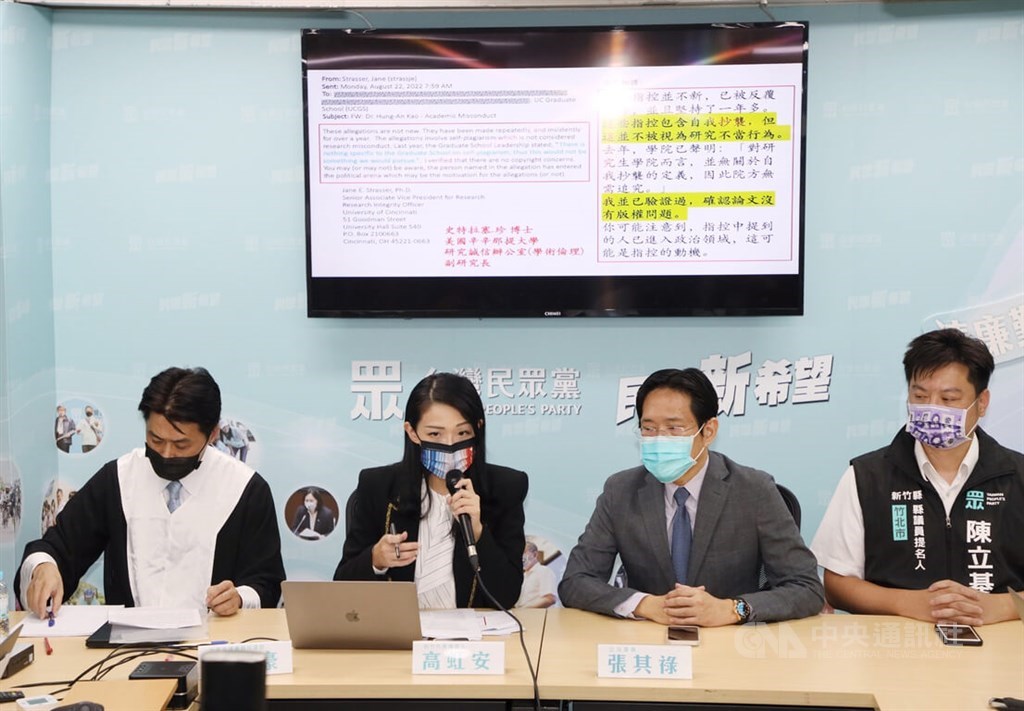 Taipei, Sept. 20 (CNA) Taiwan People's Party (TPP) lawmaker Kao Hung-an (高虹安) on Tuesday rejected a media report that she had "plagiarized her own work" at a partially government-funded institution in producing her doctoral thesis.
The Chinese-language Mirror Media reported Tuesday that Kao, the TPP's Hsinchu City mayoral candidate in November's local elections, had "copied" content, including graphs and figures, from research papers which she wrote for the Institute for Information Industry (III) in her doctoral thesis at the University of Cincinnati.
She did not list citations for her duplication of the content, which had not gained the III's approval, the magazine reported.
The report also accused Kao of having attended the university on a scholarship issued by the III, but contravening a provision that she must work for the III for a set period of time after her return.
By landing a job at Foxconn Technology Group, where she served as a deputy general manager, immediately after her return, Kao had used public funding to further her career, the magazine said.
Those allegations were repeated at a news conference by Democratic Progressive Party (DPP) lawmakers Lo Chih-cheng (羅致政), Huang Shih-chieh (黃世杰), and Kuo Kuo-wen (郭國文), who said that Kao had used the institution as a stepping stone.
Kao held a separate news conference later on Tuesday where she rebutted the "false" magazine report.
She presented a letter by Jane Strasser, vice president for research at the university's Research Integrity Office, dated Aug. 22, in which it was stated that the allegations date back more than a year.
She said that Strasser and the university's College of Engineering and Applied Science had both issued statements that there had been no copyright issues in her thesis, and that she had not committed plagiarism.
The magazine published snapshots showing overlaps between her thesis and research papers published by the III, but what the report failed to disclose was that she was the first author of those research papers, Kao said.
She also said that she had only received rent subsidies from the III while she was studying abroad, and in return she honored her promise to continue working there for six months after she returned to Taiwan.
Kao urged the DPP not to resort to mudslinging for the elections, adding that any attempt to show her and former DPP Taoyuan mayoral candidate Lin Chih-chien (林智堅) in the same light would be futile because her case was very different from Lin's.
She added that she would take legal action against people who continued making false allegations that she had plagiarized her doctoral thesis.
Lin, a former Hsinchu City mayor, withdrew from the Taoyuan mayoral race in August amid allegations that he had plagiarized both his master's theses, following an announcement by the National Taiwan University that it had revoked Lin's degree and diploma after an academic ethics review committee determined that he had plagiarized his thesis while enrolled at the Graduate Institute of National Development.
Some members of the DPP have since accused several candidates of opposition parties of plagiarism.
View All