ELECTIONS 2022
/
DPP, KMT set for intensive campaigning in November local elections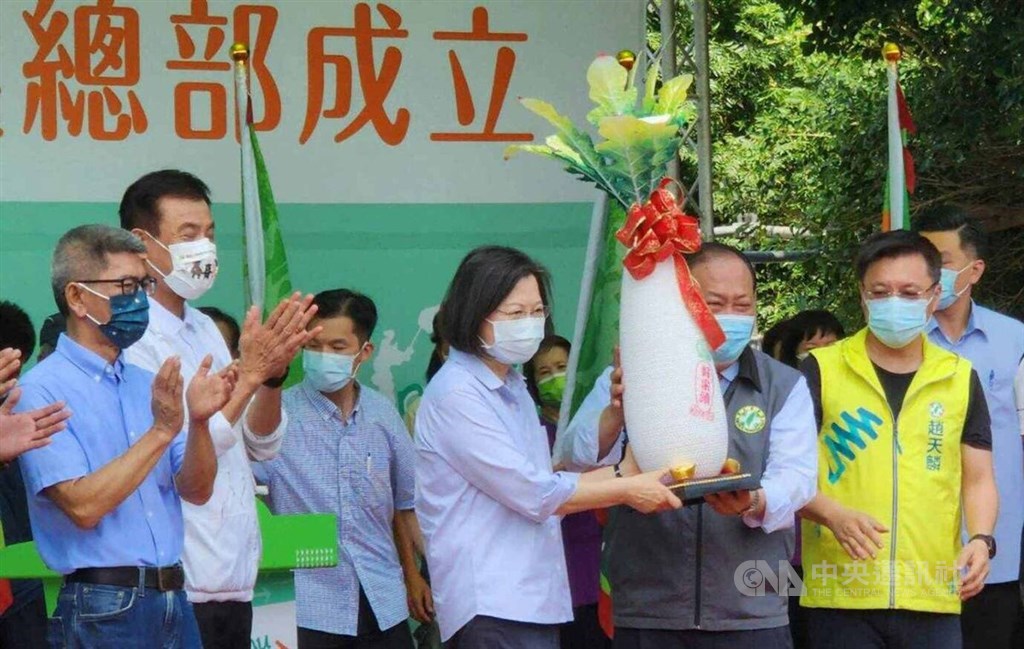 Taipei, Sept. 17 (CNA) The ruling Democratic Progressive Party (DPP) and main opposition Kuomintang (KMT) are preparing to kick off their campaigns for the local government elections scheduled for Nov. 26, the two political parties said Saturday.
President Tsai Ing-wen (蔡英文), Vice President Lai Ching-te (賴清德) and Premier Su Tseng-chang (蘇貞昌) will join forces to campaign for DPP candidates including Taichung mayoral candidate Tsai Chi-chang (蔡其昌), currently deputy legislative speaker, who is challenging KMT incumbent Lu Shiow-yen (盧秀燕), according to DPP Deputy Secretary-General Sidney Lin (林鶴明).
Tsai, who is also chairwoman of the DPP, will chair a Central Standing Committee meeting next week at Tsai Chi-chang's campaign headquarters in Taichung, Lin said.
The DPP will invite the party's candidates for Taichung Mayor, Changhua County Magistrate, Miaoli County Magistrate and Nantou County Magistrate to attend the meeting and focus on raising voter awareness of the ruling party's achievements, Lin added.
To show the party's achievements, Lin cited installing air conditioners in every public school classroom, a move to give disadvantaged students their own tablet computers, the more than NT$800 billion (US$25.56 billion) forward-looking infrastructure plan, and financial relief to people who were affected by COVID-19.
To celebrate the DPP's 36th birthday, the party will hold a concert on Sept. 24 in Taichung, with two other large events in the city next week, indicating the ruling party is focusing its electoral strategy on central Taiwan.
DPP sources indicate President Tsai will join Lai to campaign in central Taiwan after their joint appearance on Thursday in New Taipei, where DPP mayor candidate Lin Chia-lung (林佳龍) is challenging KMT incumbent Hou Yu-ih (侯友宜).
After Taichung, the DPP's campaign will move onto other cities and counties including Taoyuan and Changhua in an effort to boost the party's electoral chances in those areas, with Premier Su also in attendance.
Meanwhile, the KMT will publish an itinerary of major party figures to attend campaign events around the country at the end of this month, before launching its nationwide election campaign in October, according to Legislator Hung Mong-kai (洪孟楷), who also heads the party's Cultural and Communications Committee.
KMT campaign rally figures will be headed by party chairman Eric Chu (朱立倫) and include former party chairmen, incumbent legislators at large and ex-lawmakers, Hung said.
Chu, Hou and Lu will play a critical role in the election campaign across Taiwan, with other party heavyweights such as former KMT party chairs Ma Ying-jeou (馬英九) and Johnny Chiang (江啟臣) expected to participate to help boost support for the party's candidates, Huang added.
Ma served as Republic of China (ROC) president from 2008-2016
According to sources, the KMT will coordinate resources from grassroots levels around Taiwan, including more women and youth election workers, to solicit support for the party's candidates. In addition, the KMT will hold an anniversary event in November to promote party unity for the upcoming elections.
The KMT is looking to win at least three of the mayoral seats in the six largest cities -- Taipei, New Taipei, Taoyuan, Taichung, Tainan and Kaohsiung -- while eyeing 16 mayoral and county magistrate seats or more in the 22 cities and counties around Taiwan, including the six major cities.
View All