ELECTIONS 2022
/
Taiwan's major parties rally in support of lowering the voting age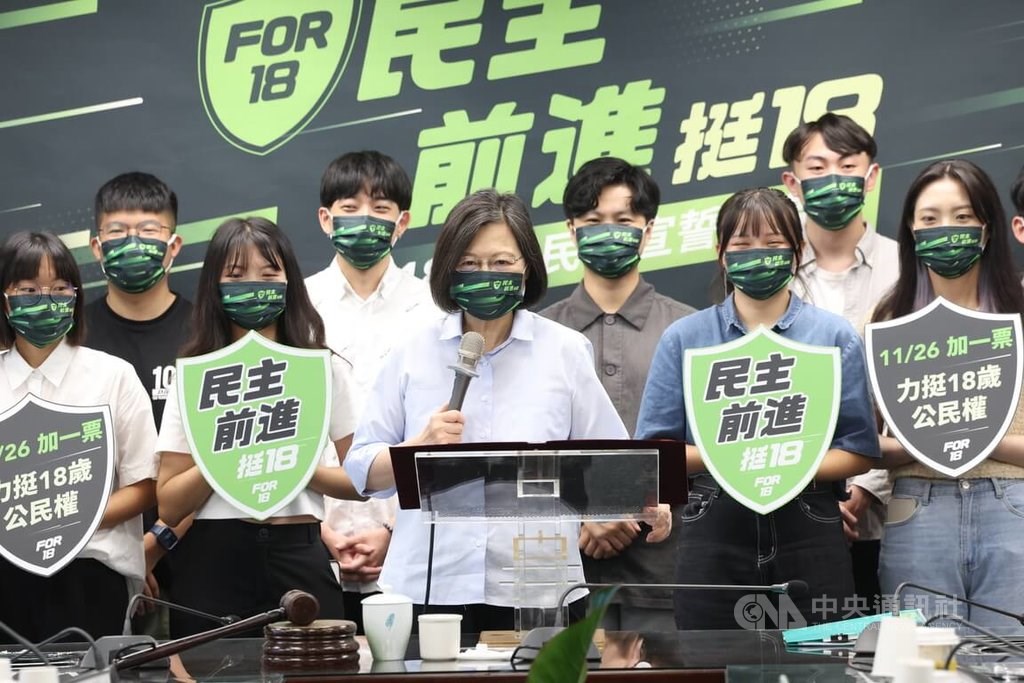 Taipei, Aug. 17 (CNA) As the competition for votes in upcoming local government elections heats up, the four major parties with seats in the Legislature have found common ground over lowing Taiwan's voting age from 20 to 18 via a constitutional amendment.
At a press conference on Wednesday, President Tsai Ing-wen (蔡英文), who concurrently serves as the chairwoman of the ruling Democratic Progressive Party (DPP), called on the party's rank and file to campaign for the passage of a national referendum that would lower the voting age.
A proposed constitutional amendment to lower Taiwan's voting age from the current 20 to 18 cleared the Legislature in March, but the amendment will not be made unless a national referendum seeking such change also passes. 
The referendum, which will be held on the same day as the local government elections on Nov. 26, will pass only if votes in favor of lowering the voting age surpass 9.65 million votes, the minimum required for the referendum to pass.
All of the DPP's candidates in the local government elections should urge their supporters to cast their vote favoring the passage of the referendum during their own election campaign, Tsai said at the press conference, adding that it would bring Taiwan's voting age in line with most other democratic countries.
Taiwan must "keep up with the steps" of the world and let the world see "our faith in democracy," Tsai said, arguing that the country's democratic system would be further consolidated by lowering the voting age.
Eric Chu (朱立倫), chairman of the main opposition Kuomintang (KMT), has expressed similar views, saying at an event on Tuesday that setting the voting age at 18 was "a global trend."
The passage of the referendum will "mark an important milestone" in enabling more young people in Taiwan to take part in politics, Chu said, urging the KMT's supporters to cast their vote in the upcoming referendum.
Both the Taiwan People's Party (TPP) and New Power Party (NPP) have recently launched their respective nationwide campaign to call for support of the passage of the referendum.
At one event in Yilan County on Wednesday, Legislator and NPP Chairwoman Chen Jiau-hua (陳椒華) said the law that set Taiwan's voting age at 20 had not changed for over seven decades since it was introduced in 1947.
Describing the law as "out of touch," Chen urged voters to vote on Nov. 26in favor of the passage of the referendum.
Taipei Mayor Ko Wen-je (柯文哲), who also served as the TPP chairman, said at a Taipei City Council meeting that the TPP had always supported the lowering of the voting age, adding that the party launched its referendum campaign in June.
Related News
Aug. 18: Over 83% of Taiwan's population eligible to vote in November: election official
Aug. 17: KMT mayors of New Taipei, Taichung to seek reelection
View All