ELECTIONS 2022
/
DPP's Taoyuan mayoral candidate pulls out over thesis plagiarism (update)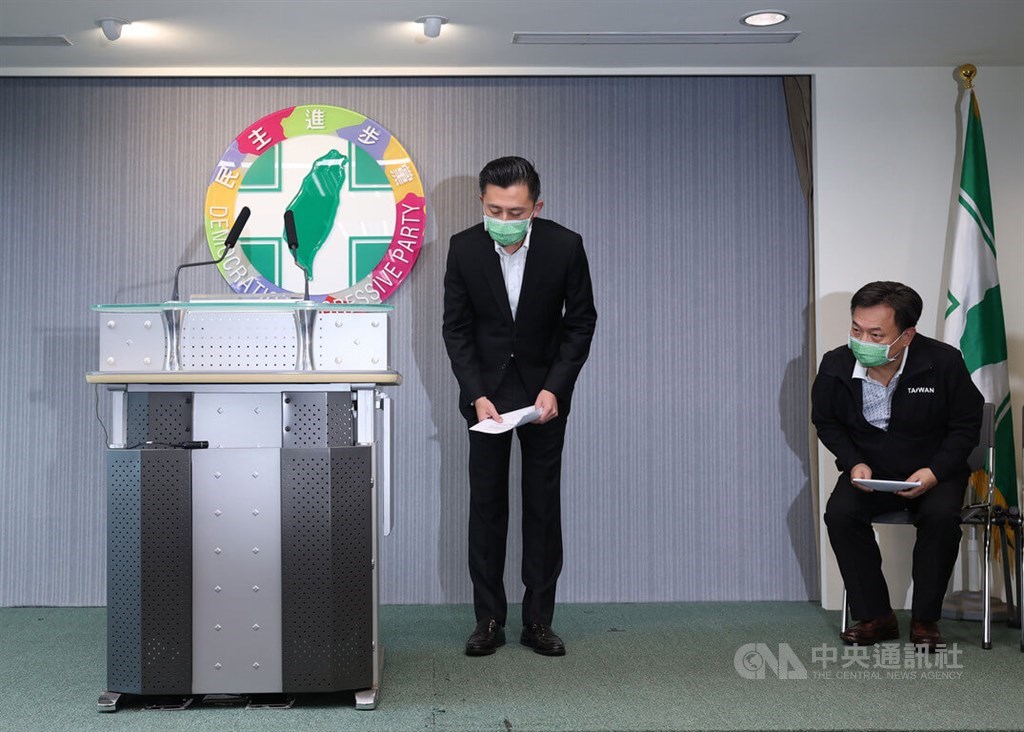 Taipei, Aug. 12 (CNA) The ruling Democratic Progressive Party's (DPP) candidate for Taoyuan mayor Lin Chih-chien (林智堅) withdrew his candidacy on Friday after having been found to have plagiarized another person's work in his master's degree thesis.
Lin said he was withdrawing to prevent the party from being dragged down by the issue in the run-up to the local elections -- in which voters will elect city mayors, county magistrates and other local officials and councilors in November.
"I am sorry for not being able to complete the mission given by the party," said Lin, who was picked by the party to run for Taoyuan mayor in June because of what the DPP called a "five-star" performance during his nearly eight-year tenure as Hsinchu mayor.
Lin made the announcement following an unscheduled meeting of the DPP's election strategy committee, headed by President Tsai Ing-wen (蔡英文), who doubles as DPP chairperson.
The 47-year-old Lin has been on the defensive over the plagiarism allegations since the DPP picked him to run in the Taoyuan mayor race.
He has been accused of plagiarism related to his two master degree theses -- submitted to Chung Hua University in 2008 and to National Taiwan University (NTU) in 2017 -- by Taipei City councilors from the opposition Kuomintang (KMT).
Lin's withdrawal came after an NTU academic ethics review committee, which began looking into the allegation in late July, concluded on Tuesday that Lin committed plagiarism.
The NTU committee described the offense by Lin as "serious," leading the university to revoke his master's degree immediately.
Reading a statement at a news conference at DPP headquarters, Lin apologized to Chung Hua University and NTU, saying his "insufficient efforts" and "flaws in writing" have caused disturbances to them.
Nevertheless, Lin continued to say he was innocent and vowed to seek ways to appeal to disprove the allegations, but he did not provide any details of his plan.
The DPP initially challenged NTU and its conclusion while backing Lin. Tsai on Wednesday instructed party members to "stand in unity behind Lin's innocence" after Lin accused the NTU's committee of failing to take into account evidence he submitted in his defense.
Some DPP members expressed concerns, however, that the ripple effect of the issue would negatively affect the chances of the DPP winning the elections, leading to Friday's meeting where Lin's withdrawal was endorsed.
Also at the meeting, the DPP picked fellow Legislator Cheng Yun-peng (鄭運鵬), who represents the 1st electoral district of Taoyuan, to take over as the party's candidate for the city's mayor, against the main contender Simon Chang (張善政) of the KMT.
In a Facebook post later Friday, Tsai said she still believed that Lin was falsely accused and that he will prove his innocence.
Tsai contended that the attacks against Lin over the past month or so had been "malicious and sweeping" and that members of the party's election strategy committee did not have the heart to see Lin further endure such attacks during his campaign.
Cheng, who has served as Lin's campaign manager, said he viewed his nomination as a responsibility and an honor.
The KMT's Chang wasted no time in criticizing his DPP rival Friday, saying the fact that Cheng has strongly defended Lin indicated that he was a person "who cannot be trusted" and was therefore "not a fit for Taoyuan mayor."
Taiwan People's Party Legislator Lai Hsiang-ling (賴香伶), who is also running in the mayoral race, called on Cheng to apologize for siding with Lin on the plagiarism issue.
Meanwhile, Chung Hua University said Tuesday an investigation into the allegations against Lin's thesis is underway and that it is expected to be completed next week.
Related News
Aug. 9: NTU committee determines ex-Hsinchu mayor plagiarized thesis
Aug. 9: DPP defends Taoyuan mayoral candidate accused of plagiarism
July 20: NTU to probe plagiarism allegations against ex-Hsinchu mayor
July 6: Hsinchu mayor sues KMT Taipei city councilor for slander
June 18: DPP picks Hsinchu Mayor Lin Chih-chien to run for Taoyuan seat
View All