SVG PM urges China to stop military exercises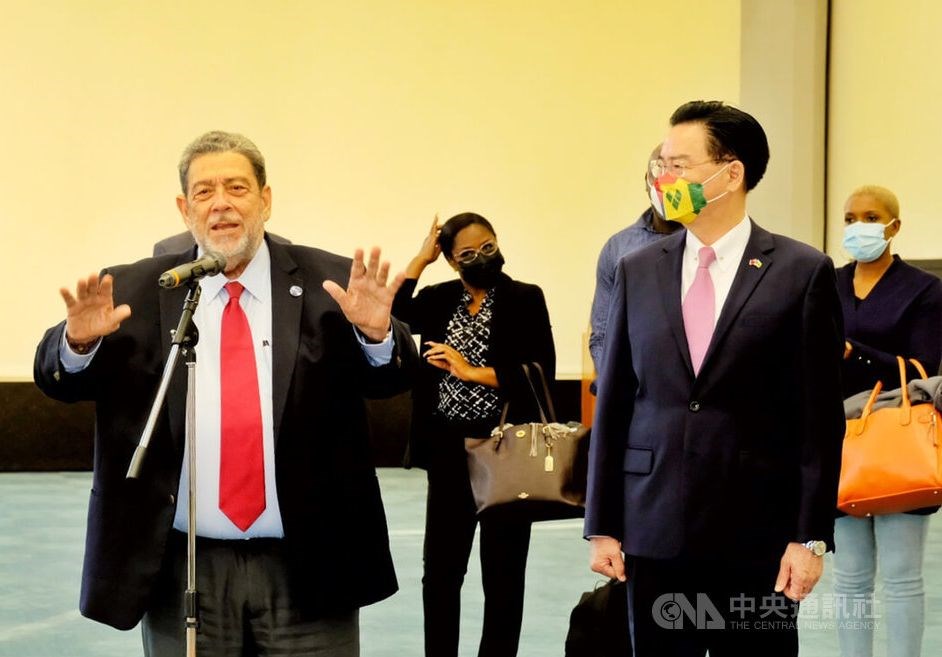 Taoyuan, Aug. 7 (CNA) St. Vincent and the Grenadines (SVG) Prime Minister Ralph Gonsalves on Sunday called on China to stop its ongoing military exercises surrounding Taiwan, stressing that his visit is meant to show solidarity with Taipei amid heightened tensions across the Taiwan Strait.
Speaking at the Taoyuan International Airport upon his arrival Sunday morning for a six-day visit, Gonsalves told reporters that he understands there are differences between the Republic of China (ROC), the official name of Taiwan, and the People's Republic of China (PRC), following the Chinese civil war in 1949.
He referred to the ROC and PRC as "different legitimate political expressions of Chinese civilization," and said he fully expects that these differences can be resolved peacefully over time.
Gonsalves also stressed that as an official member in the United Nations, his country has normal interactions with the PRC in the international arena.
However, he said that he finds it unacceptable to see these "threats of violence and threats of aggression" made by the PRC with its ongoing drills surrounding Taiwan.
Given the fact that people live in an interrelated world, Gonsalves said the PRC's behaviors "destabilized East Asia and the world."
"I am here to show solidarity with people of the ROC Taiwan and that does not prevent us from being respectful in our communications with PRC," he added.
His arrival coincides with what is expected to be the final day of intensive military drills being conducted by China in waters around Taiwan in retaliation against a visit earlier this week by U.S. House of Representatives Speaker Nancy Pelosi.
A day after Pelosi's visit, the PLA launched live-fire military drills in six maritime areas near Taiwan and the exercises are scheduled to last from Thursday to Sunday.
Beijing, which sees Taiwan as part of its territory to be reunified one day, also suspended imports of some Taiwanese food and agricultural products in retaliation against Pelosi's visit, the first by a sitting U.S. House speaker since 1997.
Beijing strongly objects to other countries treating Taiwan as a nation, including sending high ranking officials to visit, and has accused the United States of violating its commitments to the "one China" policy and fueling Taiwan independence efforts.
In his Sunday address, Gonsalves said he would not comment on whether it was appropriate for Pelosi to visit Taiwan.
"If she wants to come and Taiwanese government wants to receive her, that's their business," he said.
But he stressed that he believes Pelosi's Taiwan trip should not be used as a ground for Beijing's military exercises.
Gonsalves also said his visit has nothing to do with Pelosi nor the U.S., and it is not an act of provocation toward anyone, but an act of friendship toward Taiwan.
St. Vincent and the Grenadines is one of 14 nations that currently recognizes the ROC instead of the PRC as a country.
The latest trip marks Gonsalves' 11th visit to Taiwan as prime minister but the first since he was re-elected to a fifth consecutive term in November 2020, according to Taiwan's Ministry of Foreign Affairs (MOFA).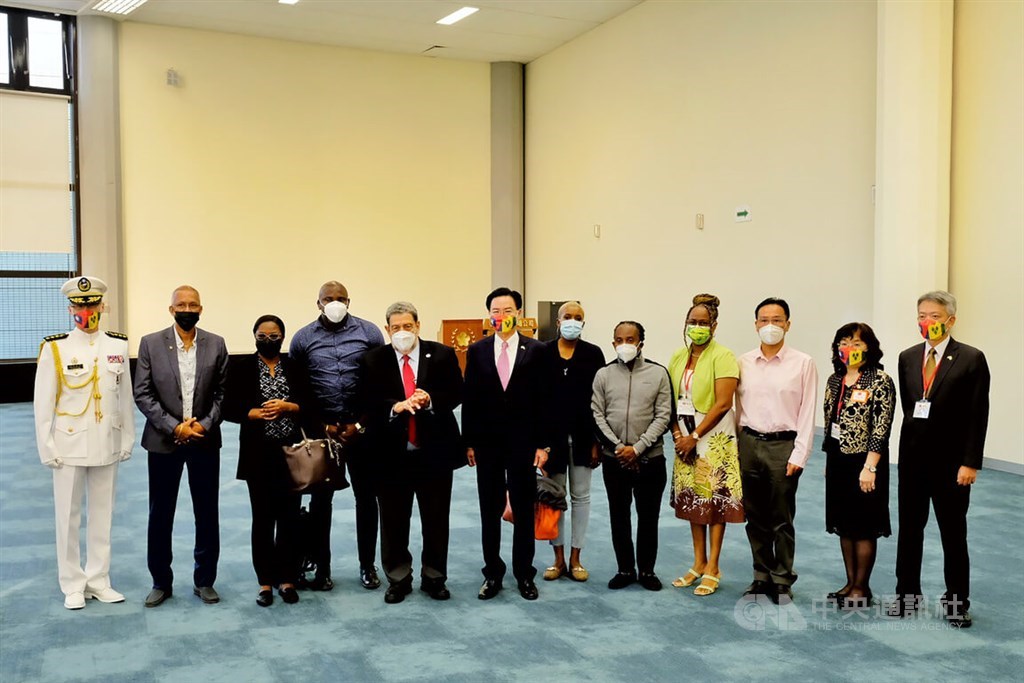 While in Taiwan, Gonsalves will be welcomed with a grand military ceremony and a state banquet by President Tsai Ing-wen (蔡英文), MOFA said.
He will sign accords with Taiwan's Ministry of Justice on mutual assistance and the transfer of prisoners. He will also sign a letter of intent with the Ministry of Education to strengthen cooperation in higher education, MOFA said.
Gonsalves will also meet with Premier Su Tseng-chang (蘇貞昌), Foreign Minister Joseph Wu (吳釗燮), and Kaohsiung Mayor Chen Chi-mai (陳其邁), and visit the SVG Embassy in Taipei and the International Cooperation and Development Fund, MOFA added.
The ROC (Taiwan) and the SVG have had diplomatic relations since 1981 and have worked closely together on education, women's empowerment, infrastructure, public health, information and communications, and agriculture, according to MOFA.
Related News
Aug. 8: Chinese drills aligned with plans for taking Taiwan by force: Expert
Aug. 7: China sends 66 warplanes, 14 warships around Taiwan Sunday
Aug. 7: Taiwan to hold live-fire artillery drills to test combat readiness
Aug. 6: 20 Chinese warplanes, 14 warships deployed around Taiwan: MND
Aug. 6: U.S., Japan, Australia urge China to stop military drills
Aug. 5: China's drills a 'new normal' aimed at changing status quo: Experts
Aug. 4: President Tsai calls China's live-fire drills 'irresponsible act'
Aug. 4: China fires 11 Dongfeng ballistic missiles into waters off Taiwan: MND
Aug. 4: China cannot stop world leaders from visiting Taiwan: Pelosi
Aug. 3: China's military exercises aimed at blockading Taiwan: defense ministry
Aug. 3: China imposes new trade restrictions on Taiwan as Pelosi visits
Aug. 2: Visit to honor 'unwavering' U.S. commitment to Taiwan: Pelosi