INTERVIEW
/
New Honduran envoy gives reassurance on Taiwan diplomatic ties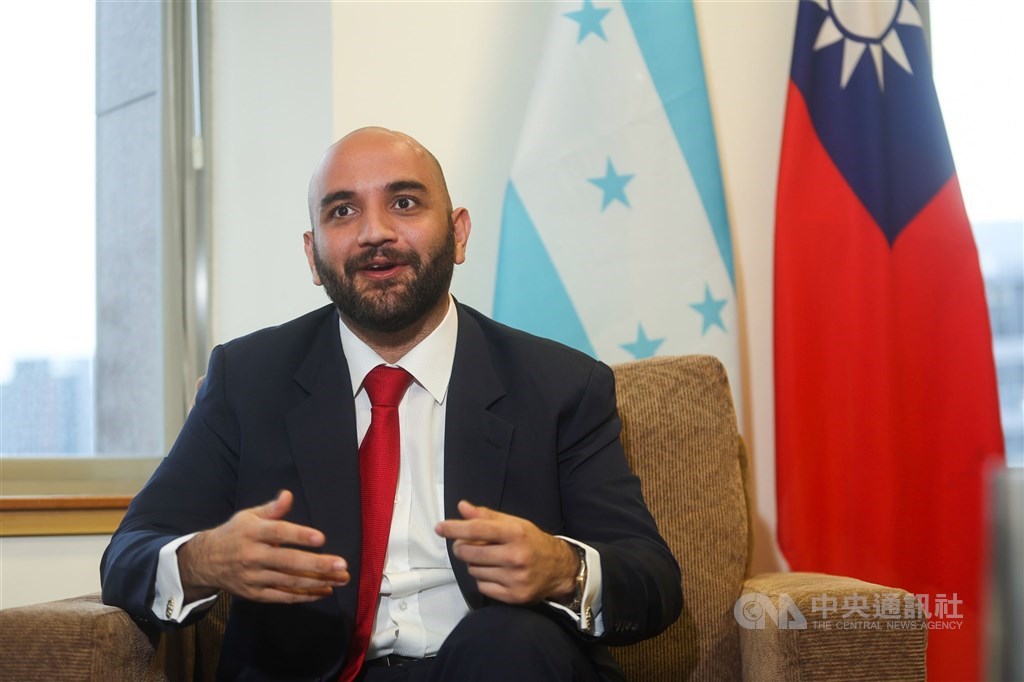 Taipei, Aug. 7 (CNA) The new Honduran ambassador to Taiwan has reaffirmed that the Central American country will maintain diplomatic ties with Taipei instead of switching to Beijing.
Harold Burgos, who assumed the top envoy post in Taipei in July, made the pledge during an interview with CNA on Thursday.
Burgos is the first ambassador to Taiwan appointed by President Xiomara Castro, the wife of ousted former Honduran leader Jose Manuel Zelaya.
Castro assumed office as the central American country's first female head of state in January.
Statements made on her campaign trail had raised concerns that Castro might end Honduras's 81-year diplomatic relationship with the Republic of China, the official name of Taiwan, in favor of establishing ties with Beijing.
However, following a meeting with Taiwan's Vice President Lai Ching-te (賴清德) at her inauguration in January, Castro allayed Taipei's fears by stating that she hoped to maintain the two countries' current relationship.
Burgos is firm on the rumors of a switch. "No, that is not going to happen."
"I also asked for reassurance, and I got the reassurance that we're keeping the relationship [with Taiwan] and it's very important for us to do that," he said.
Burgos said keeping close ties with Taiwan also meant keeping cordial relations with the United States, which has repeatedly asked Taiwan's diplomatic allies to stick with Taipei instead of switching to Beijing. "It's a statement to both countries about the importance of the relations," he added.
According to Burgos, U.S. Vice President Kamala Harris made asking Honduras to maintain its diplomatic relations with Taiwan a priority when meeting with Castro. "I think the top agenda was immigration. The second point of importance was the relation [with Taiwan]."
Burgos said that the Castro government has had zero government-to-government contact with the People's Republic of China, although Beijing has repeatedly tried to leverage private sector relationships in Honduras to spark a change in allegiance.
Since President Tsai Ing-wen (蔡英文) came to office in May 2016, Taiwan has lost eight diplomatic allies to China, namely Burkina Faso, the Dominican Republic, El Salvador, Kiribati, Nicaragua, Panama, Sao Tome and Principe, and the Solomon Islands.
Taiwan Experience
Meanwhile, the young ambassador told CNA that he believes he has been chosen for the post due to his close relations with top-level Castro government officials and his familiarity with Taiwan.
Burgos was a graduate of the National Chengchi University (NCCU) in Taipei and spent five years in Taiwan from 2007 to 2012, spending part of that time as a cultural attaché at the Honduran embassy.
According to Taiwan's foreign ministry, Burgos's Taiwan experience made him "an astute choice for the ambassadorship, given his deep understanding of Taiwan's politics, economics, and social development."
Recalling his days in Taiwan 10 years ago, Burgos told CNA that he first came to the country in 2007 on a government scholarship program to study Mandarin Chinese at the National Taiwan Normal University for a year before successfully applying to study at the NCCU as an economics major.
That was the first time he was so far away from home.
"It was the first time that I was by myself, managing my money, managing my time, managing my scope all by myself," he said.
The five years in Taiwan taught him the meaning of independence, and he is keen to highlight that the country became a gateway to the world for him.
Now returning to Taiwan a decade later, with a fresh perspective as an ambassador, Burgos said his language skills have become somewhat rusty but he is ready to promote Honduras in Taiwan, a country he sees as a second home.
View All