Pelosi, TSMC Chair Liu discuss semiconductor chips: Legislator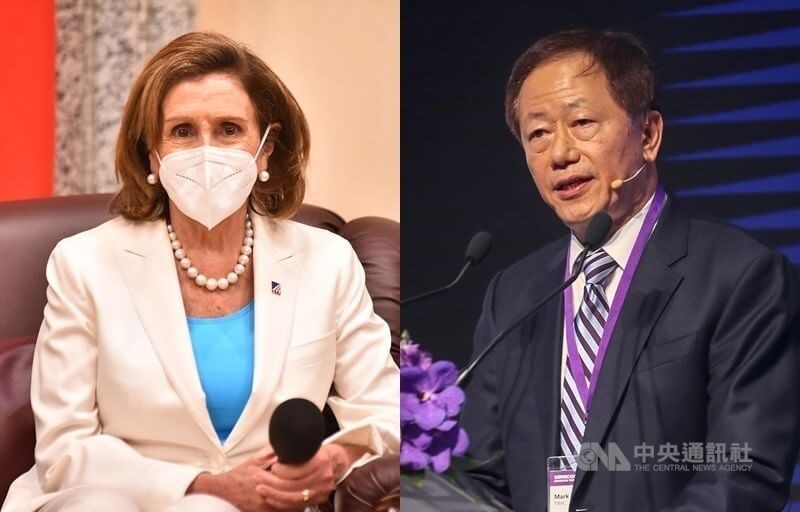 Taipei, Aug. 3 (CNA) Visiting U.S. House Speaker Nancy Pelosi discussed chip-related issues with Mark Liu (劉德音), chairman of Taiwan Semiconductor Manufacturing Co. (TSMC), Wednesday, according to a legislator.
Pelosi and Liu talked about semiconductors earlier in the day, Ker Chien-ming (柯建銘), whip of the ruling Democratic Progressive Party (DPP) legislative caucus, told reporters after a visit by Pelosi to the Legislature, but he did not say where the meeting had taken place or in what format.
When asked, TSMC declined to disclose any information about the discussions between Pelosi and Liu.
The discussions likely took place during a luncheon hosted by President Tsai Ing-wen (蔡英文) in honor of Pelosi.
In a Facebook post, Tsai said Liu and TSMC founder Morris Chang (張忠謀) were among the guests invited to the luncheon, along with Pegatron Corp. Vice Chairman Jason Cheng (程建中).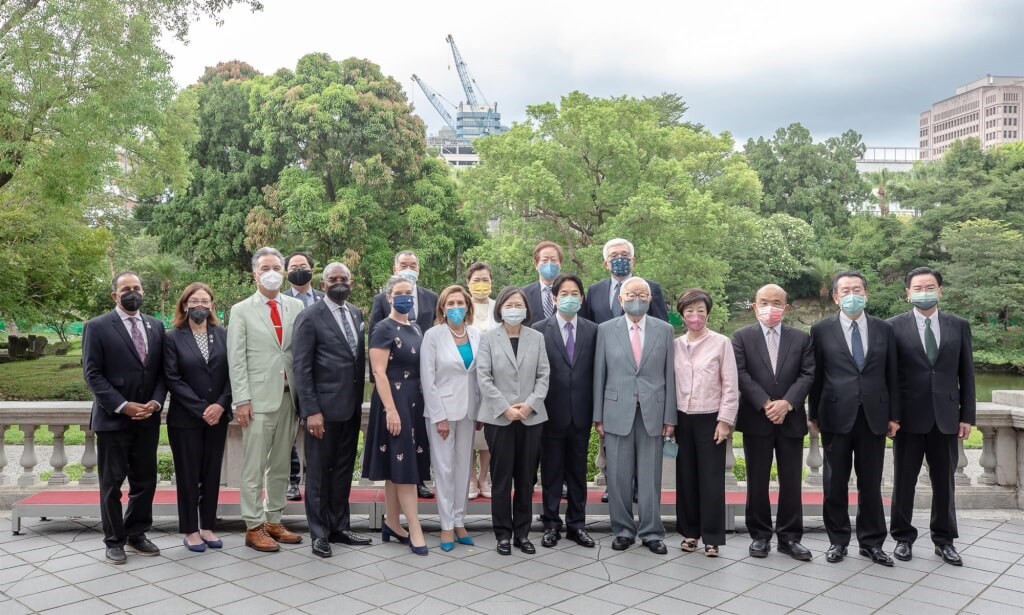 Pelosi and other U.S. Congress members on her delegation visited the Legislature Wednesday morning and talked about the strong efforts that were made to pass the Chips and Science Act in the U.S., according to Ker.
The American Congress members said everyone was very aware of the impact and significance of the Act in the global semiconductor supply chain, Ker told reporters.
The Chips and Science Act, which passed both houses of the U.S. Congress last week, allows US$52 billion in federal subsidies for U.S. semiconductor manufacturers, amid a global chip shortage.
At the Taiwan Legislature, Pelosi was welcomed by Deputy Legislative Speaker Tsai Chi-chang (蔡其昌) and caucus leaders from across party lines, Ker said, hailing her visit to Taiwan as historical, critical, and a major milestone in Taiwan-U.S. ties.
Despite tough warnings from China, Pelosi flew into Taiwan Tuesday for a short visit that she said was a show of strong support for Taiwan, amid increasing saber-rattling from the other side of the Taiwan Strait.
Meanwhile, commenting on the discussions between Mark Liu and Pelosi, Arisa Liu (劉佩真), a researcher at Taiwan Institute of Economic Research, said it reflects TSMC's status as Taiwan's most valuable asset and its importance in the global economy.
On Mark Liu's public remarks on Sunday about the potential impact of a military conflict on TSMC's future development, she said it was rare for the TSMC chief to discuss political issues in person, adding that the remarks embody the view that the recent geopolitical changes could hamper the industry's overall trajectory and outlook.
If TSMC's foundry business comes to a halt, it will deal a heavy below to the global high-tech industry, she said.
In the future, the semiconductor industry will have to give more weight to geopolitical factors when forging its business mode, she said.
In an English-language interview on CNN on July 31, Mark Liu said that if China were to attack Taiwan, TSMC would be rendered "not operable" because its plants were reliant on global supply chains.
"Nobody can control TSMC by force," he said. "If you take a military force or invasion, you will render TSMC factory not operable. Because this is such a sophisticated manufacturing facility, it depends on real-time connection with the outside world, with Europe, with Japan, with the U.S., from materials to chemicals to spare parts to engineering software and diagnosis."
Related news
Sept. 26: Attack on Taiwan could devastate global economy: Blinken
Update
Aug. 6: 20 Chinese warplanes, 14 warships deployed around Taiwan: MND
Aug. 6: U.S., Japan, Australia urge China to stop military drills
Aug. 6: Taiwan companies told to abide by China's labeling rule: MOEA
Aug. 5: 68 Chinese warplane, 13 warship sorties recorded around Taiwan: MND
Aug. 5: International flights avoiding Taipei FIR due to China drills: Official
Aug. 5: China's drills a 'new normal' aimed at changing status quo: Experts
Aug. 4: President Tsai calls China's live-fire drills 'irresponsible act'
Aug. 4: 22 Chinese aircraft cross Taiwan Strait median line as PLA launches military drills
Aug. 4: China fires 11 Dongfeng ballistic missiles into waters off Taiwan: MND