Pelosi departs Taiwan after whirlwind visit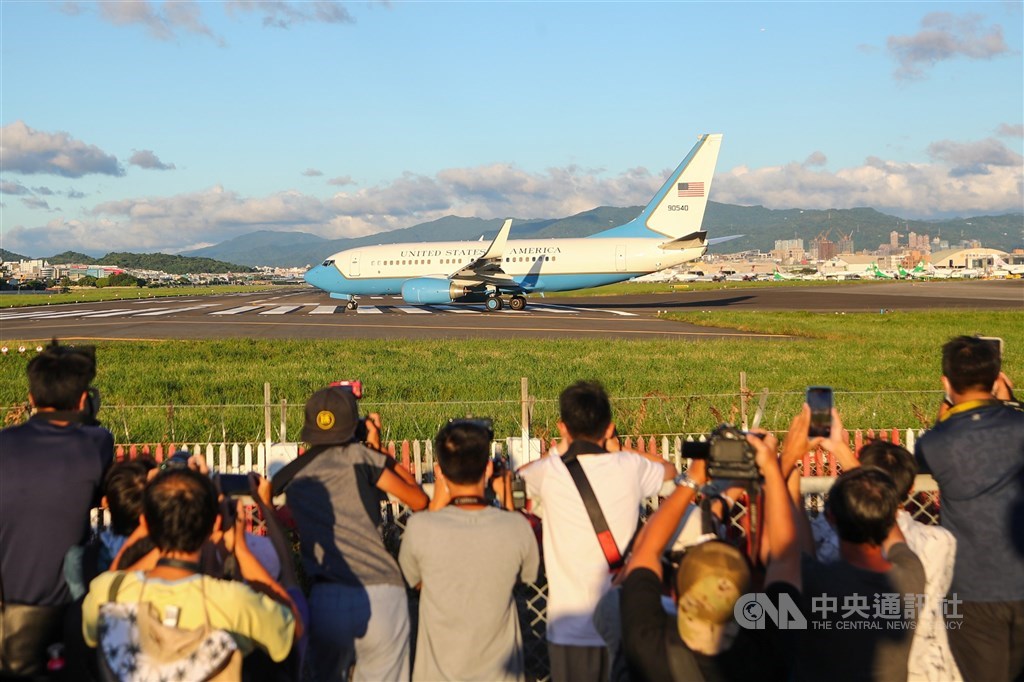 Taipei, Aug. 3 (CNA) U.S. House of Representatives Speaker Nancy Pelosi left Taiwan for South Korea on Wednesday evening after a brief stop in Taipei, during which she met with Taiwan President Tsai Ing-wen (蔡英文), local lawmakers, and human rights activists, amid Beijing's opposition.
Her aircraft departed from Taipei Songshan Airport at 6:01 p.m. to continue the rest of her Indo-Pacific trip that will take her to South Korea and Japan before heading back to the U.S.
During her 19-hour stay in Taipei, Pelosi met with President Tsai, visited the legislature, met with Taiwan lawmakers, and attended a government luncheon.
She also visited the White Terror Memorial Park, where political prisoners were held during the decades of martial law under the former Kuomintang (KMT) regime, and met with human rights activists.
The trip makes the 82-year-old California Democrat the highest-level U.S. official to visit Taiwan in 25 years and the first sitting U.S. House speaker to visit Taiwan since 1997, when her predecessor, Republican Newt Gingrich, traveled to Taipei and met with then-President Lee Teng-hui (李登輝).
Her visit has drawn the ire of China, which considers Taiwan part of its territory and opposes any official interactions that would imply otherwise.
Since her aircraft touched down in Taipei on Tuesday night, Beijing has announced a series of live-fire military drills in the waters around Taiwan from Aug. 4-7, and imposed import bans on products from over 100 Taiwanese food manufacturers.
Update
Aug. 8: China changes previously announced timetable, PLA drills continue
Aug. 8: China's Yellow Sea drills won't affect Taiwan int'l flights: MOTC
Aug. 7: China sends 66 warplanes, 14 warships around Taiwan Sunday
Aug. 6: 20 Chinese warplanes, 14 warships deployed around Taiwan: MND
Aug. 6: U.S., Japan, Australia urge China to stop military drills
Aug. 6: Taiwan companies told to abide by China's labeling rule: MOEA
Aug. 6: 20 Chinese warplanes, 14 warships deployed around Taiwan: MND
Aug. 6: U.S., Japan, Australia urge China to stop military drills
Aug. 6: Taiwan companies told to abide by China's labeling rule: MOEA
Aug. 5: 68 Chinese warplane, 13 warship sorties recorded around Taiwan: MND
Aug. 5: MOFA reports continued cyberattacks seeking to crash its website
Aug. 5: International flights avoiding Taipei FIR due to China drills: Official
Aug. 5: China's drills a 'new normal' aimed at changing status quo: Experts
Aug. 5: Controversial IC tycoon to donate NT$3 billion for Taiwan's security
Aug. 4: President Tsai calls China's live-fire drills 'irresponsible act'
Aug. 4: 22 Chinese aircraft cross Taiwan Strait median line as PLA launches military drills
Aug. 4: China fires 11 Dongfeng ballistic missiles into waters off Taiwan: MND
Aug. 4: China cannot stop world leaders from visiting Taiwan: Pelosi
Aug. 4: G7, EU urge China to refrain from 'aggressive military activity'
Aug. 4: Army fires warning flares at Chinese drone spotted over Kinmen
Related News
Aug. 3: Taiwan one of world's freest societies: Pelosi 
Aug. 3: Pelosi, TSMC Chair Liu discuss semiconductor chips: Legislator
Aug. 3: Activists meet with Pelosi at Taiwan's National Human Rights Museum
Aug. 3: 22 Chinese aircraft cross Taiwan Strait median line ahead of military drills
Aug. 3: China's military exercises aimed at blockading Taiwan: defense ministry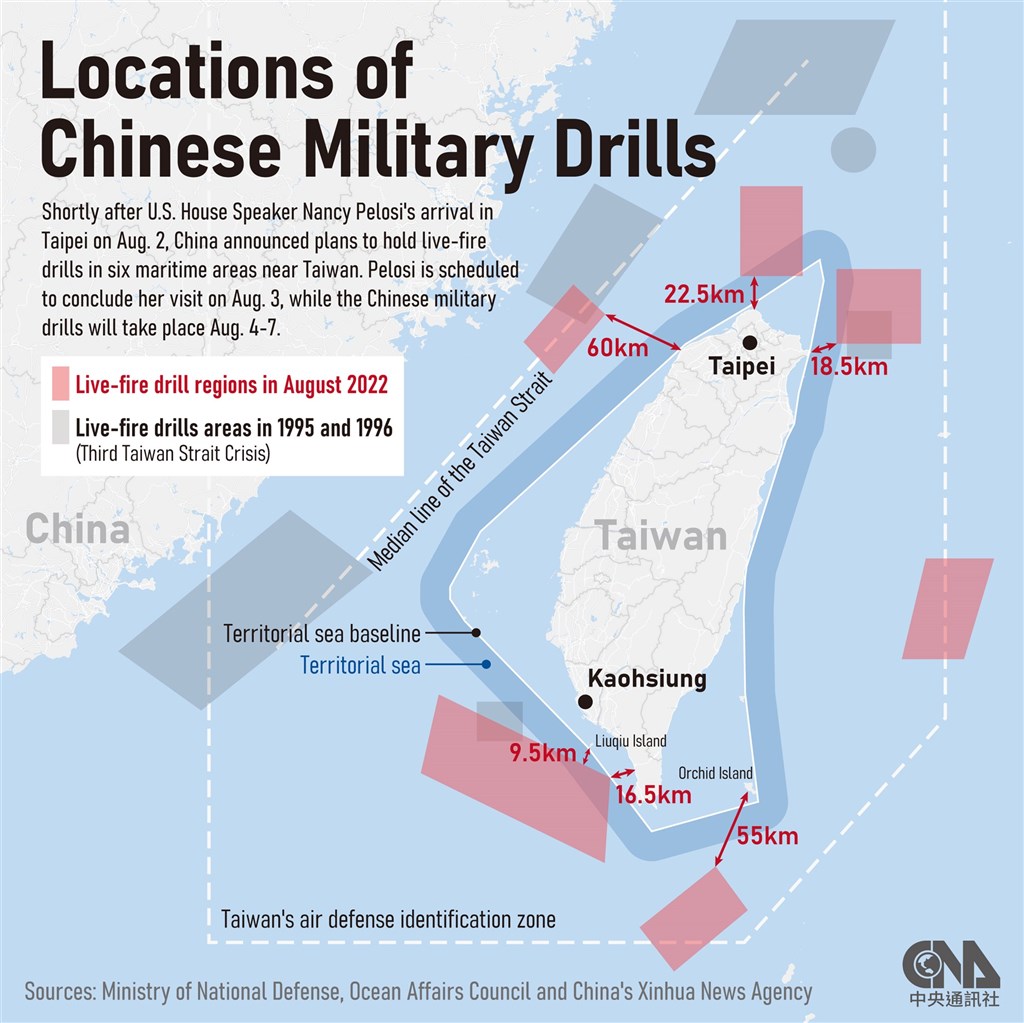 Aug. 3: China imposes new trade restrictions on Taiwan as Pelosi visits
Aug. 3: CrisisWatch sees higher risk of conflict over Taiwan due to Pelosi's visit
Aug. 3: American observers weigh pros and cons of Pelosi's visit to Taiwan
Aug. 2: Visit to honor 'unwavering' U.S. commitment to Taiwan: Pelosi