Taiwan one of world's freest societies: Pelosi (update)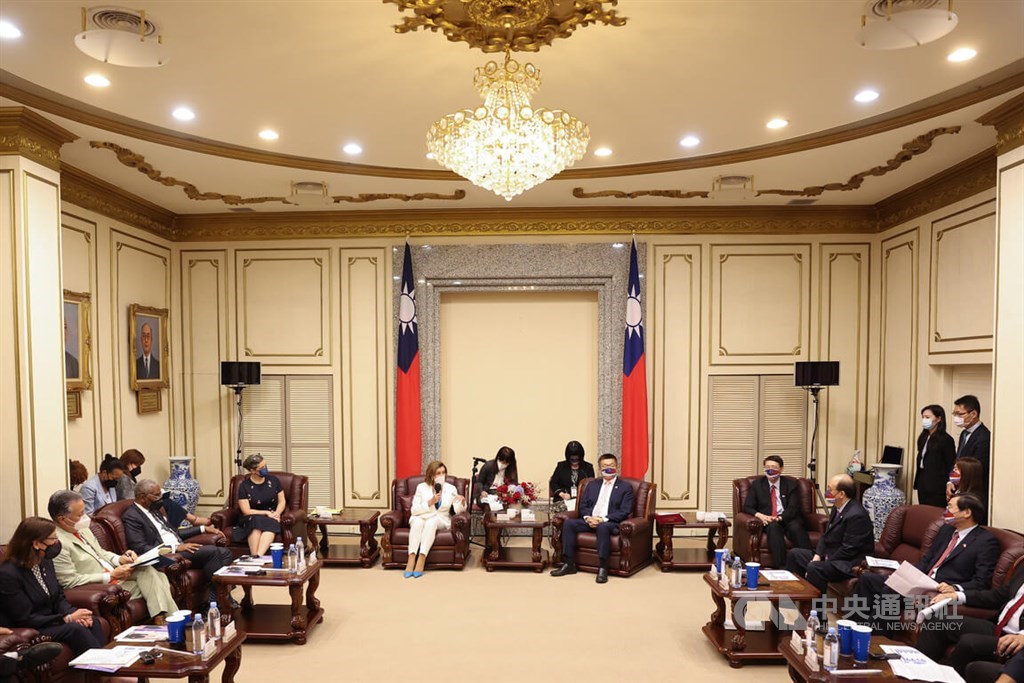 Taipei, Aug. 3 (CNA) U.S. House Speaker Nancy Pelosi called Taiwan one of the freest societies in the world and praised the island's performance in handling the COVID-19 pandemic as she visited Taiwan's legislature on Wednesday morning.
Pelosi, who arrived in Taiwan on Tuesday night amid strong opposition from China, met with Deputy Legislative Speaker Tsai Chi-chang (蔡其昌) and addressed the importance of parliamentary cooperation between the United States and Taiwan.
Pelosi's delegation was received by Tsai as Speaker You Si-kun (游錫堃) is in isolation after testing positive for COVID-19.
"We commend Taiwan for being one of the freest societies in the world," Pelosi said, praising the country for its success in dealing with the COVID-19 pandemic which she called not only a health issue but also a security, economic, and governance issue.
"We thank you for your leadership. We want the world to recognize that," she said.
Pelosi called for more parliamentary cooperation between the U.S. and Taiwan, saying the delegation she led to Taiwan was comprised of lawmakers who were very capable and able to think about economic and security issues strategically which they could share with their Taiwanese counterparts.
The American delegation led by Pelosi includes Democratic lawmakers Gregory Meeks, Mark Takano, Suzan DelBene, Raja Krishnamoorthi, and Andy Kim.
Pelosi is the first sitting U.S. House speaker to visit Taiwan since 1997, when Newt Gingrich traveled to Taipei and met with then-President Lee Teng-hui (李登輝).
The House speaker embarked on an Asian tour Sunday, and she arrived in Taipei at 10:44 p.m. on Tuesday from Malaysia, with no prior public announcement.
Mentioning the CHIPS (Creating Helpful Incentives to Produce Semiconductors) and Science Act, which was passed by the U.S. House of Representatives last week and moved one step closer to being signed into law, Pelosi showed confidence that the legislation would bring in "greater opportunities for U.S.-Taiwan economic cooperation."
The CHIPS and Science Act of 2022 will authorize the government to provides US$52 billion in subsidies to push up domestic semiconductor production, and more than US$100 billion over five years for research and development.
Taiwan Semiconductor Manufacturing Co. (TSMC), the world's largest contract chipmaker, is investing US$12 billion to build a 12-inch fab in Arizona using its sophisticated 5 nanometer process.
In addition, GlobalWafers Co., the world's third-largest supplier of silicon wafers, announced in June that it was planning to invest US$5 billion to build a silicon wafer plant in Sherman, Texas.
Pelosi, who said in an op-ed published by the Washington Post on Tuesday that her visit showed the U.S. commitment to democracy, noted during her meeting with Tsai that everything the U.S. Congress had done to support Taiwan was undertaken in a "bipartisan way."
When Tsai called her a "good friend of Taiwan," Pelosi said she would take it as a "great compliment," receiving it on behalf of her congressional colleagues.
Pelosi reportedly had planned to visit Taiwan in early April as part of a wider tour of Asia, but had to postpone the trip after she tested positive for COVID-19.
While Pelosi has described her visit to Taiwan as that of a U.S. congressional delegation to the country, which did not contradict Washington's one-China policy, Beijing announced late Tuesday its plans to hold live-fire drills in six maritime areas near Taiwan over the next few days, which Taiwan's military said could pose a threat to the country's major ports and metropolitan areas.
Update
Aug. 8: China's Yellow Sea drills won't affect Taiwan int'l flights: MOTC
Aug. 7: China sends 66 warplanes, 14 warships around Taiwan Sunday
Aug. 6: 20 Chinese warplanes, 14 warships deployed around Taiwan: MND
Aug. 6: U.S., Japan, Australia urge China to stop military drills
Aug. 6: Taiwan companies told to abide by China's labeling rule: MOEA
Aug. 5: 68 Chinese warplane, 13 warship sorties recorded around Taiwan: MND
Aug. 5: MOFA reports continued cyberattacks seeking to crash its website
Aug. 5: International flights avoiding Taipei FIR due to China drills: Official
Aug. 5: China's drills a 'new normal' aimed at changing status quo: Experts
Aug. 4: President Tsai calls China's live-fire drills 'irresponsible act'
Aug. 4: 22 Chinese aircraft cross Taiwan Strait median line as PLA launches military drills
Aug. 4: China fires 11 Dongfeng ballistic missiles into waters off Taiwan: MND
Aug. 4: China cannot stop world leaders from visiting Taiwan: Pelosi
Aug. 4: Army fires warning flares at Chinese drone spotted over Kinmen
Aug. 3: 22 Chinese aircraft cross Taiwan Strait median line ahead of military drills
Related News
Aug. 3: Pelosi, TSMC Chair Liu discuss semiconductor chips: Legislator
Aug. 3: Activists meet with Pelosi at Taiwan's National Human Rights Museum
Aug. 3: 22 Chinese aircraft cross Taiwan Strait median line ahead of military drills
Aug. 3: China's military exercises aimed at blockading Taiwan: defense ministry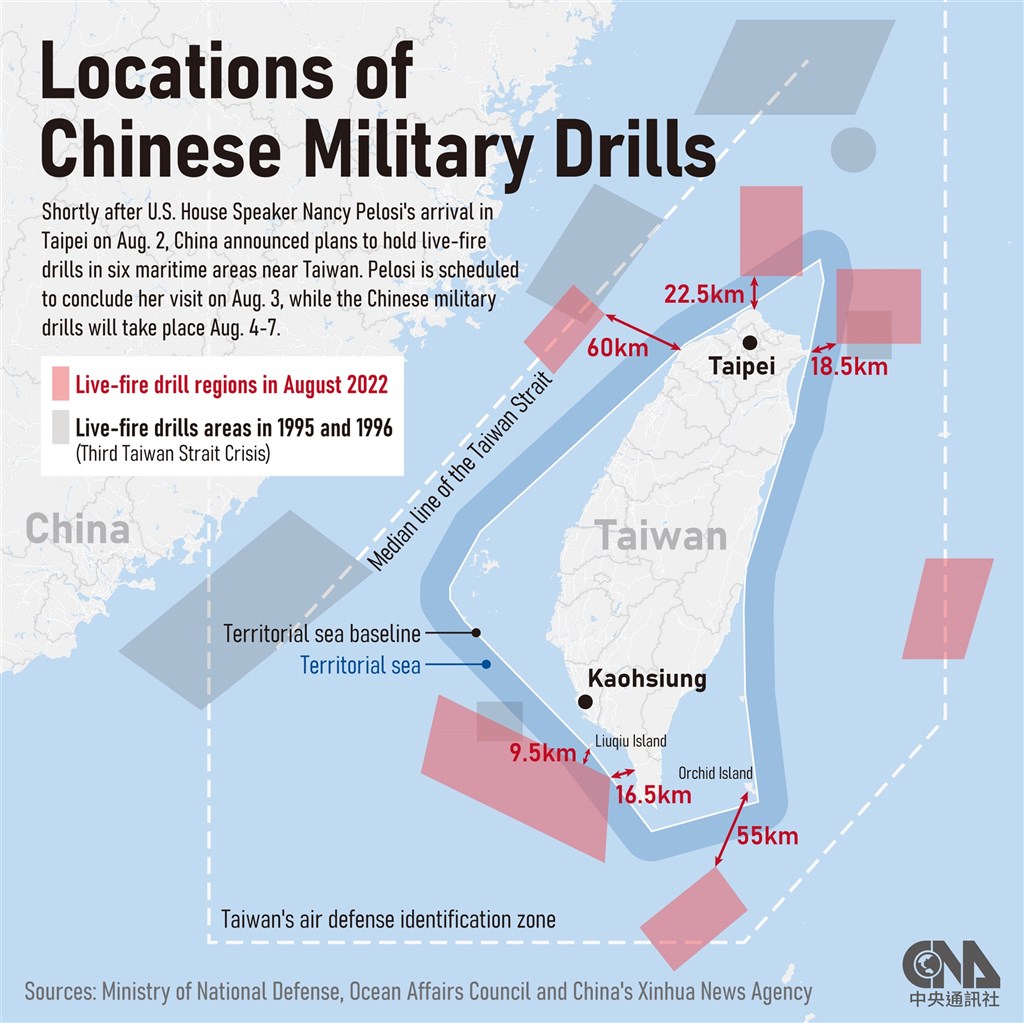 Aug. 3: China imposes new trade restrictions on Taiwan as Pelosi visits
Aug. 3: Agencies gauge impact of new China import bans
Aug. 3: CrisisWatch sees higher risk of conflict over Taiwan due to Pelosi's visit
Aug. 3: American observers weigh pros and cons of Pelosi's visit to Taiwan
Aug. 2: Visit to honor 'unwavering' U.S. commitment to Taiwan: Pelosi
Aug. 2: Pelosi has the right to visit Taiwan: White House
Some of the remarks are in Chinese, with no translation.