Visit to honor 'unwavering' U.S. commitment to Taiwan: Pelosi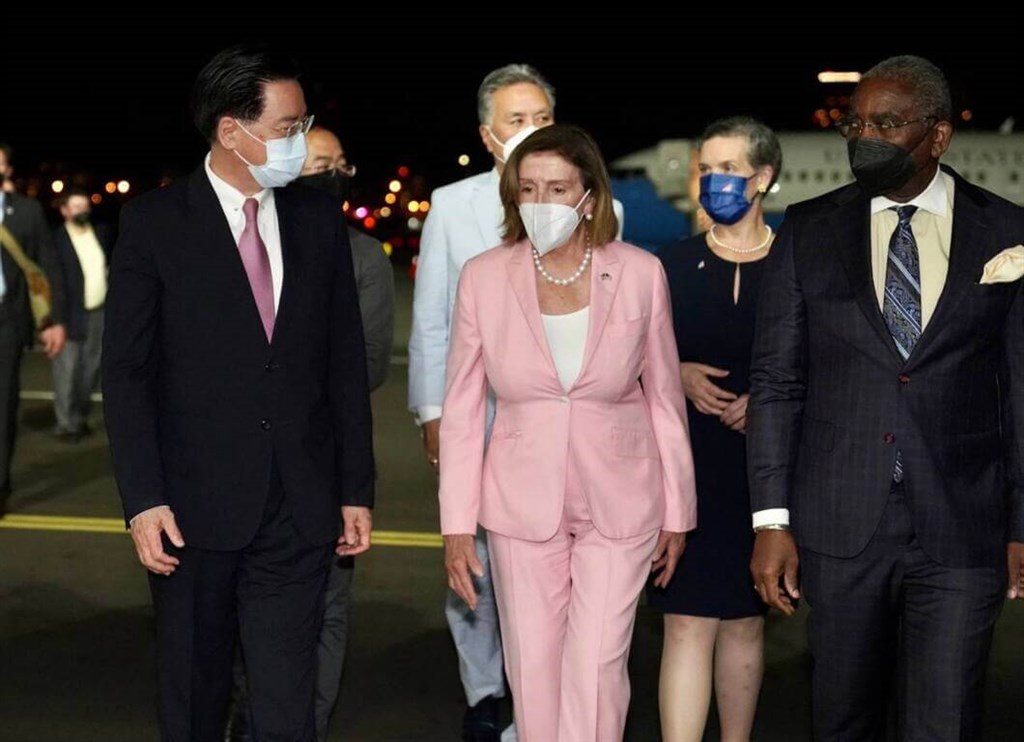 Taipei, Aug. 2 (CNA) United States House of Representatives Speaker Nancy Pelosi on Tuesday night said her visit to Taiwan seeks to honor "America's unwavering commitment to supporting Taiwan's vibrant democracy."
"America's solidarity with the 23 million people of Taiwan is more important today than ever, as the world faces a choice between autocracy and democracy," Pelosi and a delegation of Democratic lawmakers, who arrived in Taiwan Tuesday night, said in a statement issued upon their arrival.
Pelosi's delegation arrived at Taipei Songshan Airport at 10:44 p.m. on a U.S. Air Force C-40C aircraft.
The statement noted that the speaker and her delegation will engage in discussions with Taiwan's leadership "on reaffirming our support for our partner and on promoting our shared interests, including advancing a free and open Indo-Pacific region."
Pelosi's statement also reaffirmed that the ongoing visit "in no way contradicts longstanding United States policy, guided by the Taiwan Relations Act of 1979, U.S.-China Joint Communiques and the Six Assurances."
"The United States continues to oppose unilateral efforts to change the status quo," it added.
The statement was issued after Pelosi landed at Taipei, having departed Malaysia earlier in the day.
She did not make any public statements on arrival and was received by Foreign Minister Joseph Wu (吳釗燮) and U.S. top envoy to Taiwan, Sandra Oudkirk.
Pelosi's Taiwan trip "fully demonstrates the great importance the U.S. Congress attaches to Taiwan, and once again demonstrates the U.S.' 'rock-solid' support for Taiwan," Taiwan's Ministry of Foreign Affairs (MOFA) said in a statement.
The American delegation later headed to a hotel in Taipei's downtown Xinyi District under police escort.
According to a press release issued by the American Institute in Taiwan (AIT), during the delegation's stay from late Tuesday to Wednesday, the delegates will meet with senior Taiwan leaders to discuss "U.S.-Taiwan relations, peace and security, economic growth and trade, the COVID-19 pandemic, the climate crisis, human rights, democratic governance, and other significant issues of mutual interest," without providing more details.
AIT represents U.S. interests in Taiwan in the absence of official diplomatic ties.
The U.S. House speaker is expected to meet with President Tsai at the Presidential Office Wednesday morning and afterwards attend a luncheon hosted by Taiwan's government at Taipei Guest House, Presidential Office Spokesperson Xavier Chang (張惇涵) said in a statement Tuesday.
The president and speaker are expected to exchange views on Taiwan-U.S. cooperation and issues of common concern, Chang said.
Pelosi is also expected to visit Taiwan's Legislature and meet with the caucus whips of the major political parties Wednesday morning, according to foreign and local media reports.
Reuters on Tuesday cited four sources as saying that Pelosi was also scheduled to meet Wednesday with a group of Taiwan activists who have been vocal critics of China's human rights record, after which she would depart for South Korea.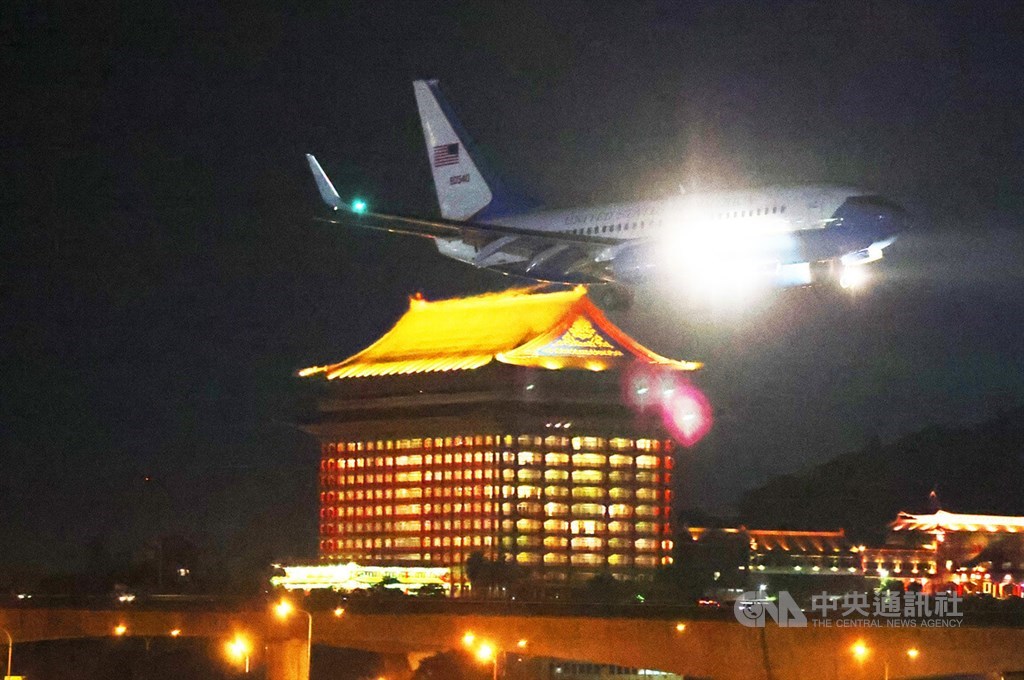 United States House of Representatives Speaker Nancy Pelosi arrives in Taiwan on Tuesday night.
Meanwhile, the chairman of Taiwan's main opposition Kuomintang (KMT) Eric Chu (朱立倫) said the party welcomes all international friends visiting the country. The KMT also supports deepening Taiwan-U.S. exchanges as long as such exchanges benefit the Taiwanese people, he added.
The stopover, part of a wider tour of the Indo-Pacific, makes the 82-year-old California Democrat the first sitting U.S. House speaker to visit Taiwan since 1997, when her predecessor, Republican Newt Gingrich, traveled to Taipei and met with then-President Lee Teng-hui (李登輝).
Pelosi's brief visit is likely to draw the ire of China, which considers Taiwan part of its territory and opposes any official interactions that would imply otherwise.
China has threatened to take "resolute and strong measures" should Pelosi visit Taiwan, and some scholars have warned that such a visit could spark a direct military confrontation between Washington and Beijing.
The Taipei stopover was not announced before Pelosi embarked last Sunday on her Asian trip, which has already taken her to Singapore and Malaysia. The other two stops on her public schedule are South Korea and Japan.
Pelosi reportedly had been planning to visit Taiwan in early April as part of a wider tour of Asia, but the trip was postponed after she tested positive for COVID-19.
The American delegation on the current tour includes Democratic lawmakers Gregory Meeks, Mark Takano, Suzan DelBene, Raja Krishnamoorthi, and Andy Kim.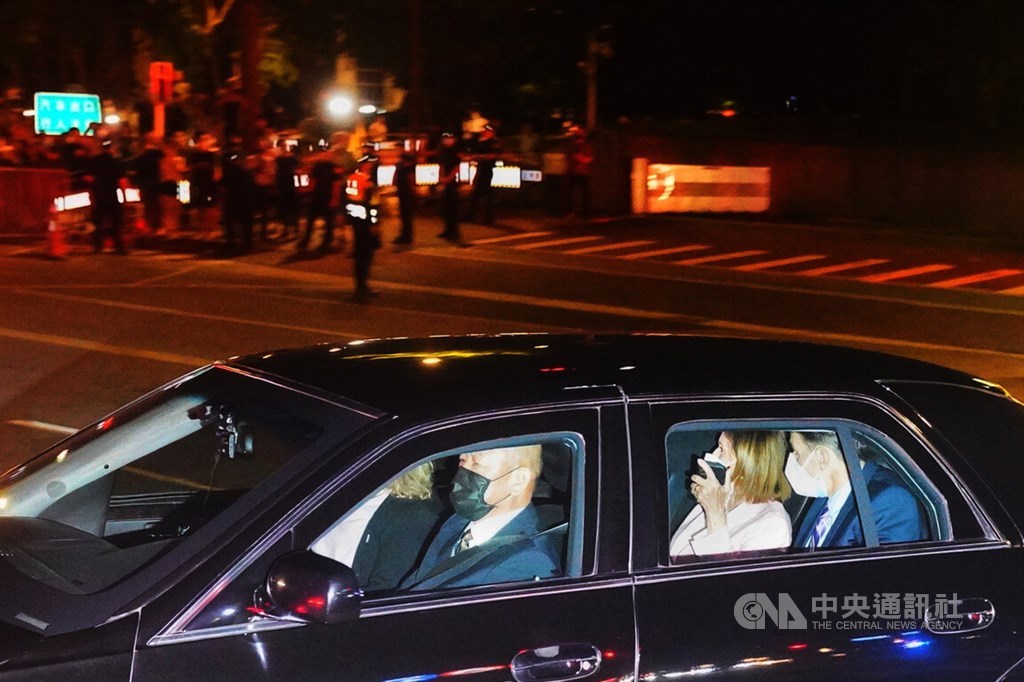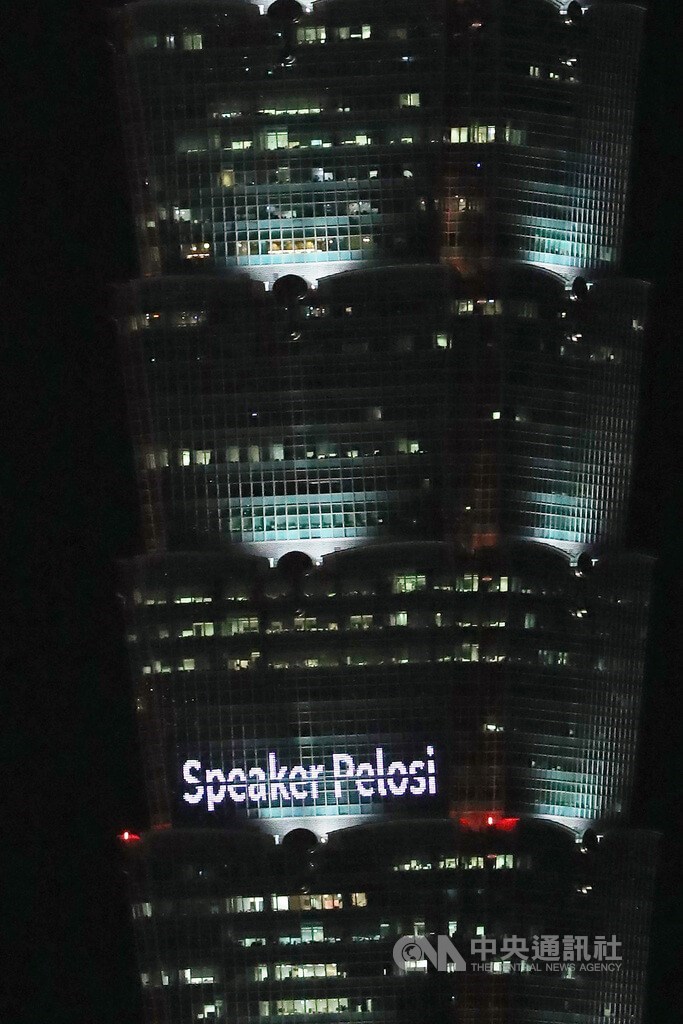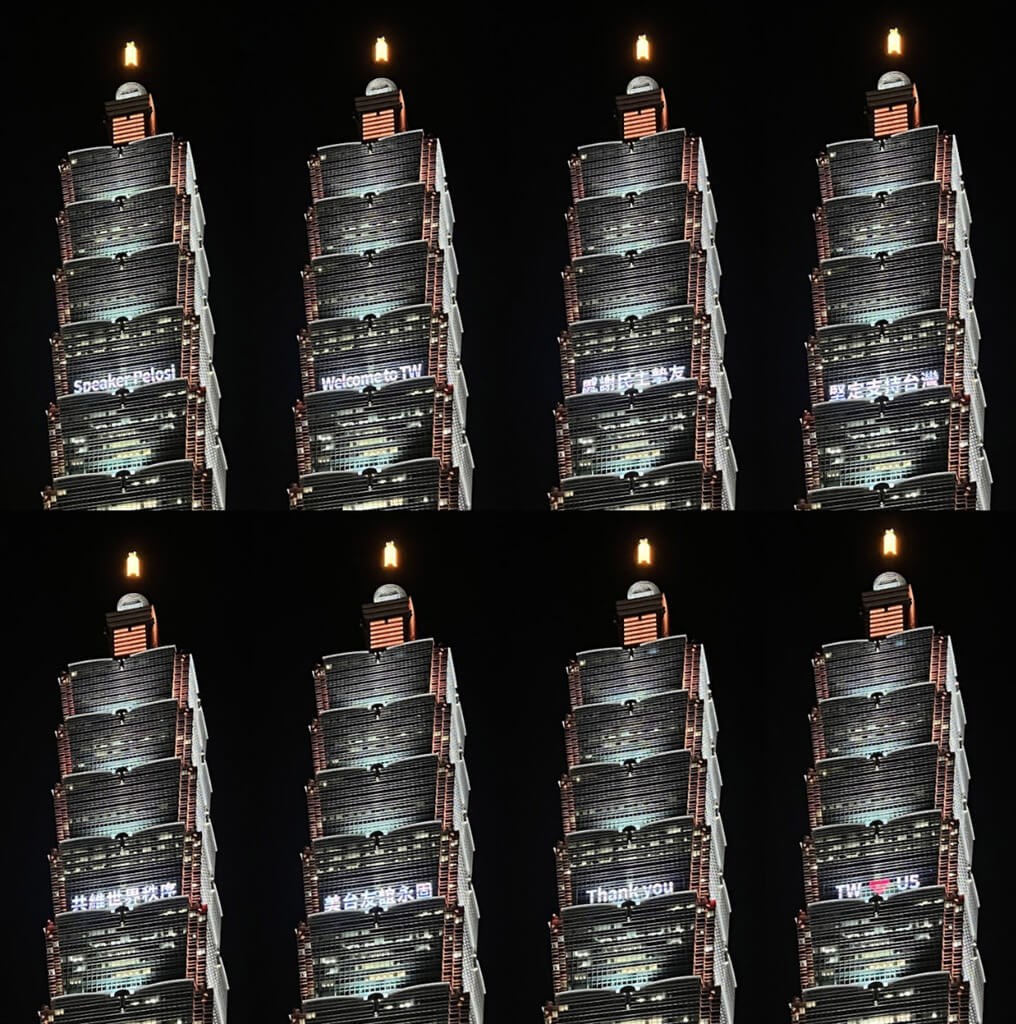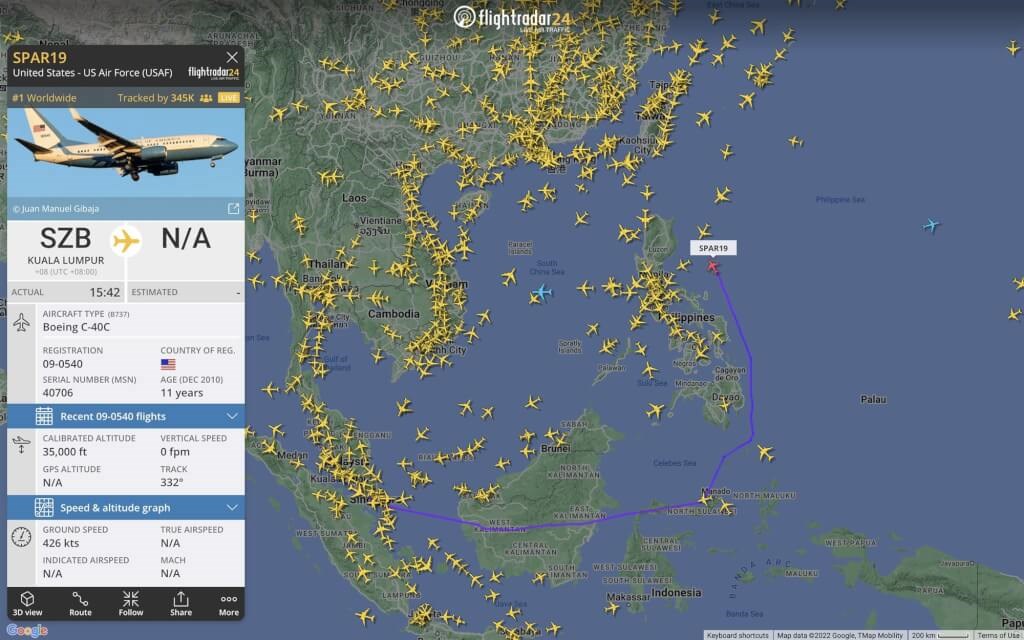 Update
Aug. 6: 20 Chinese warplanes, 14 warships deployed around Taiwan: MND
Aug. 6: U.S., Japan, Australia urge China to stop military drills
Aug. 6: Taiwan companies told to abide by China's labeling rule: MOEA
Aug. 5: 68 Chinese warplane, 13 warship sorties recorded around Taiwan: MND
Aug. 5: MOFA reports continued cyberattacks seeking to crash its website
Aug. 5: International flights avoiding Taipei FIR due to China drills: Official
Aug. 5: China's drills a 'new normal' aimed at changing status quo: Experts
Aug. 4: President Tsai calls China's live-fire drills 'irresponsible act'
Aug. 4: 22 Chinese aircraft cross Taiwan Strait median line as PLA launches military drills
Aug. 4: China fires 11 Dongfeng ballistic missiles into waters off Taiwan: MND
Aug. 4: China cannot stop world leaders from visiting Taiwan: Pelosi
Aug. 4: G7, EU urge China to refrain from 'aggressive military activity'
Aug. 3: China's military exercises aimed at blockading Taiwan: defense ministry
Aug. 3: Pelosi departs Taiwan after whirlwind visit
Aug. 3: Pelosi, TSMC Chair Liu discuss semiconductor chips: Legislator
Aug. 3: Activists meet with Pelosi at Taiwan's National Human Rights Museum