Taiwan envoy praises basketballer Enes Kanter Freedom for human right advocacy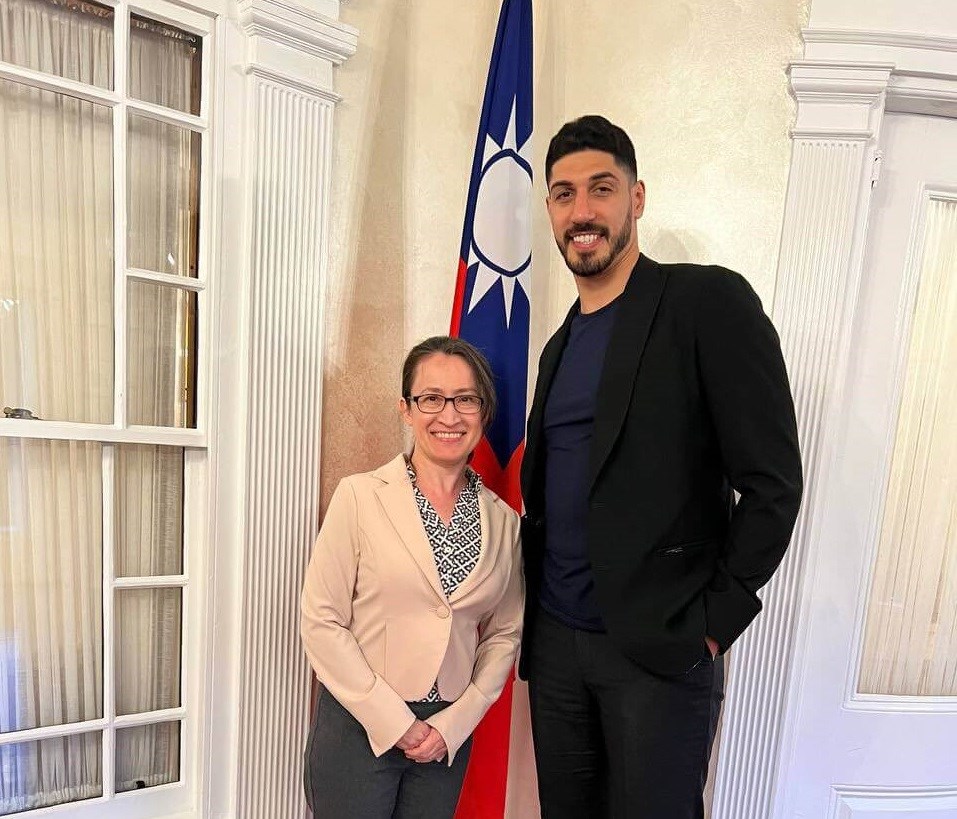 Taipei, June 21 (CNA) Taiwan's top envoy to the United States Hsiao Bi-khim (蕭美琴) on Tuesday commended American professional basketball player Enes Kanter Freedom for his advocacy on human rights.
"An honor to meet @EnesFreedom, with admiration for his courage and commitment in advocating human rights," Hsiao said in a tweet that included a photo of her posing with Freedom. "Looking forward to welcoming him to Taiwan in the future."
In her tweet, Hsiao did not give any information about her meeting with the American basketball player, who is currently a free agent.
According to a Facebook post by Legislator Hung Sun-han (洪申翰), however, Hsiao had invited Freedom to dinner at Twin Oaks, the former residence of Taiwanese ambassadors to the U.S., which is now used for official functions.
Hung also said the cuisine at the dinner was Taiwanese beef noodles, bubble milk tea and a shaved ice dessert.
Freedom on several occasions has expressed his love for Taiwan.
Earlier this year, in a radio interview, he praised the Taiwanese people and called President Tsai Ing-wen (蔡英文) "one of my heroes."
In the interview on U.S. state-owned international broadcaster Voice of America (VOA), Freedom also said China was "one of the biggest dictatorships in the world."
Recently, Freedom took to Twitter to point out the difference between the systems of government in Taiwan and China, lauding democracy over dictatorship.
According to Hung's Facebook post, Freedom is not shy to speak openly about his support for human rights and his distaste for dictatorships, even in the face of pressure from the Chinese and Turkish governments.
Freedom has been critical of Turkish President Recep Tayyip Erdoğan, referring to him as a dictator, and he has also denounced the Chinese government and its human rights injustices against Tibetans, Uyghurs, and Hong Kongers.
According to foreign media reports, the athlete has been a free agent since he was traded to the Houston Rockets from the Boston Celtics in February this year and was subsequently waived by his team the same month.