Bill to turn railways agency into public company clears Legislature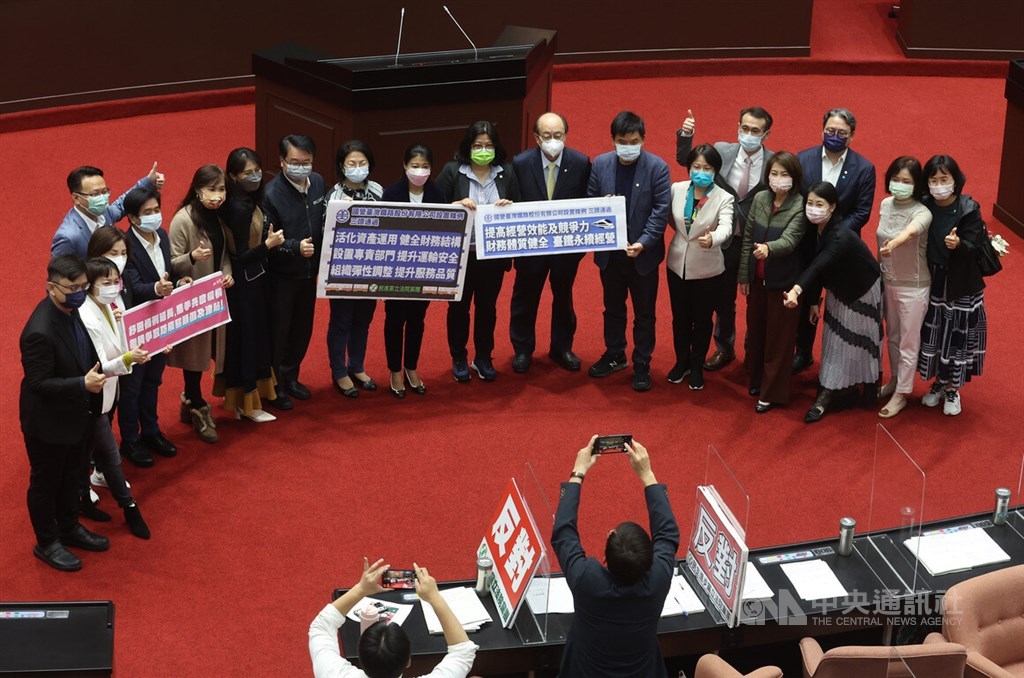 Taipei, May 27 (CNA) The Legislative Yuan on Friday passed the third reading of a bill to transform Taiwan Railways Administration (TRA) into a state-run corporation in 2024, amid public calls to reform the debt-ridden agency following two deadly train accidents in 2018 and 2021.
Under the Taiwan Railway Corporation Act, the 135-year-old TRA will become a state-owned company operated by the Ministry of Transportation and Communications (MOTC) in January 2024, after 20 years of disputes over the issue.
The act marked several areas of agreement between the government and the railway unions, including the establishment of a fund to take over TRA's NT$148.4 billion (US$5.3 billion) in short-term debt.
The clearance of debt will help improve TRA's finance and competitiveness, as well as protect employee benefits, according to the Executive Yuan.
At least one-fifth of the new company's 11-15 directors will be union representatives and a safety committee will also be established under the board of directors to better supervise related issues, according to the act.
Meanwhile, current TRA workers can choose to become company employees without compromising their existing benefits, or remain civil servants and be transferred to other government agencies, the MOTC said, adding that no existing TRA workers will be laid off during the transition.
The ministry and TRA unions will also finalize negotiations on 16 subsidiary regulations in the act by the end of this year, which will also involve reviewing the examples of Chunghwa Post Co., Taoyuan International Airport Corp. and Taiwan International Ports Corp., Ltd. -- all government agencies that became state-run companies -- according to the MOTC.
In response to Friday's development, Taiwan Railway Labor Union (TRLU) Chairman Chen Shih-chieh (陳世杰) said it was no surprise the bill passed its third reading.
With the legislation of the new act, the unions will now focus on protecting workers' benefits and salary structure as talks continue with the TRA over subsidiary regulations, Chen said.
Also, although the TRLU announced earlier this week that it has canceled a planned strike on upcoming Dragon Boat Festival "to reciprocate the goodwill from the government during talks," Chen said the union is still considering the possibility of a strike during Mid-Autumn Festival in September, Double Ten Day in October and other national holidays, depending on whether the government keeps its promises.
The TRLU staged a one day strike on May 1 in protest over the act after consistently arguing there had been a lack of consultation between the government and TRA workers. However, travel disruptions were less than originally anticipated amid a drop in passenger numbers due to a surge in domestic COVID-19 cases.