China's provocation against Taiwan 'deeply destabilizing': Blinken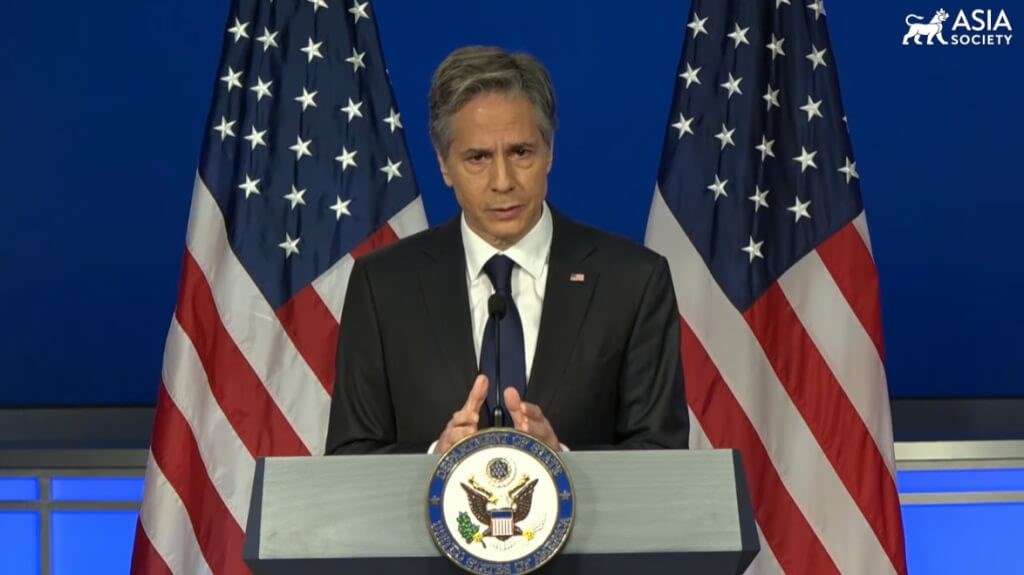 Taipei, May 26 (CNA) United States Secretary of State Antony Blinken said China's increasingly provocative rhetoric and actions against Taiwan are "deeply destabilizing" during a key China policy speech on Thursday.
"Beijing is engaged in increasingly provocative rhetoric and activity, like flying PLA [People's Liberation Army] aircraft near Taiwan on an almost daily basis," Blinken said at a think tank event in Washington, D.C., during which he outlined the current administration's policy toward China.
"These words and actions are deeply destabilizing" and "risk miscalculation and threaten the peace and stability of the Taiwan Strait," he said.
Blinken added that the U.S. would manage its relationship with China "responsibly" to maintain peace and stability in the Taiwan Strait, which he said is "a matter of international concern" and "critical to regional and global security and prosperity."
At the same time, Blinken stressed that the U.S. policy toward Taiwan has not changed.
The U.S. "remains committed to our One-China policy, which is guided by the Taiwan Relations Act, the Three Joint Communiqués [and] the Six Assurances," the country's top diplomat said.
"We oppose any unilateral changes to the status quo from either side. We do not support Taiwan independence, and we expect cross-strait differences to be resolved by peaceful means."
Blinken said the U.S. would continue to uphold its commitment to assist Taiwan in maintaining sufficient self-defense capability in accordance with the Taiwan Relations Act, which has served as the foundation for Taiwan-U.S. relations since 1979, when the U.S. severed official diplomatic ties with the Republic of China (Taiwan).
He added that the U.S. would also "maintain our capacity to resist any resort to force or other forms of coercion that would jeopardize the security or the social or economic system of Taiwan."
Blinken's speech came three days after President Joe Biden said during his first presidential trip to Asia that the U.S. would be willing to intervene militarily if China was to attack Taiwan, in response to a reporter's question at a press conference in Tokyo.
Biden's remarks were interpreted by some as a deviation from the U.S. policy of "strategic ambiguity," which allows Washington to remain vague about any possible response in the event Taiwan is attacked by China, though the president later stressed in a separate event that U.S. policy "has not changed at all."
In his speech Thursday, Blinken also noted that the U.S. will continue to expand its cooperation with Taiwan on many shared interests and values.
This includes deepening bilateral economic ties and supporting Taiwan's meaningful participation in the international community, he said.
Update
May 27: China's military sorties near Taiwan changing status quo: premier
United States Secretary of State Antony Blinken's talk on the Biden Administration's policy toward China. Video: Asia Society