Pan-Asian human rights NGO opens Taiwan office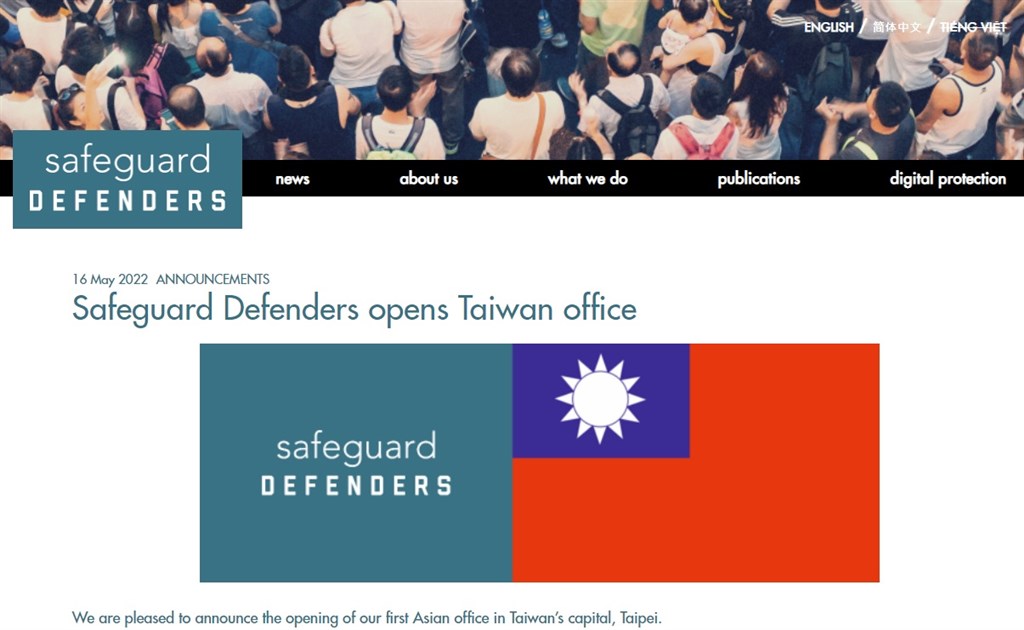 Taipei, May 17 (CNA) A Spain-based non-governmental organization that is dedicated to protecting human rights in the Asian region has opened its first Taiwan office, saying that the goal is to capitalize on the country's democratic society to promote the rule of law and help human rights defenders in restrictive parts of the region.
"With our focus on the decline in human rights in China and other authoritarian states in the region, Taiwan was an obvious choice because of its open society and geographic proximity," Safeguard Defenders said in a statement issued Monday.
Safeguard Defenders researcher Chen Yen-ting (陳彥廷) told CNA that the decision to open the Taipei office was also a result of the rapid deterioration of the human rights situation in Hong Kong under Beijing's control.
Compared to Hong Kong, Taiwan has a more diverse and vibrant civil society, which "provides an environment without restriction or suppression for us to conduct research or carry out campaigns," Chen said.
Safeguard Defenders, founded in 2016 with its head office in Spain, is focused on supporting local field activities that contribute to the protection of basic rights, promoting the rule of law, and enhancing the ability of local civil society in some of the most hostile environments in Asia, such as China, according to its website.
The NGO said it has been researching rule of law issues, including arbitrary detention, forced confessions, the black jail systems like Residential Surveillance at a Designated Location (RSDL), as well global harassment and kidnappings, and the Chinese Communist Party's secret police institution, the National Supervisory Commission.
On issues relevant to Taiwan, it said, its work on China's transnational repression covers Taiwanese nationals overseas who are illegally forced to go to China, rather than being returned to their home country, and the practice of imposing exit bans on Taiwanese freed from jail.
The newly opened Safeguard Defenders office, located in Taipei's Zhongzheng District, will release reports soon on China's practice of sending political prisoners to psychiatric hospitals, its latest violations of human rights in the name of COVID-19, and Beijing's practice of using exit bans as a weapon against political dissidents, the NGO said.
Since the implementation of a restrictive national security law in Hong Kong in 2020, several international NGOs have relocated their Asian offices from Hong Kong to Taiwan, including the German think tank Friedrich Naumann Foundation for Freedom and Hong Kong-registered New School for Democracy.