Slovenia leader says Taiwan a 'country,' backs opening trade offices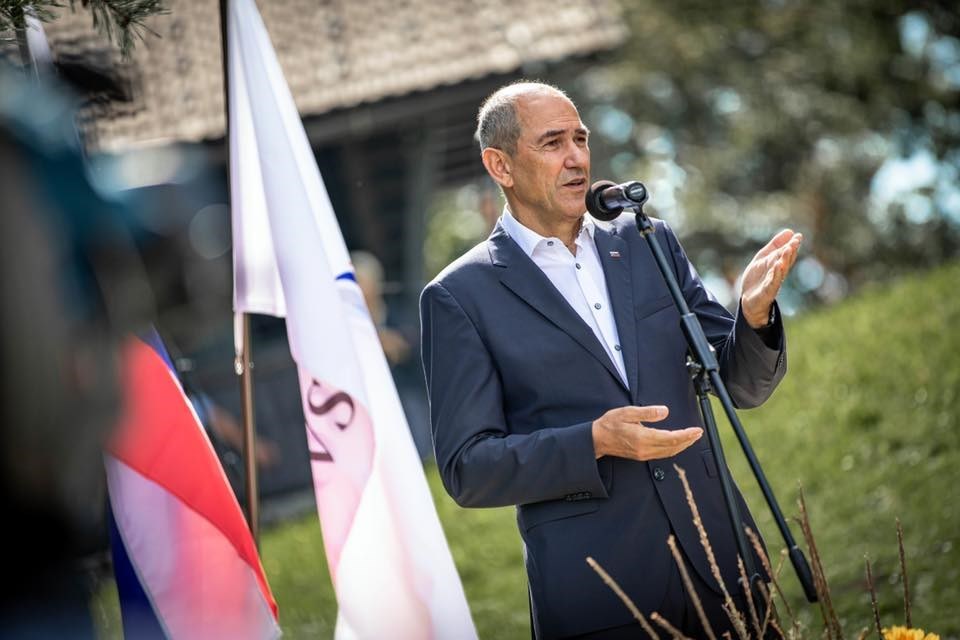 New Delhi, Jan. 18 (CNA) Slovenian Prime Minister Janez Jansa has called Taiwan a "democratic country" and said his country is in talks with Taiwan to open trade offices in each other's territory.
In an interview with Indian public service broadcaster Doordarshan on Monday, Jansa said Taiwan is a "democratic country" that respects international democratic standards and international laws, and that Slovenia and Taiwan are working on exchanging representatives.
"This will not be on the level of embassies. It will be on the same level as many of the EU member countries already have them," he said.
"If we had stronger coalitions in former years, I think we would have established such trade representative offices already in the past, because this is an issue of common benefit," he said.
He did not indicate how far along the talks are or if he would follow Lithuania's model on the name that Taiwan would use for the office in Slovenia.
Lithuania let Taiwan call its office the "Taiwanese Representative Office in Lithuania" rather than the standard "Taipei Representative Office," a designation that triggered heavy retaliation from Beijing because it implied Taiwan is a sovereign entity.
Jansa did not see the name as an issue, and felt China's reaction went overboard.
"There is a vast majority of the EU member countries holding some kind of representative offices with Taiwan. Lithuania is not an exception. There are some slight differences in naming the missions, but this is not important," he said.
"China has protested every time some European countries established such offices, but they never went as far as they did in this case. It's terrifying trying to isolate a small country that also fought for its independence 30 years ago."
He also said it was unfortunate that Beijing was opposed to Taiwan's inclusion in the World Health Organization.
"I think it would also benefit China to have a neighboring country be a member of such an organization, because we saw exactly in this pandemic situation that the virus doesn't know any borders," he said.
Jansa said Slovenia currently has "normal relations" with Taiwan, and when it was clear Taiwan was responding well to the COVID-19 pandemic, he "personally called the health minister of Taiwan" [Chen Shih-chung (陳時中)] to exchange their experiences.
China & Russia
Jansa also voiced concern about Russia's threat to Ukraine and warned of possible coordination between Moscow and Beijing on multiple fronts.
"I'm afraid that some people in China and Russia want to exploit this situation, and this is why I think this pressure on Ukraine and on NATO at the same time from Russia and from Beijing on Taipei in Taiwan, they are somehow coordinated," he said.
"If somebody is pushed to deal with two crises, two major crises in two different parts of the world, one has to split diplomatic, economic and military efforts...We have to be aware of this because this is making everything even more dangerous."
Meanwhile, the Slovenian leader also said he would support any decision made by Taiwan's people on whether to unite with China or becoming an independent state.
"If they want to join China, if it's their free will without any pressure, without any military intervention and without any blackmailing, without strategic cheating as it is happening in Hong Kong currently, then we will support it," he said.
"But if Taiwanese people want to live independently, we are here to support also this position."
Asked to comment on Jansa's remarks, Taiwan's Ministry of Foreign Affairs (MOFA) spokeswoman Joanne Ou (歐江安) on Tuesday expressed gratitude for his pro-Taiwan comments.
She would not comment, however, on the bilateral talks on opening reciprocal trade office referred to by Jansa.