Tsai highlights parliamentary transparency ahead of forum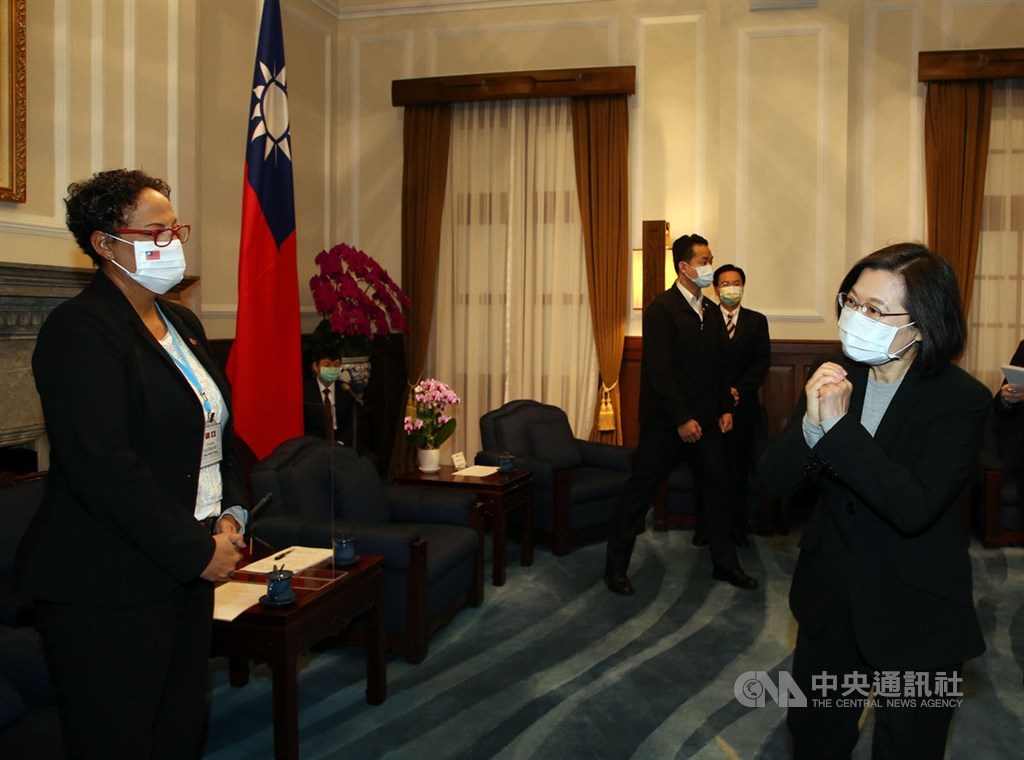 Taipei, Dec. 1 (CNA) President Tsai Ing-wen (蔡英文) on Wednesday met with visiting foreign officials who are in Taiwan to attend the 2021 Open Parliament Forum that begins Thursday, highlighting the importance of parliamentary transparency and civic engagement.
It is the government's goal to create a parliament that values greater public inclusiveness, Tsai said during her meeting with officials from the United States, Mexico and Belize.
Tsai also expressed hopes for stronger ties between Taiwan and the three countries, as she welcomed officials including Clarita Pech, deputy clerk of Belize's National Assembly, Mexican Senator Nadia Navarro Acevedo, and Manpreet Singh Anand, regional director for the Asia-Pacific, National Democratic Institute (NDI), USA.
Both Taiwan's executive and legislative branches have introduced policies to empower citizens, Tsai said, expressing the hope that they have laid a foundation for Taiwan's participation in the global Open Government Partnership initiative.
Tsai also said she hoped the two-day forum, attended in person by lawmakers from five countries and still more online, will contribute to more exchanges on democracy between Taiwan and other countries.
The forum, themed "Open Parliament in a Post-COVID Context: Global Examples of Resilience and Planning for 2022 and Beyond," will be co-hosted by the Ministry of Foreign Affairs, the Legislative Yuan and the Washington-headquartered NDI, which opened a Taipei office earlier this year.
The 2021 Open Parliament Forum in Taipei
*Belize house speaker says trade pact will deepen Taiwan ties
*Forum pledges to bolster democracy amid authoritarianism threat
*Open governance needs civic engagement, transparency: Czech senator
*Pelosi says U.S. will uphold Taiwan's security and freedom