First indigenous trainer delivered to Air Force at eastern Taiwan base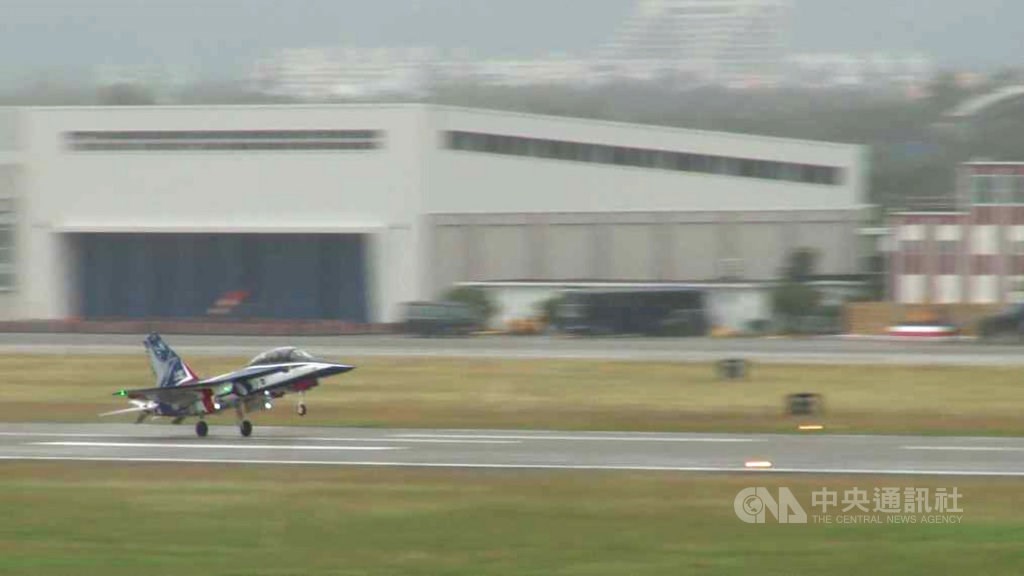 Taipei, Nov. 29 (CNA) Taiwan's Air Force took delivery Monday of the first indigenous advanced jet trainer (AJT) to roll off the production line, though poor weather caused the cancellation of a water salute ceremony originally scheduled to be held at Taitung Air Base to welcome the jet's arrival.
Manufactured by the government-funded Aerospace Industrial Development Corp. (AIDC), the serial number 11003 AJT took off from central Taichung Air Base, where the AIDC is located, at 10:10 a.m., more than an hour later than the original schedule due to heavy rain in Taitung.
The jet finally arrived at Taitung Air Base in the southeastern part of the island at 10:34 a.m.
Although the AJT's arrival was not open to the public or members of the media, a dozen people did gather outside the air base in Taitung to get a first glimpse of the domestically made trainer.
According to a Ministry of Defense (MND) report delivered to the Legislature in September, the AIDC plans to deliver two AJTs to the Air Force by the end of this year.
A second AJT has also come off the mass production line, with the serial number 11004, and conducted its first test flights in Taichung on Saturday.
In total, 66 AJTs are expected to be delivered before the end of 2026, the report said.
The AJT project was initiated in 2017 to replace the military's decades-old AT-3 trainer aircraft and F-5E/F lead-in fighter trainers.