Lithuanian parliamentarians arrive in Taiwan for democracy forum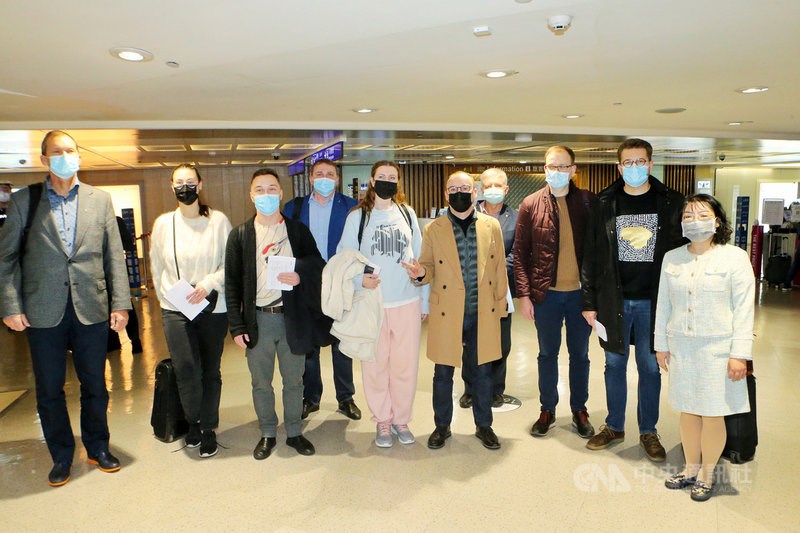 Taoyuan, Nov. 28 (CNA) A delegation led by the head of a Taiwan friendship group in the Lithuanian Parliament arrived in the country on Sunday to participate in a conference on democracy to be held later this week in Taipei.
The delegation led by Matas Maldeikis, a member of Lithuania's Parliament and an outspoken critic of China, touched down at Taoyuan International Airport at 6:18 a.m. Sunday.
Maldeikis, who heads the Taiwan friendship group in the Lithuanian Parliament, told reporters at the airport that he expected the trip to enhance closer Lithuania-Taiwan understanding after the two sides' cooperation took a big step forward over the past year.
"This trip will be another step in understanding each other because we are dealing with the same challenges," he said.
Another member of the delegation, Lithuanian parliamentarian Dovilė Šakalienė, told reporters that she expected the Taiwan trip to be "inspiring" as Lithuania knows how it feels to be next to the neighbor of "a large authoritarian regime," referring to the fact that the Baltic state is situated close to Russia while Taiwan is just a strait away from China.
She also said she saw it as a "badge of honor" to be listed on China's travel ban as she is also critical of the Chinese communism regime. She said members of the delegation to Taiwan all joked that they would be joining the list soon.
Šakalienė said Taiwan is an important friend to Lithuania and the latter will "continue this friendship."
According to Taiwan's Ministry of Foreign Affairs, the Lithuanian parliamentarian delegation will be joining other parliamentarians from Estonia, Latvia, Belize and Mexico to the 2021 Open Parliament Forum that will discuss the promotion of democracy and open parliaments from Dec. 2 to 3.
During their stay in Taiwan, they will also meet with President Tsai Ing-wen (蔡英文), Premier Su Tseng-chang (蘇貞昌), Legislative speaker You Si-kun (游錫堃) and attend a dinner hosted by Foreign Minister Joseph Wu (吳釗燮).
You on Sunday welcomed the delegation's arrival, saying that Taiwan opens its arms to all freedom and democracy loving partners.The visit came at a time when Taiwan is enhancing exchanges with the European Union and warming up ties with the bloc's member states, in particular Lithuania.
Earlier this month, Taiwan inaugurated its representative office in Vilnius, the capital of Lithuania, as part of a reciprocal deal the two nations reached in August, which will also see Lithuania open a representative office in Taipei early next year.