As Lithuania faces China intimidation, EU leaders vow to push back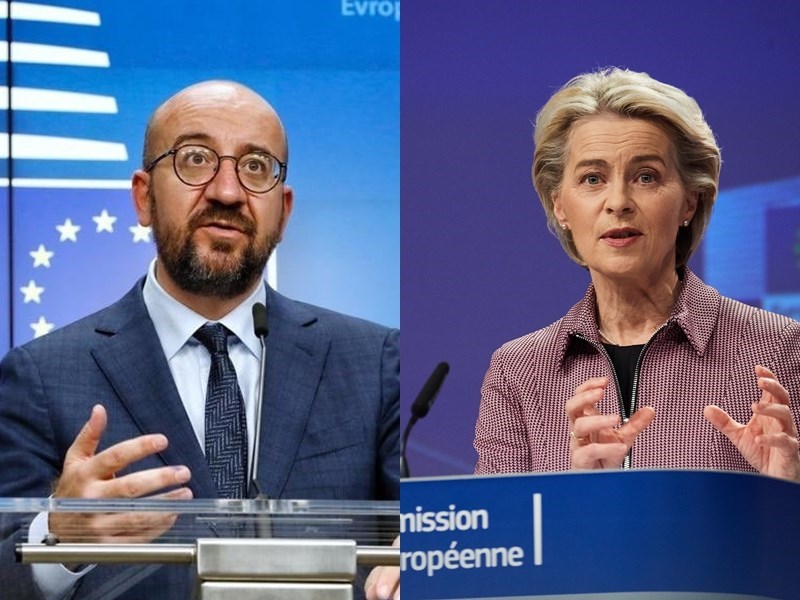 Brussels, Oct. 28 (CNA) Senior EU leaders have described a punitive Chinese campaign against Lithuania as unjustified, stating that a proposed Vilnius Taiwan representative office does not breach the bloc's One China policy.
In a joint letter Thursday, EU Commission President Ursula von der Leyen and Council President Charles Michel said Beijing's pressure on Lithuania following the announcement of the opening of representative offices in and from Taiwan had been "unjustified" and "disproportionate."
The leaders of the EU's executive branch and collective presidency also vowed to "push back" against "threats, political pressure and coercive measures" aimed at its member states.
Beijing had objected to Lithuania allowing its planned office in Taiwan to use the name "Taiwanese Representative Office" rather than the standard "Taipei," saying it implied Taiwan was a sovereign country, something China rejects.
After Vilnius declined to back down, China's Ministry of Foreign Affairs asked Lithuania to withdraw its ambassador to Beijing, while also recalling its own envoy to the Baltic nation in August.
Vilnius' decision did not constitute a breach of the EU's one-China policy, von der Leyen and Michel said, asserting that the EU and its member states had a right to further develop relations and cooperation with Taiwan.
The two EU leaders added they were in contact with Chinese officials in a bid to de-escalate tensions over the issue.
Von der Leyen and Michel had been responding to a letter from the Formosa Club, a group of cross-party EU parliamentarians and Canadian legislators that seeks to promote closer ties with Taiwan.
The letter, sent two months ago by the club, had called for "a far stronger response" from the EU in the wake of the Lithuania-China rift.
Taiwan's Ministry of Foreign Affairs (MOFA) thanked the EU leaders in a statement issued Friday in Taipei.
MOFA said the support from the EU and Formosa Club for deeper ties between Taiwan and Lithuania would contribute to Taiwan's partnership with other EU nations.