Taiwan Coast Guard takes delivery of third missile corvette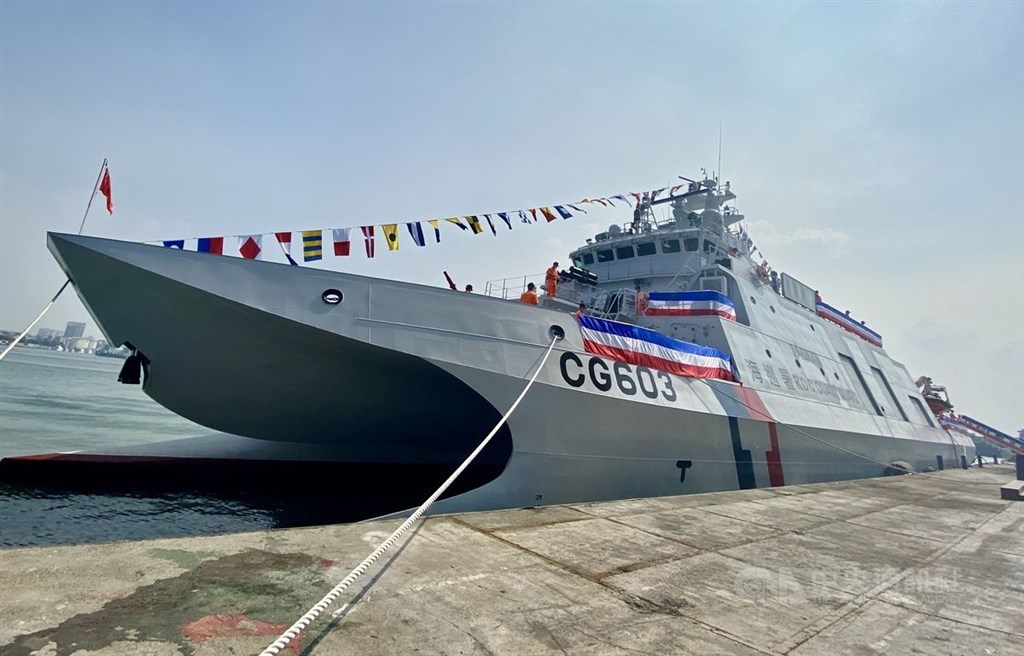 Kaohsiung, Oct. 28 (CNA) Taiwan's Coast Guard Administration (CGA) on Thursday took delivery of its third Anping-class missile corvette, the Tamsui (淡水艦), in a ceremony held in Kaohsiung on Thursday.
The ship will be deployed in northern Taiwan to protect the nation's maritime rights and the interests of local fishermen, the CGA said in a statement.
The Tamsui, hull number CG-603, is a 600-ton offshore patrol vessel that is capable of traveling at over 44 knots and equipped with a water cannon, high explosive rockets and a 20mm cannon, according to the CGA.
Design of the Anping-class vessels is based on the Navy's Tuo Chiang-class corvette.
Ships of this class are also fitted for but not actually equipped with Hsiung Feng III and Hsiung Feng II anti-ship missiles. As such, they can be easily converted into fast attack crafts in wartime, data indicates.
In order to meet the needs of coast guard operations, the Tamsui is also equipped with an onboard rescue boat to carry out various rescue operations at sea.
The Kaohsiung ceremony that day also saw the christening of the CGA's fourth Anping-class missile corvette, the Cijin (旗津艦), which once delivered, will be deployed to carry out patrol missions in southern Taiwan, the CGA said.
In 2018, the coast guard announced plans to buy 12 Anping-class corvettes to bolster Taiwan's patrol capabilities.