Voters to vote in recall election of pro-independence lawmaker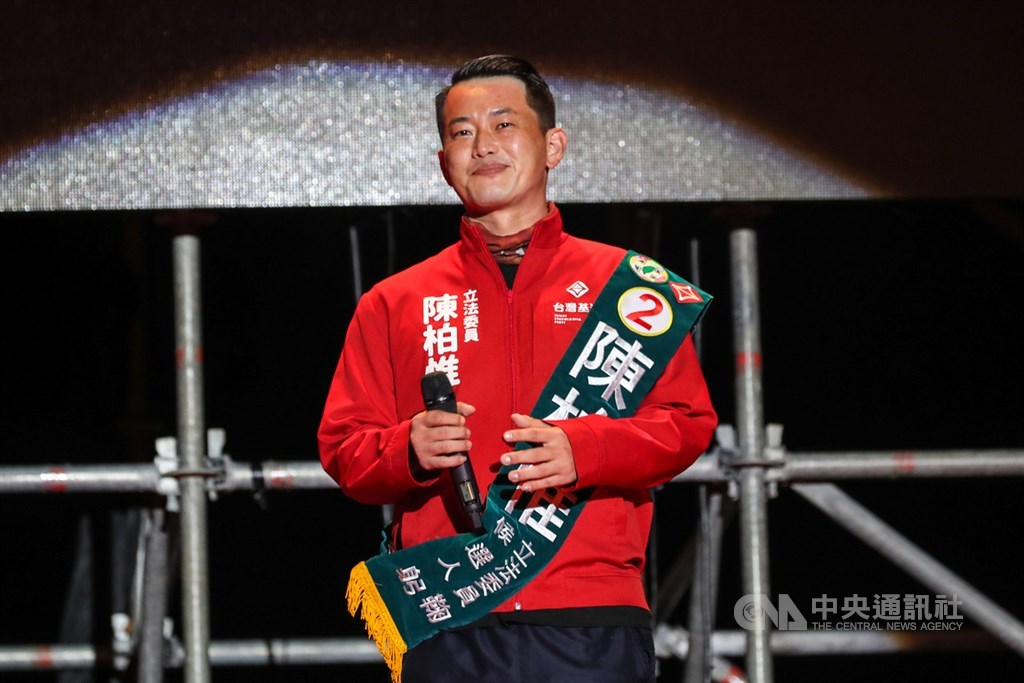 Update: Chen Po-wei becomes first legislator in Taiwan to lose recall vote (Oct. 23)
Taipei, Oct. 22 (CNA) A special election will be held on Saturday for voters in a district of Taichung City to decide whether to recall Legislator Chen Po-wei (陳柏惟) of the pro-independence Taiwan Statebuilding Party, with the main opposition party Kuomintang (KMT) backing the campaign and the ruling party defending him.
According to the Central Election Commission (CEC), 258 voting stations will open to a total of 294,976 eligible voters in the second electoral district of Taichung, which covers the areas of Shalu, Longjing, Dadu, Wuri and Wufeng.
Under the Civil Servants Election and Recall Act, Chen will be removed if a quarter of the eligible voters or 73,744 vote in favor of recalling Chen and their votes surpass the ballots against the recall.
The election was previously scheduled for Aug. 28, and will take place after a 56-day delay caused by an outbreak of domestically transmitted COVID-19 cases in mid-May.
The recall campaign was initiated by Yang Wen-yuan (楊文元), who voted for Chen in 2020. The recall petition obtained enough signatures and secured approval from the CEC on July 2.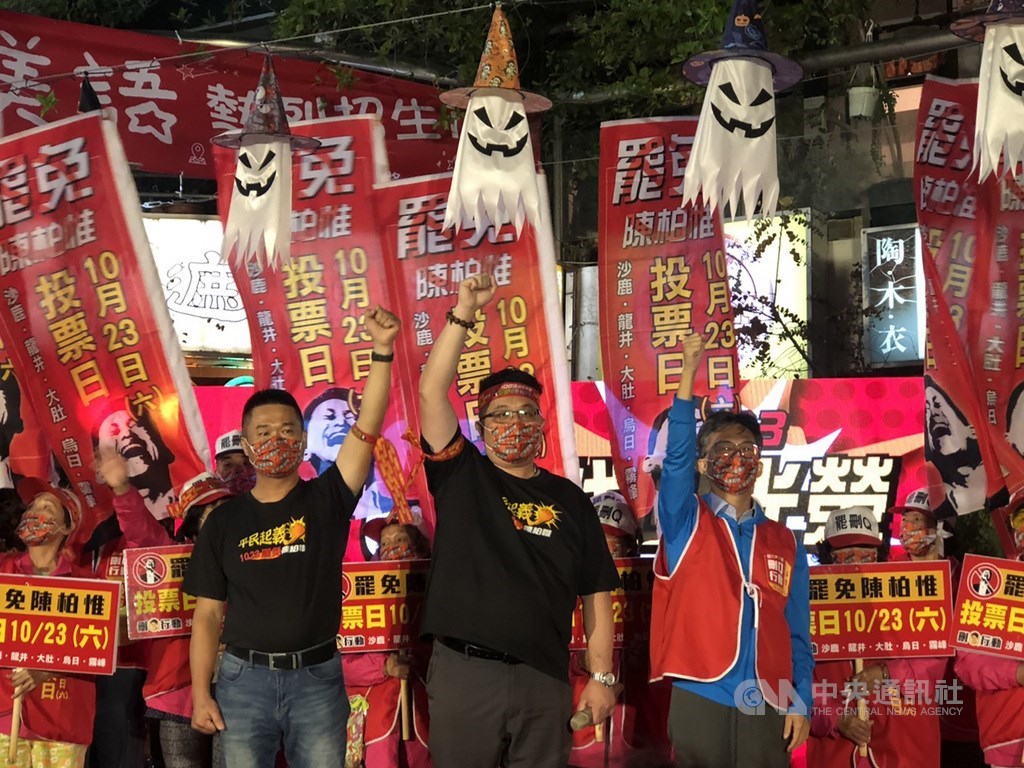 Yang has accused Chen of neglecting his constituency, behaving outrageously in the Legislature and on social media, and supporting the government's decision to lift a ban on U.S. pork imports containing the livestock drug ractopamine.
Chen, 35, was the first candidate from his party to win a seat in the Legislative Yuan, after he pulled off a narrow upset in 2020 against then-incumbent Yen Kuan-heng (顏寬恆) of the Kuomintang (KMT), the scion of a local political dynasty.
The ruling Democratic Progressive Party (DPP) has voiced support for Chen and President Tsai Ing-wen (蔡英文), who is also the chairwoman of the DPP, has urged voters to support Chen, describing him as a hardworking person.
Chen attends a rally held by his supporters.
On the other hand, Eric Chu (朱立倫), the chairman of the KMT, has visited Taichung several times to rally supporters to remove Chen from office.
On Friday, Chu, who visited Taichung again, reiterated that the recall effort demonstrated civic power instead of being a political campaign. Chu added that as Chen completely stands on the opposite site of the voters on many issues, they have to show up and vote for his removal on Saturday.
Chu, who has just assumed the KMT chairmanship on Oct. 5, has listed the recall vote against Chen as one of his top priorities.
Lending his support for Chen, Premier Su Tseng-chang (蘇貞昌) said the KMT always resorted to negative campaigns to smear its political opponents, adding that the KMT could not tolerate political stances different from its own. Su said voters in Taichung should stay wise, to allow Taiwan's democracy to prevail and to progress by voting against the recall.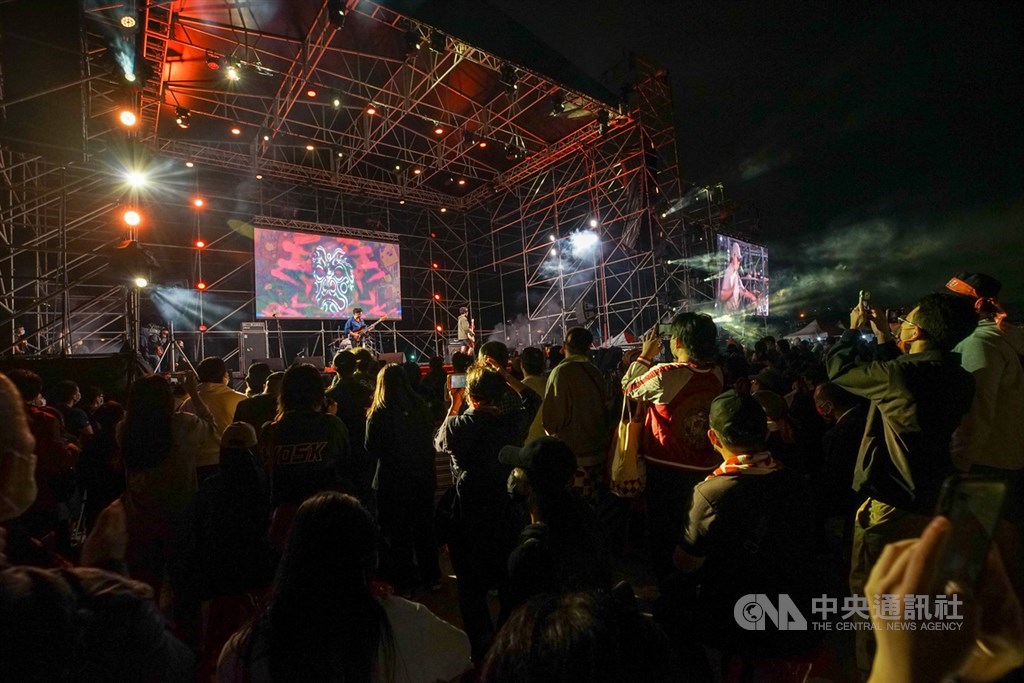 The recall election has been seen as the latest confrontation between the DPP and the KMT camps and is the latest in a string of recall elections launched by one party or the other.
In the most prominent recall vote held in the past two years, the KMT's candidate in the 2020 presidential race, Han Kuo-yu (韓國瑜), was removed from his post as Kaohsiung Mayor in June 2020. That was followed by a recall election that removed Taoyuan City Councilor Wang Hao-yu (王浩宇) of the DPP from office in January 2021. Another recall election was held in February, but independent Kaohsiung City Councilor Huang Jie (黃捷), who is viewed as part of the DPP camp, survived.
For his part, Chen kicked off a 100-hour walking marathon on Oct. 13 and billed it as the last mile for democracy to meet voters in person, saying he would try hard to communicate with them to reduce many voters' misunderstanding about him.
On Friday, Chen continued the walking campaign from Salu starting at 4 a.m. to "welcome" the sunrise before throwing a concert at the Sunrise Car Park in Wuri, which he said was aimed at allowing his supporters to relax.
Chen speaks to supporters after he visits all five districts in his constituency on foot in 100 hours.
The KMT staged a rally in a business district surrounding Tung Hai University in Longjing with several political pundits, including the party's former chairman Johnny Chiang (江啟臣), Legislator Cheng Li-wun (鄭麗文), and Tainan City Councilor Hsieh Lung-chieh (謝龍介), urging voters to recall Chen.
After Saturday's recall vote against Chen, the focus will be on a petition to recall independent Legislator Freddy Lim (林昶佐), which has been in the making. He is supported by the DPP.