CORONAVIRUS
/
Taiwan thanks Lithuania for pledged COVID-19 vaccine donation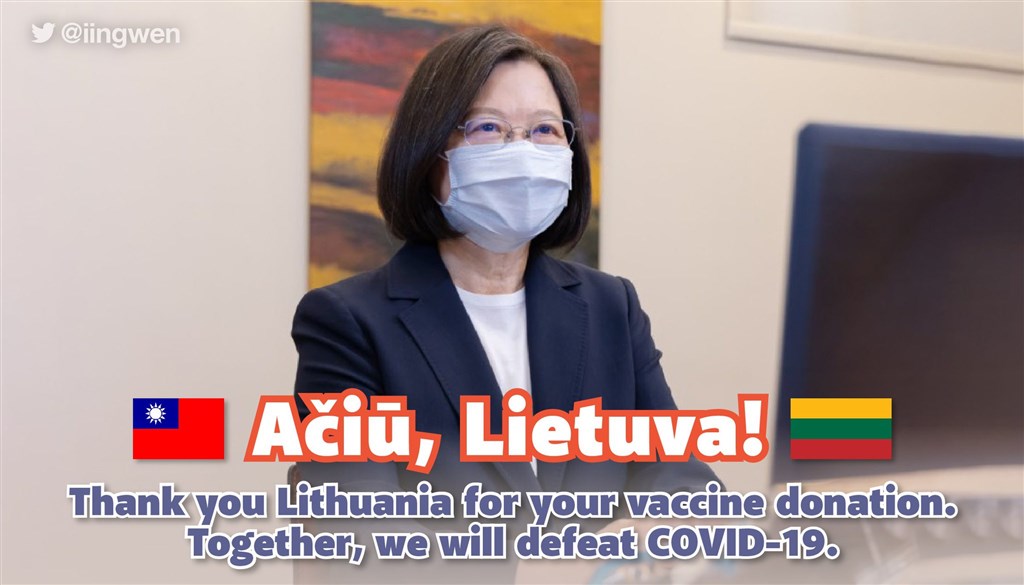 Taipei, June 22 (CNA) President Tsai Ing-wen (蔡英文), Taiwan's government and legislators across party lines expressed appreciation after the Lithuanian government pledged to donate 20,000 doses of the AstraZeneca COVID-19 vaccine, Tuesday.
Lithuania's Foreign Minister Gabrielius Landsbergis announced via Twitter Tuesday afternoon that the Lithuanian government approved in the morning a donation of 20,000 vaccine doses to Taiwan.
"I am proud that we can, albeit in a small way, to show solidarity with the Taiwanese people in combatting the COVID-19. Freedom-loving people should look out for each other!" he tweeted.
The Lithuanian Government later tweeted that it will also donate 126,000 doses of vaccine to Ukraine, Moldova and Georgia, noting that "Nobody can win against COVID-19 alone."
According to a report by Reuters, the donation was in response to a request from Taiwan and will be delivered by the end of September.
The report also cited the Baltic country's Prime Minister Ingrida Simonyte as saying that "we'd like to do more, but we do what we can."
In a Facebook post, President Tsai Ing-wen (蔡英文) thanked Simonyte and her government for the pledge.
Tsai said Lithuania is able to empathize with Taiwan, because both countries share similar values and went through difficulties before earning their democracy and freedom.
Taiwan's Ministry of Foreign Affairs (MOFA) described Lithuania's pledged donation as a "demonstration of friendship through concrete action," noting that Lithuania is the first European Union member state to help Taiwan with its vaccine needs.
Chiu Chih-wei (邱志偉), a legislator from Taiwan's ruling Democratic Progressive Party and the chair of a friendship group between legislators in Taiwan, Lithuania, Latvia and Estonia, thanked Lithuania on behalf of the Taiwanese people.
Chiu said he is moved by the kindness of Lithuania especially at a time when most countries in the world are in dire need of vaccines.
Johnny Chiang (江啟臣), a legislator and chairman of Taiwan's main opposition Kuomintang (KMT), tweeted "much appreciated! We'll always remember your nation's generosity during these trying times."
The KMT said in a statement that the party believes all Taiwanese people are warmed by the vaccine donations by friendly countries, which include Japan, the United States and Lithuania.
Lithuania revealed in March a plan to open a trade office in Taiwan and quit the Beijing-initiated "17+1 forum" in May.
Last April, Taiwan donated 100,000 medical facemasks to Lithuania when the COVID-19 pandemic was sweeping Europe.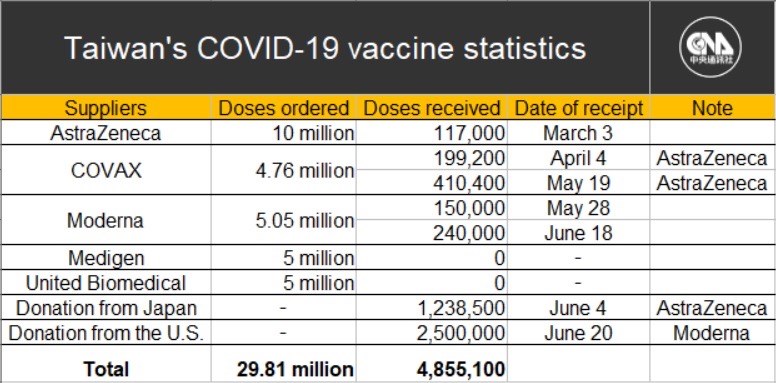 View All