CORONAVIRUS
/
President Tsai defends support for local COVID-19 vaccines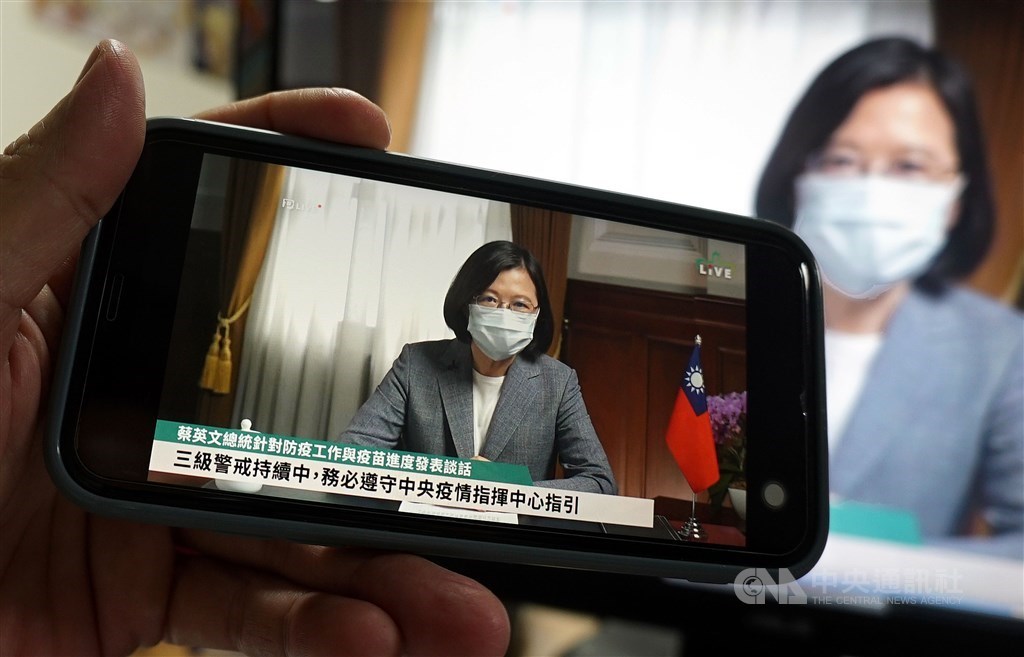 Taipei, May 31 (CNA) President Tsai Ing-wen (蔡英文) on Monday defended Taiwan's development of its own COVID-19 vaccines amid accusations that the government is deliberately preventing imports of vaccines to protect domestic vaccine makers.
In a public address livestreamed on various social media platforms, Tsai said the government has tried its best to get delivery of the 20 million doses of vaccines it ordered abroad so Taiwanese can get vaccinated.
To date, however, fewer than 900,000 vaccine doses have been delivered, mostly from AstraZeneca, and 418,210 doses had been administered as of Monday at 10 a.m. in a country of over 23.5 million, according to the Central Epidemic Command Center (CECC).
That has led local governments and now religious groups and private enterprises to try to get vaccines from abroad on their own, efforts that the CECC has generally blocked or required to go through the central government.
Tsai denied, however, that the government is preventing private efforts to bring in vaccines, saying that it simply needed to ensure the vaccines Taiwan gets are safe, genuine and legal.
She pledged that the government will assist the groups trying to get vaccines through their own channels.
On the government's support for Taiwanese vaccine brands, Tsai stressed the need for Taiwan to develop its own vaccines due to the serious shortage of vaccines in the international market.
"It is our strategic priority to develop our own vaccines so that we will not depend on others," she said.
Tsai guaranteed the quality of locally made vaccines, citing the participation of many top experts in the development process and the government's strict regulations in line with international standards.
She denied claims that some government officials are speculating in stocks of local vaccine companies and asked the accusers to provide evidence.
There are three vaccines currently being developed in Taiwan, by Adimmune Corp., United Biomedical and Medigen Vaccine Biologics Corp., with at least one of them expected to be introduced to the market by July.
None have completed phase 2 clinical trials, though United Biomedical and Medigen are said to be nearing the completion stage.
The CECC said Sunday that the government has signed contracts with United Biomedical and Medigen to purchase a total of 10 million COVID-19 vaccine doses.
In a statement Monday, Medigen said it supported the government's efforts to secure vaccines overseas, and pledged that its vaccine will only be introduced on the market after the vaccine's efficacy and safety are approved by Taiwanese regulatory agencies.
The company also said it will seek international approval by completing a phase three clinical trial if the results of its phase two clinical trial are favorable.
Meanwhile, Tsai said in the same address that Taiwan is preparing for vaccinating citizens on a larger scale.
A reservation system is being designed to let the public know when and where shots will be administered, while hospitals, clinics and other suitable facilities are being considered as venues for giving the shots, she said.
Taiwan's hospitals and health workers are currently facing tremendous pressure due to the surge of domestic COVID-19 cases in Taiwan over the past two week.
According to data from Taiwan's Central Epidemic Command Center (CECC), more than 7,000 people have contracted the coronavirus in Taiwan over the past two weeks, with at least 112 deaths.
Health experts have blamed the rapid spread of the virus on the low vaccination rate in Taiwan due to the government's failure to secure enough vaccines from abroad.
View All