U.S., South Korea reaffirm commitment to stability in Taiwan Strait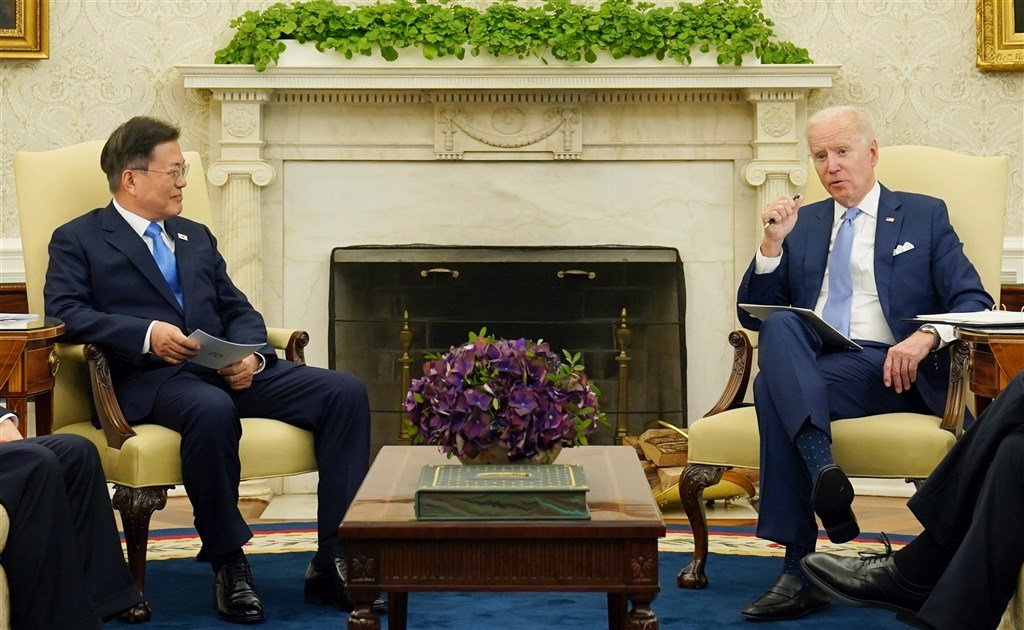 Washington, May 21 (CNA) U.S. President Joe Biden and South Korea President Moon Jae-in reaffirmed their commitment to maintaining peace and stability in the Taiwan Strait during their first in-person summit in Washington on Friday.
During the meeting, the two presidents discussed a range of regional security issues, including the denuclearization of the Korean peninsula and the maintenance of freedom of navigation in the South China Sea, according to a joint statement.
The two leaders also emphasized "the importance of preserving peace and stability in the Taiwan Strait," the statement said.
In a post-meeting press conference, Moon denied that Biden had pressured him to adopt a tougher stance on China.
"As for peace and stability in the Taiwan Strait, we agreed on how important the region is...and decided to work more closely on the matter going forward," he said.
Aside from security issues, Biden and Moon also discussed U.S.-South Korea cooperation in areas such as semiconductors, climate change and the response to COVID-19, according to the joint statement.
In response, Taiwan's Ministry of Foreign Affairs thanked the U.S. and South Korea for their focus on Taiwan Strait issues, and pledged to work closely with the U.S. and other like-minded countries to maintain stability in the Indo Pacific region.
Moon is the second foreign leader Biden has hosted at the White House, following an April 16 visit by Japanese Prime Minister Yoshihide Suga, during which the two sides also issued a joint call for the "peaceful resolution of cross-Strait issues."
Biden's decision to prioritize meetings with the United States' traditional allies in Asia and to issue joint statements regarding the Taiwan Strait has been interpreted as an effort to counter the growing influence China wields in the region and to warn Beijing against any plans it may have of reunifying with Taiwan by force.