The Economist names Taiwan as most dangerous place on earth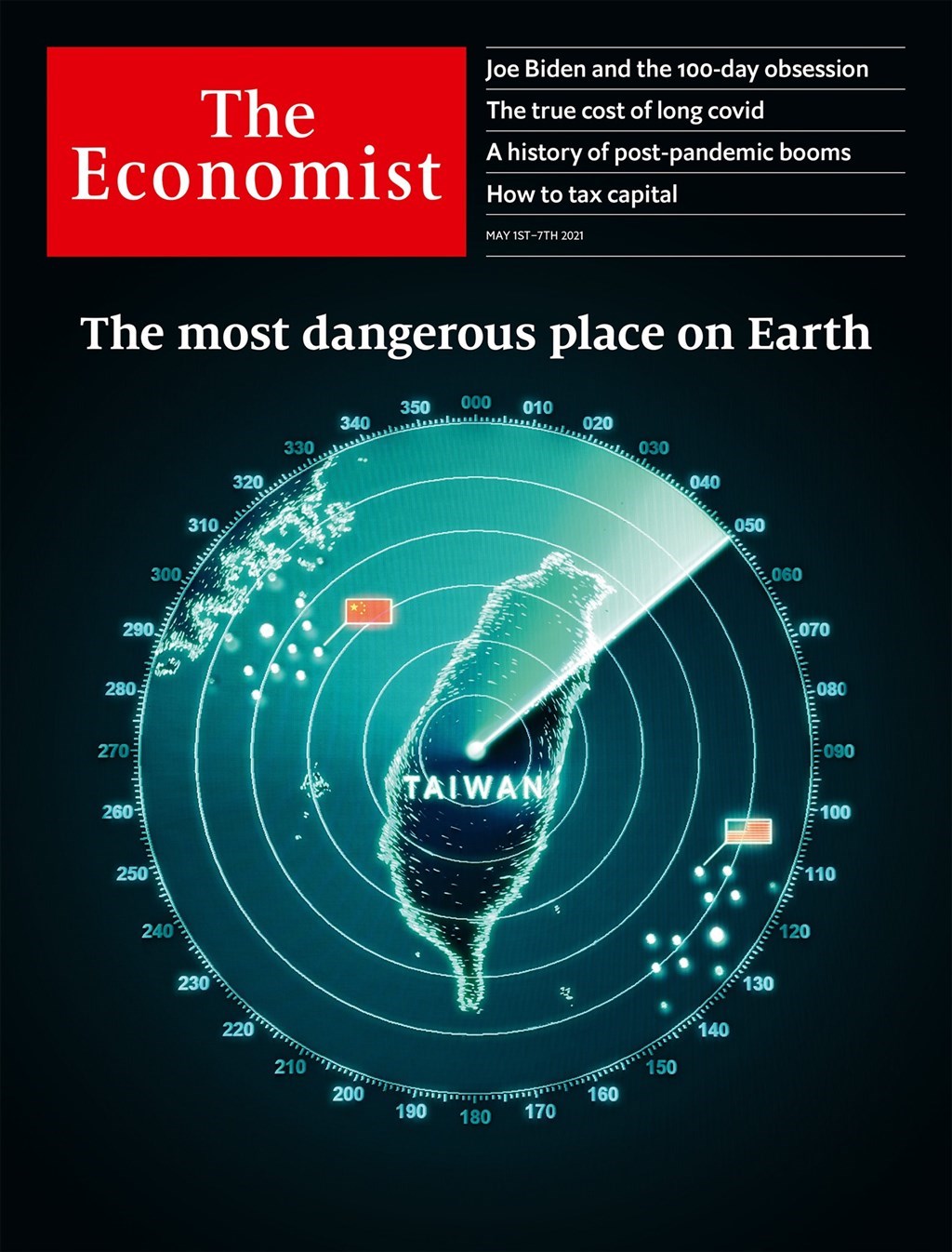 London/Taipei, April 30 (CNA) Taiwan is now the "most dangerous place on earth" as it becomes "an arena for the rivalry between China and the United States," the London-base international magazine The Economist warned in its latest issue.
In its May 1 edition, the magazine said in an article that the U.S.' "strategic ambiguity" over Taiwan's security is breaking down and the U.S. is coming to fear that it may no longer be able to deter China from seizing Taiwan by force.
The article quoted Phil Davidson, chief of the U.S. Indo-Pacific Command, as saying that China may attack Taiwan before 2027.
"Although the United States is not treaty-bound to defend Taiwan, a Chinese assault would be a test of America's military might and its diplomatic and political resolve," it said, pointing out that if the U.S. 7th Fleet failed to turn up, China would overnight become the dominant power in Asia and the U.S.' allies around the world would know that they could not count on it.
Taiwan must start to devote fewer resources to expensive weapons that are vulnerable to Chinese missiles and more to tactics and technologies that would frustrate an invasion, the article suggested.
On the U.S. side, aside from weapons to deter China from launching an amphibious invasion, it needs to prepare its allies, including Japan and South Korea, and to communicate to China that its battle plans are credible, the article said.
The article, however, did not offer any suggestions or analysis of how all sides - the U.S., China and Taiwan - can reduce tensions and find a diplomatic solution.
It quoted China's late leader Deng Xiaoping: "Most disputes are best put to rest. Those that can be resolved only in war can often be put off and left to wiser generations."
The Economist article ended by saying: "Nowhere presents such a test of statesmanship as the most dangerous place on Earth."
In a Facebook post, President Tsai Ing-wen (蔡英文) said The Economist article highlighted the threat that China's military expansion poses to the Taiwan Strait and the surrounding areas.
"I hope the Beijing authorities come to realize that the PLA's actions in this regard contradict their own proclamations of China's "peaceful rise" and are only driving greater international concern," she wrote.
"But though Taiwan does face a real threat from China, I want to assure everyone that our government is fully capable of managing all potential risks and protecting our country from danger," she added.
Johnny Chiang (江啟臣), chairman of Kuomintang, Taiwan's main opposition party, told reporters on the sideline of a religious event that The Economist article echoed his view that the Taiwan Strait should not become a battleground for superpowers vying for influence.
He called on the authorities across the Taiwan Strait and in the U.S. to remain rational and resolve their differences through dialogue.
In a Twitter tweet regarding U.S. President Joe Biden's State of the Union address on his first 100 days in office, the KMT also said: "The #RepublicOfChina not only can but also should assist in the prevention of conflict in this pivotal region!"