Japan, Taiwan laud friendship on 10th anniversary of 2011 quake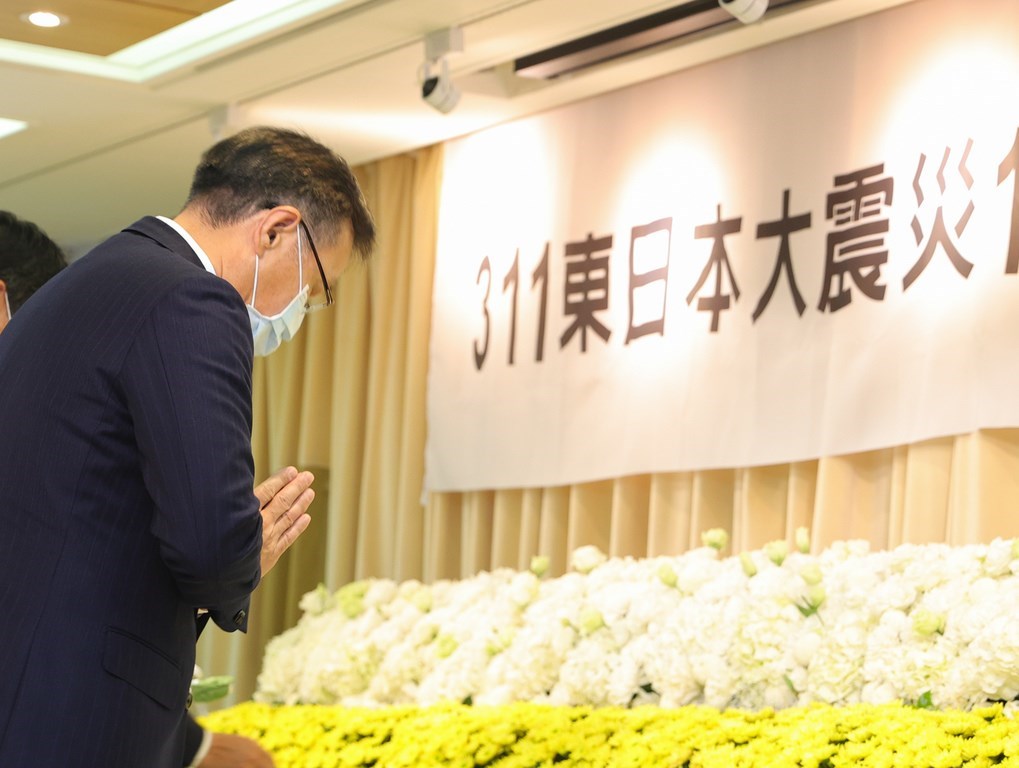 Taipei, March 11 (CNA) Japan and Taiwan lauded their friendship on Thursday, the 10th anniversary of the devastating Great East Japan Earthquake.
On March 11, 2011, a magnitude-9 earthquake struck northeastern Japan, triggering a tsunami that claimed about 16,000 lives.
Following the disaster, Taiwan donated over US$240.04 million in aid, making it one of the largest providers of financial aid to the country.
Hiroyasu Izumi, chief of the Taipei office of the Japan-Taiwan Exchange Association (JTEA), thanked the Taiwanese people for their support after the disaster at a thanksgiving and memorial event held at the association.
JTEA represents Japan's interests in Taiwan due to the lack of official diplomatic relations between the two countries.
Izumi also said JTEA has designated 2021 "Japan-Taiwan Friendship Year" and asked the people of Taiwan to continue praying for the full recovery of those areas in Japan devastated by the disaster.
Activities commemorating friendship year started with LED messages displayed on the iconic Taipei 101 skyscraper on Jan. 23.
That was followed by an exhibition commemorating the events of 10 years ago which opened at Hua Shan Cultural Park on Wednesday and a solo exhibition of works by Japanese illustrator Yoshitomo Nara which opened at Guandu art museum, Taipei, on Thursday.
There will also be a music festival featuring Taiwanese and Japanese bands in Taipei on March 13-14, he said.
In a pre-recorded video JTEA Chairman Mitsuo Ohashi pledged that Japan will work hand in hand with Taiwan to overcome the new challenges posed by the COVID-19 pandemic.
Keiji Furuya, chairman of the Japan-ROC Diet Members' Consultative Council, said that other than humanitarian assistance for disaster victims in 2011, Taiwan has since donated medical facemasks and protective clothing to Japan.
"Lending a helping hand to each other in times of need demonstrates the deep friendship and mutual trust between Japan and Taiwan," Furuya said.
Chiou I-jen (邱義仁), chairman of the Taiwan-Japan Relations Association (TJRA), JTEA's counterpart, said he was impressed at the orderly way aid was provided to Japan's disaster victims and touched to see the Japanese people facing the future with a smile.
He said Taiwan is lucky to have Japan as a friend and believes the friendship will continue to grow in the future.
Meanwhile, President Tsai Ing-wen (蔡英文) lauded the strong bond between Taiwan and Japan via Twitter on Thursday, saying the two countries have overcome many difficulties together.
"While praying for the souls of the disaster victims, we hope the COVID-19 pandemic will soon subside, the Tokyo Olympic Games can be held successfully and travel between Taiwan and Japan can be resumed," she wrote in Japanese.
The tweet was accompanied by a picture of a map including Japan and Taiwan and the Chinese phrase "a decade of mutual help."
For his part, Vice President Lai Ching-te (賴清德) said in a Facebook post that Taiwan and Japan are prone to natural disasters and both peoples have helped each other whenever disaster strikes. He cited Japan's dispatch of rescue teams and donation of relief goods within 14 hours of a strong quake in southern Taiwan in 2016.
He mentioned that although the pandemic has limited travel between both peoples, their governments have maintained close cooperation on virus information sharing, vaccine and medicine development and exchanges between medical experts.