Premier nixes nuclear power as answer to energy dilemma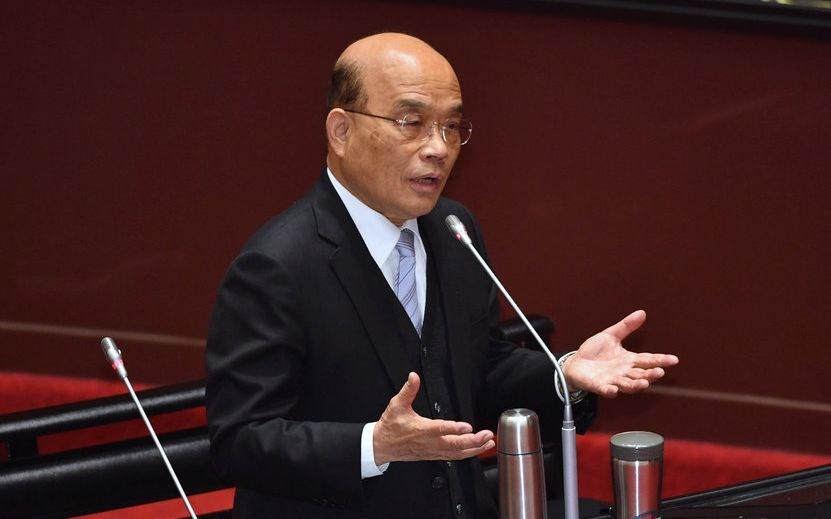 Taipei, March 9 (CNA) Premier Su Tseng-chang (蘇貞昌) on Tuesday rejected speculation that the government would consider activating the country's 4th Nuclear Power Plant to produce electricity amid a debate over how to generate more electricity to meet future needs.
The 4th Nuclear Power Plant was phased out during the Kuomintang administration in 2014, and it is impossible to activate it now, Su said in a legislative session.
"Some people might want to do it, but it is not a plan B for the government. The government has never considered restarting the 4th Nuclear Power Plant," he said.
Su made the comment amid a debate over whether a controversial liquefied natural gas (LNG) terminal project located near an algae reef in northern Taiwan should be relocated to avoid damaging the environment.
Su's Democratic Progressive Party (DPP) government has pushed for the terminal to increase LNG availability and more gas-fired electricity as it phases out nuclear power, which still accounted for 11.24 percent of Taiwan's electricity production in 2020.
To stop the project, Rescue Datan's Algal Reefs Alliance convener Pan Chong-cheng (潘忠政) initiated a referendum drive last year, and it has collected 589,526 signatures as of March 8, well above the threshold of 289,667 required to put the question to a national vote in August 2021.
The petition would pose the question: "Do you agree that CPC Corp. Taiwan's LNG terminal should be relocated from its planned site near the algal reef coast of Datan and its surrounding waters?"
The government has expressed concerns that any delay in the project, which it rammed through in 2018 despite sustained opposition, will force Taiwan to use more coal to make up for future energy shortfalls.
Su said that if the project did not go smoothly, the government would have to transfer electricity generated in central or southern Taiwan to the north, hence negating long-term efforts in reducing coal-fired power there.
Some environmental groups have seen that logic as a threat, and while Su said nuclear power is not a Plan B, the government has not offered any alternative to jeopardizing the coastal area in Taoyuan.
The lack of a better alternative prompted discussion on whether the government should restart the 4th Nuclear Power Plant, an issue that will be voted in a separate referendum question in August.
Launched by nuclear power advocate Huang Shih-hsiu (黃士修), the referendum campaign met the endorsement threshold two years ago and will ask: "Do you agree that the 4th Nuclear Power Plant be activated for commercial operations?"
While a seemingly choice between coal-burning and the LNG project is already difficult, environmental groups said Tuesday nuclear energy is not an option for them.
Wei Yang (魏揚), a researcher of the Green Citizens' Action Alliance, said conversations are welcome in developing a better energy portfolio for Taiwan, but he felt discussing nuclear power was a waste of time because of the limitations that exist.
By law, an application to extend the service life of Taiwan's second and third nuclear plants would have had to be made five years before they are to be decommissioned, but that deadline has passed, Wei said.
Any restart of the 4th Nuclear Power Plant would take at least seven years, so that would not offer a near-term solution, either.
Wei also criticized the referendum on nuclear energy, saying it was instead a question on "whether people want a nuclear crisis or not," arguing that the risk of nuclear power is too high.
When the Democratic Progressive Party government took power in May 2016, its stated energy policy was to phase out nuclear power and generate 20 percent of the country's electricity needs through renewable sources by 2025.