Azar discusses Taiwanese protective gear investment in U.S.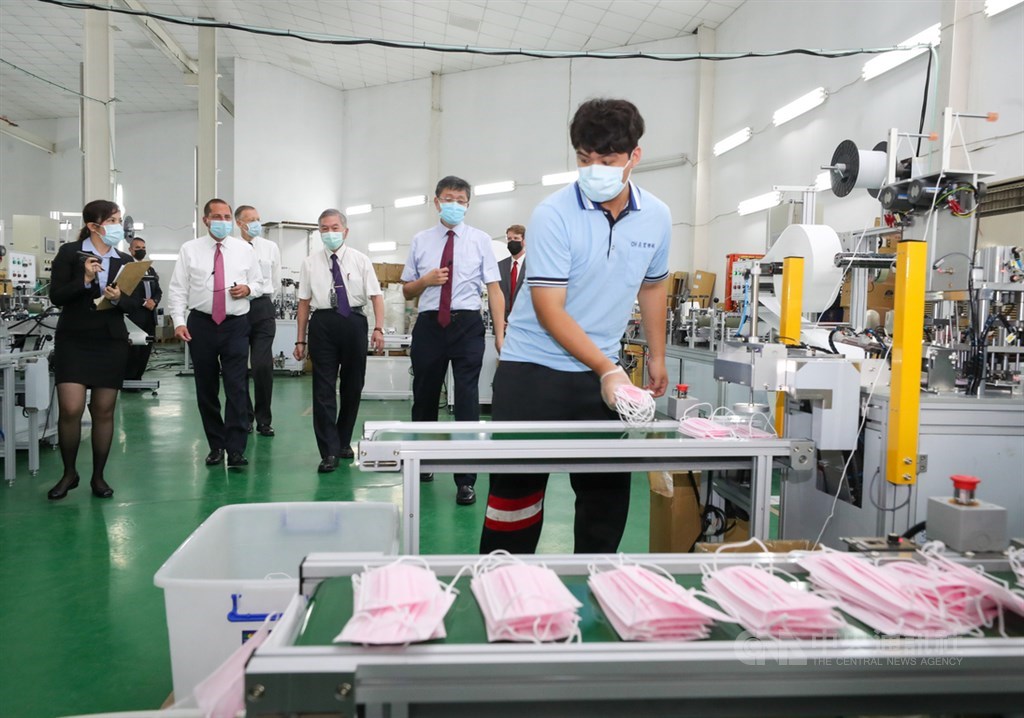 Taipei, Aug. 12 (CNA) United States Secretary of Health and Human Services Alex Azar on Wednesday said he discussed with Taiwan the possibility of Taiwanese healthcare supply manufacturers investing in the U.S. to bolster its productive capability in such products.
Azar made the statement during a teleconference in Taipei earlier in the day that was organized by the U.S. Asia Pacific Media Hub under the U.S. State Department and involved media from several countries in the Asia-Pacific region.
The health secretary and his entourage left Taiwan Wednesday afternoon after a four-day official visit that highlighted the nation's success in combating the COVID-19 pandemic.
In view of U.S President Donald Trump's commitment to treat personal protective equipment (PPE) and other healthcare supplies as strategic national assets, the PPE supply chain needs to be located on U.S. soil, he said at the press briefing.
Azar told reporters: "I did speak with Taiwan leaders, both private sector as well as governmental, about the opportunities that that presents with Taiwan's manufacturing expertise and prowess in terms of direct investment in building capacity in the United States, whether it's to manufacture personal protective equipment or to manufacture pharmaceutical ingredients or to manufacture generic medicines that could be based in the United States for production."
He added that the idea is to produce personal protective equipment, pharmaceutical ingredients or generic medicines with a low price in the U.S.
The health secretary also said he discussed trade issues with Taiwanese officials, including questions surrounding bilateral trade arrangements, though he provided no more details.
During his visit to a plant that builds face mask manufacturing machines in New Taipei later that day, Azar told reporters that Taiwanese enterprises could play an important role in the U.S.' efforts to establish its domestic supply chain of strategic materials.
He said his country has greatly increased its domestic PPE production capability under Trump's leadership, who outlined a 90-day reserve of strategic materials for epidemic control and instructed those materials be produced in the U.S. as much as possible.
As such, the machines produced by Chang Hong Machinery Co. (長宏機械) and sold to the U.S. "will be an important part of building up our domestic supply chain capabilities," Azar said at the New Taipei company.
Chang Hong Machinery is a member of Taiwan's "National Face Mask Team" of private sector manufacturers requisitioned by the government to produce face mask machines and masks as the COVID-19 coronavirus disease spread to Taiwan from neighboring China early this year.
At Wednesday's teleconference with the media, Azar elaborated that the purpose of his visit to Taiwan is to bring greetings from Trump and to recognize Taiwan's success in combating COVID-19, which he described as a testament to the fact that open democratic societies are best equipped to combat the threat of infectious diseases.
Azar noted that he was "quite touched" Taiwan has donated face masks and other PPE to the U.S. and other countries around the world, even when Taiwanese people have to limit their use due to a shortages of supply.
Asked by reporters whether his Taiwan trip was made to antagonize Beijing, Azar said his visit focused on the deep partnership and friendship between the U.S. and Taiwan.
Azar and his delegation arrived in Taipei on Sunday on board a U.S. Air Force C-40B aircraft. Over the past few days, he has met with several Taiwanese government officials, including President Tsai Ing-wen (蔡英文), Foreign Minister Joseph Wu (吳釗燮), and Minister of Health and Welfare Chen Shih-chung (陳時中).