Taiwan to extend aid plan to uninsured workers, farmers, fishermen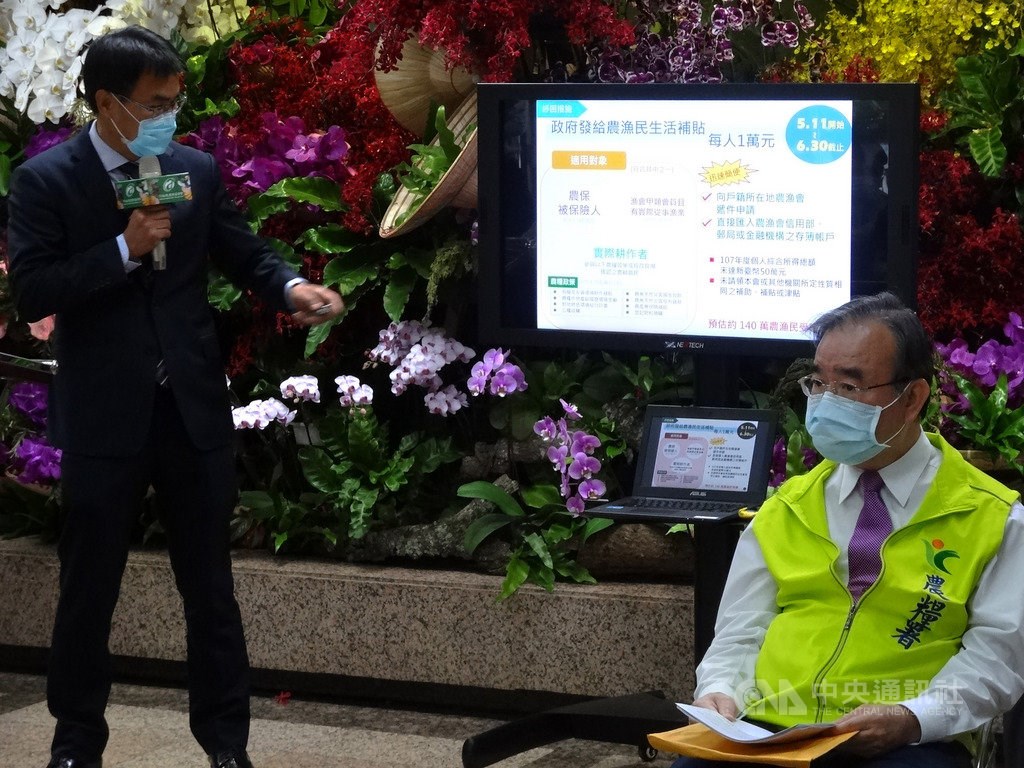 Taipei, May 4 (CNA) The government will provide a one-time grant of NT$10,000 (US$336) to workers not enrolled in social insurance plans and farmers and fishermen who have not qualified for other forms of financial aid to counter the economic impact of COVID-19.
Among those eligible are an estimated 340,000 people who work but do not participate in labor insurance, farmer's insurance, or different public worker insurance programs and have family incomes between 1.5 times to 2 times the average minimum living costs in their city or county, Premier Su Tseng-chang (蘇貞昌) said Monday.
They include people who hold street billboards or outdoor ad placards, street vendors, and small-scale self-employed workers, and they were able to get access to the funds beginning Monday, according to Su.
Under a previous version of the program, middle-to-low income earners whose family income was less than 1.5 times the average minimum living costs in their city or county were eligible for a one-time payment of NT$30,000.
In addition to those 340,000 workers, about 1.4 million farmers and fishermen whose annual income is less than NT$500,000 and were not eligible for a NT$30,000 grant can apply for the NT$10,000 grant starting from May 11, said Council of Agriculture (COA) chief Chen Chi-chung (陳吉仲).
At present, some 150,000 fishermen covered by labor insurance with a registered monthly salary under NT$24,000 and an annual income of less than NT$400,000 are eligible for a one-time payment of NT$30,000, but none of Taiwan's more than 1 million farmers are.
That means all farmers and the other 200,000 fishermen covered by the farmers' insurance program or without insurance coverage can apply for the NT$10,000 payment, Chen said.
Meanwhile, the Ministry of the Economic Affairs said Monday it had approved 983 applications from businesses for NT$2.6 billion in subsidies.
According to the criteria set by the MOEA, only businesses that have experienced a 50 percent drop in revenue in March and April are eligible to apply for subsidies.
Some 1,700 applications have not been approved because the businesses could not prove they met the criteria, the ministry said.
As for planned stimulus coupons to be issued by the government to help rejuvenate the economy, Economic Affairs Minister Shen Jong-chin (沈榮津) said Monday the coupons will be issued in both physical and electronic forms.
The government is planning to provide NT$11.1 billion in coupons to help boost domestic consumption that has stagnated because of the COVID-19 epidemic, and with no new local transmissions of COVID-19 in the past three weeks, calls for distributing the coupons have grown louder.
Shen would not say, however, when the government plans to launch the program.