Petition for ties with Taiwan gets support in New Zealand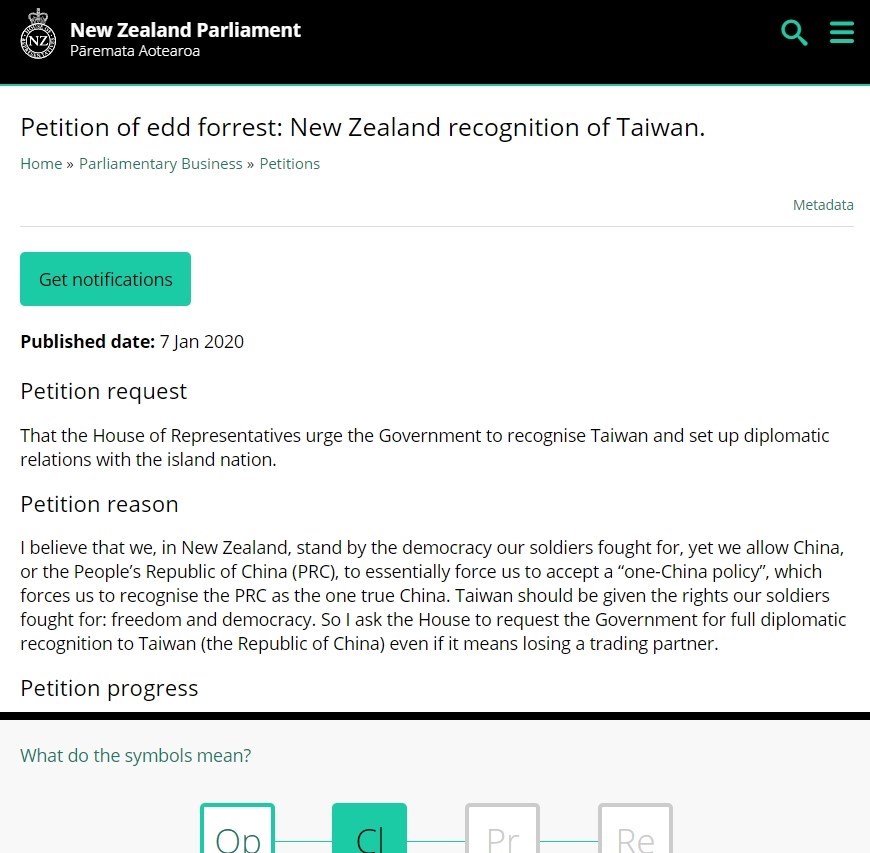 Jakarta, Feb. 3 (CNA) A petition urging the New Zealand government to establish diplomatic ties with Taiwan garnered more than 65,000 signatures on the website of New Zealand's parliament as of Monday evening when the endorsement period ended.
The petition, initiated by somebody who identified themselves as Edd Forrest, was opened for signatures on Jan. 7 and concluded on Feb. 3, with 65,630 people supporting it, the New Zealand parliament website showed.
"I believe that we, in New Zealand, stand by the democracy our soldiers fought for, yet we allow China, or the People's Republic of China (PRC), to essentially force us to accept a "one-China policy," which forces us to recognise the PRC as the one true China," the petition reads.
"Taiwan should be given the rights our soldiers fought for: freedom and democracy. So I ask the House to request the Government for full diplomatic recognition to Taiwan (the Republic of China) even if it means losing a trading partner," the petition said.
A petition is a document addressed to the House of Representatives, asking it to take a specific action, the New Zealand parliament website said.
According to the petition guidelines, there is no minimum signature threshold at which a petition has to be addressed.
A petitioner can request a member of Parliament to present the petition to the House after the signature period is over, although the parliamentarian can refuse to do so.
There was no indication on the petition page of whether "Edd Forrest" will try to take the petition any further.