China should not decide Prague's friends: Ko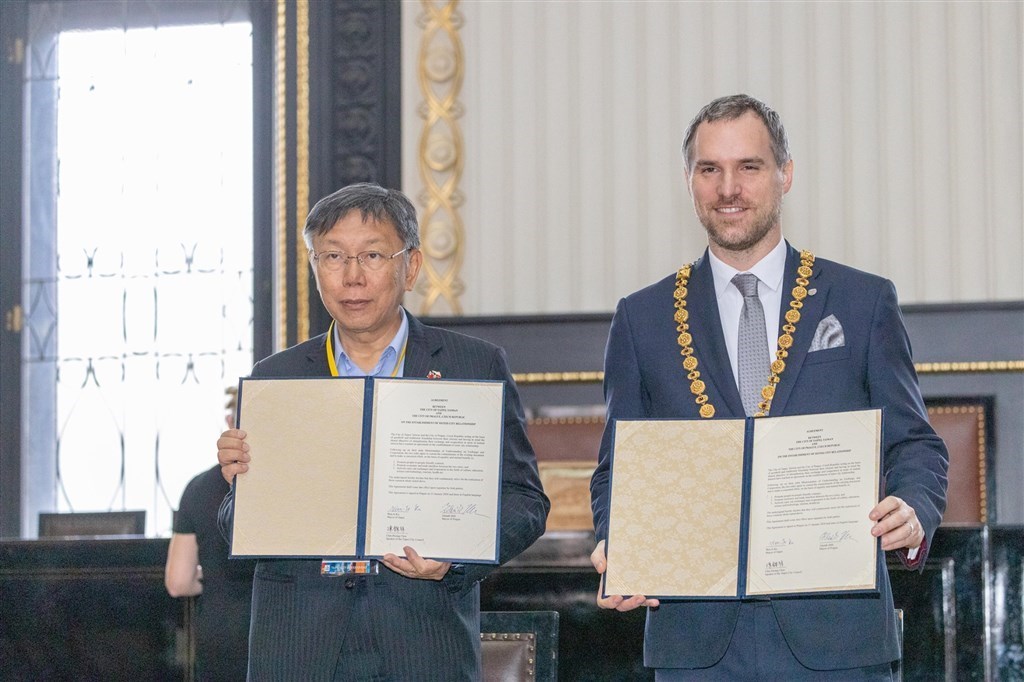 Prague, Jan. 14 (CNA) China should not decide the cities Prague befriends, Taipei Mayor Ko Wen-je (柯文哲) said Tuesday, a day after Shanghai terminated its sister city relationship with Prague because the Czech capital formed the same relationship with Taipei.
Taipei and Prague officially sealed their sister city deal on Monday in the Czech capital after Ko and Prague Mayor Zdenek Hřib signed the pact at Prague City Hall on Monday.
Prague previously terminated a similar agreement with Beijing in October over a "one-China policy" clause in the deal that in effect asked Prague to recognize Taiwan as part of China.
After the Taipei-Prague deal was signed, Shanghai promptly announced that it was terminating its sisterhood ties with the Czech capital effective immediately on the grounds that the city publicly challenged China's "one-China principle."
The "one-China principle" is China's official term for its advocacy that Taiwan is an inalienable part of "China" while each country's "one-China policy" is how countries address the "one-China" issue.
"Mainland China cannot decide whom Prague chooses to be friends with and such intervention is causing unnecessary disturbances," Ko, who is currently visiting Prague, told Taiwanese reporters Tuesday.
But Shanghai's decision to cut sisterhood ties with Prague will not affect Taipei's upcoming hosting of this year's Taipei-Shanghai Twin-City Forum, Ko said.
The Taipei mayor said there is no reason for Taipei to cancel the annual forum because it is an important cross-Taiwan Strait platform that focuses on cultural and economic exchanges without touching on sovereignty issues.
The forum was launched in 2010 by former Taipei Mayor Hau Lung-pin (郝龍斌) of the Kuomintang (KMT) with each city taking turns to host the annual event.
As the chair and founder of the Taiwan People's Party (TPP), which became the third largest party in Taiwan's Legislature in Saturday's elections, Ko reiterated that his goal is to maintain friendly relations with both China and the United States while safeguarding Taiwan's sovereignty and interests.
Meanwhile, Taiwan's Mainland Affairs Council (MAC), the nation's top policymaking body on China, said Beijing has no right to interfere with international exchanges between Taiwanese and international cities.
The MAC also called on Beijing not to use its "one-China principle" to restrict Taiwan's international space.