U.S. House committee passes its version of TAIPEI Act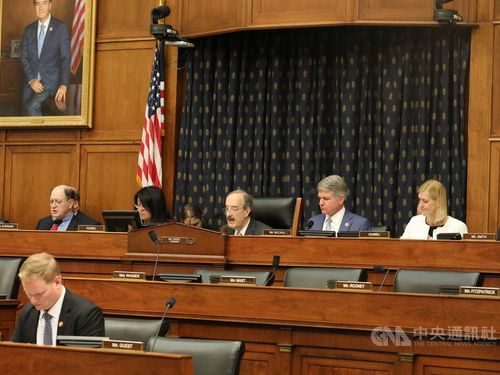 Washington, Oct. 30 (CNA) The U.S. House of Representatives Foreign Affairs Committee on Wednesday passed its version of the Taiwan Allies International Protection and Enhancement Initiative (TAIPEI) Act of 2019 to help the country keep its diplomatic allies amid Beijing's pressure, a day after the Senate passed a similar bill bearing the same name.
The House's version of the TAIPEI Act was voted unanimously through the committee. The act will then be voted on, debated or amended on the House floor.
The House act, initiated by Republican Congressman John Curtis Oct. 18, is aimed at expressing U.S. support for Taiwan's diplomatic alliances around the world.
The act authorizes the U.S. State Department to consider "reducing its economic, security and diplomatic engagements with nations that take serious or significant actions to undermine Taiwan."
The U.S. government should also help Taiwan gain participation in international organizations, either as a member or an observer, and express its support for Taiwan's international participation when it interacts with Beijing, it said.
Speaking in the committee, Rep. Steve Chabot, the co-chair of the Congressional Taiwan Caucus (CTC) in the House of Representatives, expressed his support for the act.
Describing Taiwan as a "critical ally" for the U.S. in the Pacific region and "a role model for other nations across the globe," Chabot said the act seeks to discourage more countries from switching diplomatic recognition from Taipei to Beijing.
He was referring to the fact that the Solomon Islands and Kiribati decided to change allegiance to China in September, leaving Taiwan with only 15 diplomatic allies worldwide.
He also said the act raised the critical question of why Taiwan is not recognized.
"It is pretty obvious that Taiwan is an independent country to anybody who looks at the facts, and it's well past time that U.S. policy catches up with these facts," he said.
Chabot's remarks were echoed by Republican Congressman Ted Yoho of Florida during the same committee session.
Washington cut formal diplomatic ties with Taiwan in 1979 in favor of Beijing.
On Tuesday, the Senate passed the TAIPEI Act 2019 with almost identical contents to the House version.
In response, Taiwan's representative office in the U.S. expressed gratitude.
"Taiwan will continue working closely with the U.S. and other like-minded countries in the region to contribute to peace, stability, and well-being in the Indo-Pacific region," it said in a Facebook post.
Once the act passes the House, a committee made up of House and Senate members will work out differences between the House and Senate versions of the act to come up with a single version of the bill before returning it to both the House and Senate for approval.
It will then be sent to the U.S. president for final approval, who will have 10 days to sign it into law or veto it.