Legislative speaker's wife quits DPP to run as independent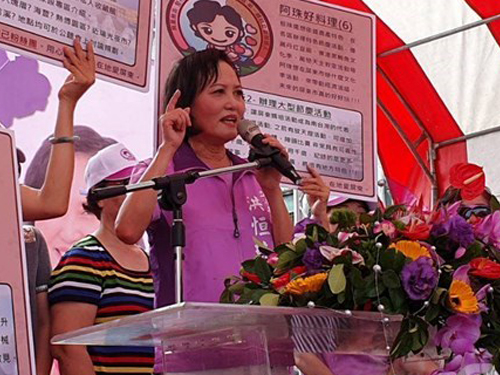 Taipei, Oct. 27 (CNA) The wife of Legislative Speaker Su Jia-chyuan (蘇嘉全) of the ruling Democratic Progressive Party (DPP), Hung Heng-chu (洪恒珠), announced Sunday the withdrawal of her DPP membership to join lawmaker elections as an independent in southern Pingtung County.
Hung, a former police officer who has previously worked in various public offices, said she made the decision in order to contribute more to the development of Pingtung, despite strong pressure within the DPP calling for her to drop the bid.
Hung, however, said she would consider withdrawing her candidacy should Su's nephew, Su Chen-ching (蘇震清), decide to run for re-election in the county.
Su, an incumbent DPP legislator, has been widely reported as seeking a fourth term as a lawmaker in Pingtung.
In a separate press release, Su Jia-chyuan stressed that he has always opposed his wife's decision to run. He also expressed regret over Hung's decision to drop her DPP membership.
The legislative speaker of the ruling party said he will do his best to persuade his wife to reconsider her decision before the Nov. 22 legislative election registration deadline.
If Hung continues her decision to run, she will be running against the DPP's incumbent lawmaker Chung Chia-pin (鍾佳濱), who is fighting for a second term in Pingtung, as well as four other candidates in the highly competitive first district of the Pingtung legislative elections.
Hung's candidacy is expected to have a heavy impact on Chung's chances of winning re-election next year, according to local political analysts.
The high number of candidates is due to a revamp of the electoral districts in Pingtung that cut the legislative seats in the county from three to two starting next year. Currently, all three legislative seats in Pingtung are occupied by DPP members.
Meanwhile, only two candidates are competing in the second district of Pingtung County -- incumbent DPP lawmaker Chuang Jui-hsiung (莊瑞雄) and his opposition Kuomintang challenger Chou Chia-chi (周佳琪).