Taiwan signs economic cooperation agreement with Marshall Islands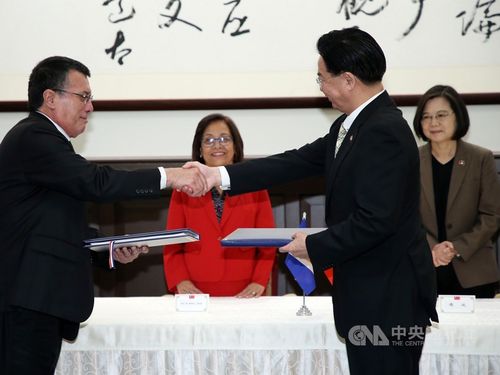 Taipei, Oct. 25 (CNA) Taiwan and its diplomatic ally the Marshall Islands signed an agreement on trade and economic cooperation Friday that President Tsai Ing-wen (蔡英文) said will further strengthen bilateral relations.
The pact, which aims to promote economic cooperation in trade, services, investment, technology, and tourism, was signed by Foreign Minister Joseph Wu (吳釗燮) and visiting Marshall Islands Foreign Affairs and Trade Minister John M. Silk.
Tsai, who witnessed the signing with Marshall Islands President Hilda C. Heine at the Presidential Office in Taipei, said the economic cooperation agreement "will foster even stronger economic and trade cooperation between our countries."
"I firmly believe that the best way to maintain our robust friendship is to uphold the spirit of mutual assistance for mutual benefits and to jointly advance the cause of sustainable development," she said.
Heine praised the economic cooperation agreement as a major accomplishment that will "accelerate bilateral investment and trade, spurring economic activity and prosperity."
She also thanked Taiwan for its contributions to her country.
"Taiwan's assistance has been tremendous, especially in terms of human resources development, and we really want to express our appreciation for this support for capacity development which is much needed in our country," she said.
Heine also witnessed the signing of a memorandum of understanding between the Office of Commerce, Investment and Tourism (OCIT) of the Marshall Islands and the Taiwan External Trade Development Council (TAITRA) on the promotion of bilateral trade and tourism.
Under the agreement, TAITRA will help the Pacific Island nation in e-commerce and green energy development, such as the installation of solar panels, while the Marshall Islands will import more Taiwanese fruit and vegetables, products which it has traditionally imported from the United States.
The delegation led by President Heine arrived in Taiwan for a four-day visit on Thursday.
Taiwan is hoping the agreements will help forge a closer bond with the Marshall Islands after having two of its Pacific allies -- the Solomon Islands and Kiribati -- poached by China in late September.
The defections dropped the number of countries formally allied with Taiwan to 15 around the world, including four in the Pacific.