AIT Chair in Taiwan for 6-day visit to meet high-level officials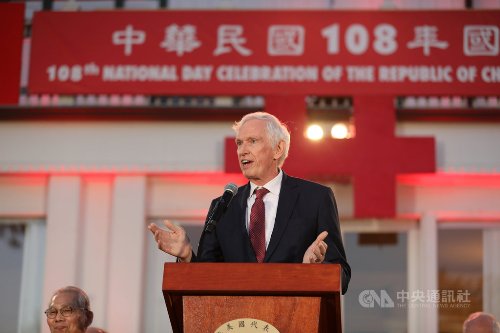 Taipei, Oct. 15 (CNA) American Institute in Taiwan (AIT) Chairman James Moriarty is currently in Taiwan for a routine visit and will meet high-level government officials to discuss a wide-range of issues of shared concern, the Ministry of Foreign Affairs (MOFA) announced Tuesday.
A MOFA press release welcomed Moriarty and Matthew Tritle, AIT's Director of Political-Military Affairs, both of whom arrived in Taipei on Monday for a 6-day visit.
AIT headquarters is located in Arlington, Virginia and chaired by Moriarty, while its main office in Taipei is headed by Director William Brent Christensen.
Vincent Yao (姚金祥), chief of MOFA's Department of North American Affairs, said during a press conference Tuesday that this is Moriarty's seventh visit to Taiwan since he assumed the post in October 2016.
"This is his (Moriarty's) routine visit for the year. He is expected to visit high-level officials and relevant offices to discuss issues of shared concern and common interests," Yao said.
Asked by reporters whether the two sides will discuss issues related to the U.S.-Taiwan Trade and Investment Framework Agreement (TIFA) and the Global Cooperation and Training Framework (GCTF), Yao said he cannot speak for Moriarty.
However, Taiwan is still hoping to resume talks with the U.S. under TIFA, he added.
TIFA is a bilateral trade agreement signed by Taiwan and the U.S. in 1994, which serves as a major negotiating channel for high-ranking trade officials on each side, led by officials at the deputy minister level.
Taiwan and the U.S. last held talks under TIFA in September 2016, as the Office of the United States Trade Representative (USTR) has been occupied with other tasks since then, according to MOFA. However, some observers suggest the resumption of bilateral talks rests on the resolution of trade barriers, the beef issue, for one.
Taiwan has not fully opened its market to U.S. beef since 2003 due to mad cow disease and the use of leanness-enhancing drug ractopamine by U.S. farms, a policy frowned on by Washington.
Moriarty could touch on topics related to the GCTF, a platform established in 2015 to support international cooperation between Taiwan and the U.S. in various fields, although that may not be the focus of his visit, Yao said.
However, Taiwan and the U.S. constantly exchange views on GCTF, and will have a comprehensive discussion at the end of the year on next year's projects, he added
Neither MOFA nor AIT provided details of Moriarty's visit.