Asian countries should develop security against China: expert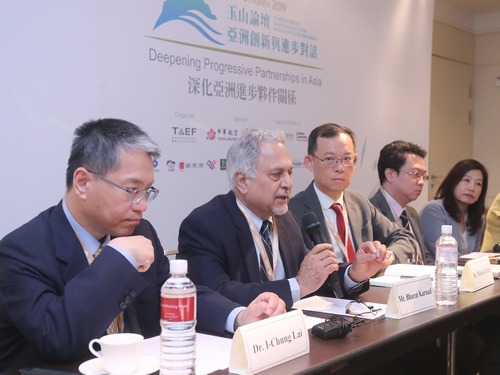 Taipei, Oct. 8 (CNA) Asian countries should prevent over-reliance on the United States and work harder to build up their own security abilities against the military threat from China, an Indian expert said Tuesday at the launch of Taiwan's first report on Taiwan-India relations by a think tank.
"We have to depend on our own security, using our own resources," said Bharat Karnad, an expert on national security studies at the Centre for Policy Research in India.
Karnad argued that with a trend toward isolationism in the U.S. and the unpredictability of U.S. President Donald Trump's foreign policy, it is risky to depend on that country's military forces to safeguard security in Asia.
The U.S. might have the ability to contain China, but it currently lacks the willingness to engage in conflicts in other regions of the world, he said.
This mindset is self-evident by Trump's ordering of U.S. troops out of northern Syria earlier this week, according to Karnad.
He urged countries such as Japan, Taiwan, Indonesia, the Philippines and India -- which outranks China as the world's fourth-largest naval power -- to develop a "security architecture" to contain China.
Karnad made the comments at the Yushan Forum, organized by the Taiwan-Asia Exchange Foundation, which compiled the "Research Report on Taiwan-India Relations."
The report touched on issues of Taiwan-India history, national security, political interaction, technological cooperation, talent cultivation, think tank collaboration, economics and trade.