U.S. senator vows to continue push for Tsai to visit Washington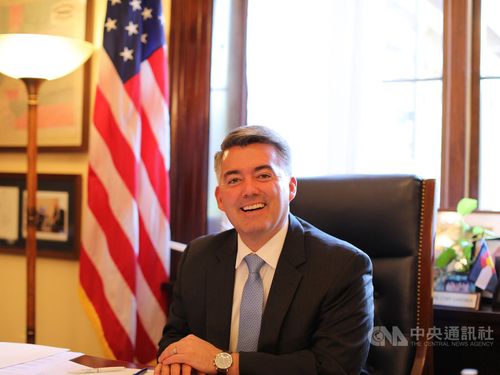 Washington, Sept. 24 (CNA) Cory Gardner, a pro-Taiwan American senator, said Tuesday that he will continue his efforts to push for a visit by President Tsai Ing-wen (蔡英文) to Washington.
In an interview with CNA, Gardner said he has asked House Speaker Nancy Pelosi to invite President Tsai as "a leader of democracy " to visit the U.S. and address a joint session of Congress, but has not yet received a response.
"We will continue that effort to request Speaker Pelosi to do that," said Gardner, who is from Colorado.
Due to pressure from China, Taiwan's presidents, vice presidents, premiers, foreign ministers and defense ministers have not be able to visit Washington since the U.S. cut diplomatic ties with Taiwan in 1979, as such a visits would be seen as having political significance.
Despite strong opposition from China, however, the U.S. government in March passed the Taiwan Travel Act, which encourages visits between government officials of the U.S. and Taiwan at all levels.
During a visit to Taiwan in June, Gardner told the press that he hoped Tsai would visit Washington and address the U.S. Congress.
When asked whether other ranking officials from Taiwan would be invited if Tsai could not go, Gardner said Foreign Minister Joseph Wu (吳釗燮) would also be welcome.
"We would love to have him in Washington, D.C., and I would not hesitate to make that invitation," Gardner said.
In the CNA interview Tuesday, Gardner said that while he was not aware of any plans for ranking American officials to visit Taiwan soon, there had been some significant developments recently, including a visit in April by former House Speaker Paul Ryan.
On the issue of a possible free trade agreement (FTA) between Taiwan and the U.S., Gardner said it would be a breakthrough in the bilateral relations.
The senator said he would meet with some people related to the proposed trade agreement on Wednesday, and hoped to add some language into the draft Taiwan Allies International Protection and Enhancement Initiative Act, or the TAIPEI Act, as a way to pursue a trade agreement to further boost U.S.-Taiwan relations.
The TAIPEI Act, once passed, will require the U.S. government to engage with governments around the world in a bid to support Taiwan's diplomatic recognition and strengthen unofficial ties with Taiwan.
"I think Congress has great support (for the FTA with Taiwan)," Gardner said. "(Since) the administration obviously would be the one to implement it, they would have to negotiate it ... But I know that you do have many in the administration who believe a Taiwan free trade agreement with the United States would be beneficial."
Gardner and senators Marco Rubio, John Cornyn and Chris Coons reintroduced the TAIPEI Act to the Senate earlier this year and it was scheduled to be reviewed on Wednesday.
The act will "make it crystal clear what the United States will do, that we can both reward those who are being good friends and proactive allies of Taiwan and make sure that they're working and participating with Taiwan ... but also that they know the actions that could be taken should they succumb to Chinese bullying," he said.
Countries that switch diplomatic recognition from Taiwan to China should know what consequences they would face, Gardner said.
On Sept. 16, the Solomon Islands decided to switch diplomatic allegiance from Taipei to Beijing, and four days later Kiribati did the same, leaving Taiwan with only 15 diplomatic allies worldwide.