China confirms arrest of Taiwanese national a year after the fact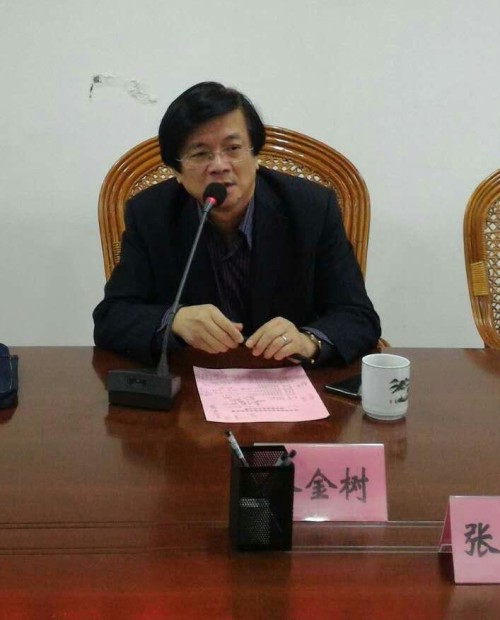 Taipei, Sept. 25 (CNA) Chinese authorities confirmed for the first time on Wednesday the arrest of a Taiwanese scholar for alleged "criminal behavior jeopardizing China's national security," more than a year after his family reported him missing after entering China.
China's Taiwan Affairs Office (TAO) spokesman Ma Xiaoguang (馬曉光) confirmed at a press briefing that Tsai Chin-shu (蔡金樹), a Taiwanese scholar specialized in cross-strait relations, was arrested and has been detained in China since July 2018.
Tsai is being held for his alleged involvement in criminal activities that jeopardized China's national security, and he has since been detained and questioned over the allegations in accordance with related laws, Ma claimed.
The spokesman did not offer any details on the allegations against Tsai or his current whereabouts, and did not explain why China has held back any information on the case for 14 months.
Ma did say the TAO informed Tsai's family of his arrest, but he did not say when that occurred.
Ma's statement came after Taiwan's semi-official Straits Exchange Foundation (SEF) said on Sept. 13 that Tsai, head of the Tainan-based South Taiwan Cross-Strait Relations Association, which promotes exchanges between Taiwan and China, was still missing more than a year after entering China.
Tsai has not been heard from since he went to Xiamen on July 20, 2018, when he was scheduled to attend a Taiwan-China meeting on food products, the SEF said.
Tsai is among 149 Taiwanese who have reportedly gone missing in China since President Tsai Ing-wen (蔡英文) took office on May 20, 2016. Of them, the whereabouts of 67 remain unknown.
The most recent example was Lee Meng-chu (李孟居), who has been reported missing since Aug. 20 after he was scheduled to leave Hong Kong for the southern Chinese city of Shenzhen that day.
The TAO confirmed Lee's arrest on Sept. 11, again citing the same vague and arbitrary charge handed down in Tsai's case of alleged "criminal behavior jeopardizing China's national security."
Lee, an adviser to Fangliao Township in southern Taiwan's Pingtung County, was reported missing by his family in late August.
They expressed concerns that his disappearance may have been linked to his support for the protests in Hong Kong.
Meanwhile, Ma said at the same briefing that Chinese authorities had denied a request to allow a Taiwanese activist currently jailed in China to return to Taiwan to attend his father's funeral, saying that such a request was against related Chinese laws.
Ma said Lee Ming-che's (李明哲) wife and mother had been informed of the decision when they visited Lee at a Hunan prison where he is now serving a five-year prison sentence after being convicted of subversion of state power since November 2017.
In response to the TAO's remarks, Lee's wife, Lee Ching-yu (李淨瑜), told CNA that she never expected the Chinese side would agree to such a request but said she gave it a shot anyway hoping Beijing would act like any other civilized society and allow his temporary release.
Lee Ming-che's father passed away on Aug. 17, according to Lee Ching-yu.