Ko's TPP nominates 8 regional legislative candidates for 2020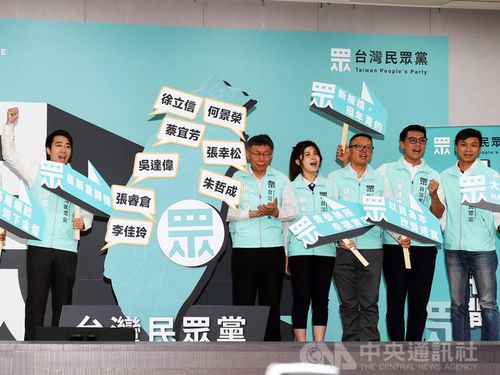 Taipei, Sept. 22 (CNA) The Taiwan People's Party (TPP) established by Taipei Mayor Ko Wen-je (柯文哲) last month nominated eight legislative candidates for the 2020 legislative election on Sunday, in a move Ko described as offering a third option to voters other than the pro-unification blue camp and pro-independence green camp.
At a Taipei press event to announce the first batch of candidates, who will be competing in Taipei, New Taipei, Miaoli County, Taichung and Kaohsiung, Ko, the founder and chairman of the TPP, said his party will focus on offering voters a more "efficient, science-based, and corruption-free government management option."
Ko said that for the past two decades all Taiwan's smaller political parties have focused on whether the country should be independent or unite with mainland China.
He believes in so doing these parties have made a crucial misjudgment and therefore been unable to compete with two major parties, namely the ruling Democratic Progressive Party (DPP) and the opposition Kuomintang (KMT).
Running a government should depend on making use of scientific data to improve the efficiency of management and better communicate with its people, Ko stressed.
Ko admitted that it will be challenging for the TPP in the January 2020 elections and declined to say how many seats they expect to win in the legislative race, when asked by reporters.
But he said he is confident that the candidates will do well.
"No one believed that I could win the mayorship when I ran as an independent in 2014," he noted.
The eight nominees include four who will run in Taipei. They are namely independent Taipei City Councilor Hsu Li-hsin (徐立信); Kimyung Keng (何景榮), an Indonesia-born assistant professor at Feng Chia University; Tsai Yi-fang (蔡宜芳), a former secretary of Taipei City Government; and Chang Hsin-song (張幸松), a consultant to the city government.
Internet celebrity Wu Da-wei (吳達偉) will run under the TPP flag in New Taipei.
Meanwhile, Chu Che-cheng (朱哲成) formerly of the DPP and previously a secretary in the Executive Yuan Central Taiwan Office, will run in Miaoli County.
Announcing his decision to leave the DPP to represent the TPP at Sunday's press event, Chu said he did so after becoming disillusioned with the DPP's performance over the past few years.
Chang Jui-tsang (張睿倉), a borough head in Taichung will join the legislative race in the central city, while Lee Jia-lin (李佳玲), a volunteer for a Ko fan group, will run in southern city of Kaohsiung.